Looking from a distance, a towering volcano and giant Ferris wheel mark out Dinosaur Planet Bangkok along Sukhumvit Road. Once you get closer, there is no mistaking that you have arrived at the dinosaur-themed attraction.
Bangkok's Dinosaur Planet opened in March 2016. It isn't huge – imagine the cost of real estate along Sukhumvit Road – and is divided into different zones and attractions.
Dinosaur Planet Bangkok Beckons
As you enter the park, you will be drawn to the two huge animatronic dinosaurs dominating the main plaza.
The first attraction is through a set of glass doors to the right of the entrance. Dinosaur District provides an introduction to dinosaurs as you get ushered through various (air-conditioned) rooms.
---
-- Story continues below --
From multimedia presentations to a room with dinosaur fossils and finally a laboratory where you get to watch "dinosaur eggs" incubated, they provide an educational slant to a visit to Dinosaur Planet.
Dinosaurs Along Sukhumvit Road
Most dino-loving kids will be anxious to get to The Stars of Dino.
The outdoor exhibit consists of 23 animatronic dinosaurs ranging from the smallish dilophosaurus to the massive spinosaurus. Favourites such as the T-Rex and triceratops are represented too, of course.
Another attraction at Bangkok's Dinosaur Planet is the 4D Deep World ride. Go on an adventure in a prehistoric world hidden down a mine shaft in this 4D ride.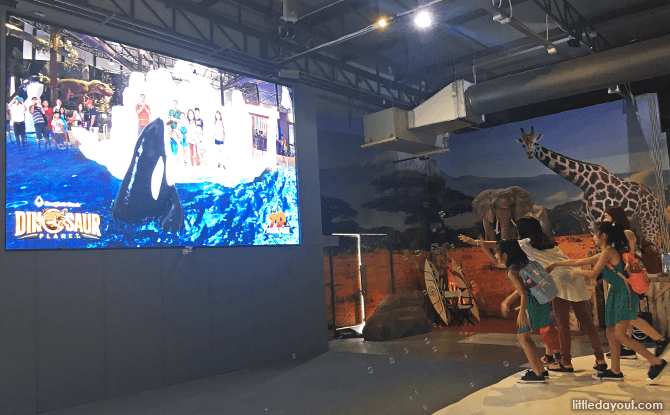 There is also an indoor activity area. Here families can interact with virtual wildlife, kids can digitally colour dinosaurs and take part in craft activities.
At Dino Farm, kids can hop onboard dinosaurs for a ride around a circuit. Additional charges apply.
The Dino Eye is a 50-metre tall Ferris wheel. Additional charges apply.
Bangkok's Dinosaur Planet also has a live show, The Great Volcano and The Extinction Live Show, which takes place in the evening.
Get the Adrenaline Pumping at Dinosaur Planet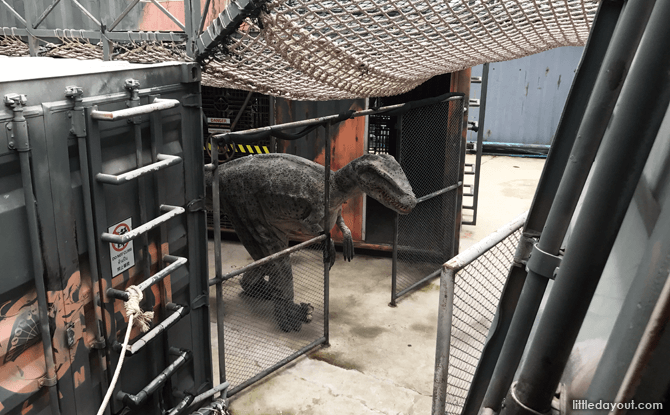 One thrilling attraction, more so for older kids, is Raptor X-treme. It is a dinosaur-themed escape game. A raptor is on the loose in a dinosaur containment facility. You have four minutes to solve the clues hidden around disused containers in order to make an escape – while being hunted down by the raptor.
Older kids would find Raptor X-treme exciting but those with younger ones may want to give this a miss as they may find it scary to be chased by a dinosaur around containers decorated with "blood" on the walls.
Final Thoughts
Based on the various things to do at Dinosaur Planet, we found the admission price of 600 baht per adult and 400 baht per child a bit hefty. Its main attraction is Stars of Dino and its animatronic dinosaurs.
You can expect to spend around one-and-a-half to two hours there and it is only recommended if you have a dino-crazy child in the family.
Dinosaur Planet Bangkok
Address: Sukhumvit 22 The Emsphere, Khlong Tan, Khlong Toei, Bangkok 10110, Thailand
Opening Hours: 10 am to 10 pm
Admission Fee: 600 baht per adult, 400 baht per child (90 to 140 cm), free for children under 90 cm, Dino Eye ride is 200 baht per person, Dino Farm ride is 100 baht per person
Website