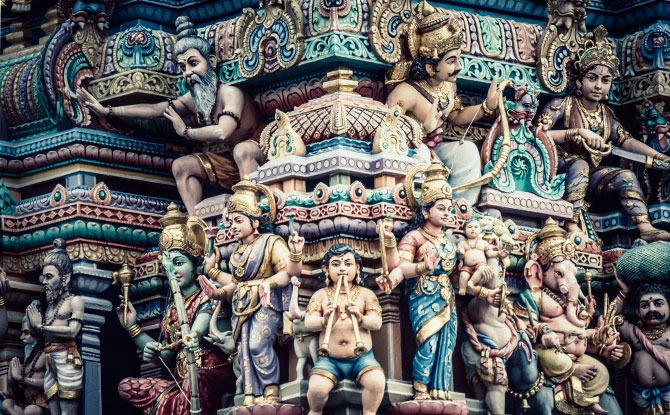 Living in Singapore, we are able to witness and learn about different celebrations and festivals that are observed in our multiracial and multi-religious society. One of the major Hindu festivals celebrated in Singapore is Deepavali. Here are some facts about its origins, traditions and other things to know about the Festival Of Lights.
In Singapore, Deepavali is a Public Holiday. The date of Deepavali moves since it is based on the Hindu Calendar, but it generally comes between mid-October and mid-November.
In some countries, most notably India, Deepavali can be celebrated for as long as five days.
---
The origins of Deepavali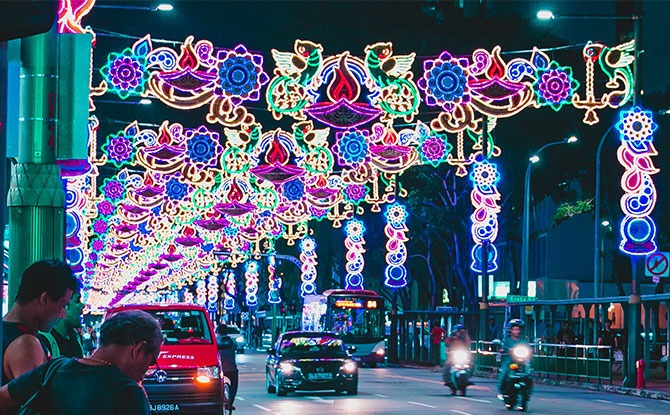 The origin of the word "Deepavali" comes from the Sanskrit phrase which means "row of lights". The origins of Deepavali differ among North and South Indians but they both celebrate a common theme of good over evil or light over darkness. There is the common misconception that Deepavali celebrates the Hindu New Year, but in fact, that is celebrated separately in March or April.
---
-- Story continues below --
---
Lights in Deepavali
A key symbol of the festival, lights will be lit as part of the yearly Deepavali tradition. The lights of Deepavali serve as a reminder that darkness can only be removed with light. The rows of clay lamps are called diyas and they are placed at doorways to draw auspicious energies into the home.
For Northern Indians, Deepavali is associated with the Indian epic, Ramayana. The diya is used to symbolically welcome and celebrate the Lord Rama of Ayuthya's return to claim his rightful throne, after being stripped of it and exiled for 14 years.
For Southern Indians, Deepavali is linked to Lord Krishna, who responded to the prayers of people under the oppressive rule of a cruel demon king, Narakasura. Lord Krishna fought Narakasura in battle and defeated him, thus dispelling the darkness of the demon king's rule with light.
---
Celebrating Deepavali
Deepavali is celebrated by Hindus, and also Indians of other religions such as the Sikhs and the Jains. The significance of certain rituals or practices varies amongst the different religious communities.
For the Jains and the Sikhs, this festival is commemorated in memory of Guru Hargobind, the sixth Sikh guru, who was released from imprisonment by the Mughal Emperor Jahangir on this day. Some also associate Deepavali with the goddess of wealth and beauty, Lakshmi.
---
Where is Deepavali celebrated
Deepavali is celebrated in the Indian subcontinent, and also in countries with an Indian diaspora like Singapore, Malaysia and Mauritius. Back in the early 1900s, Singapore's High Street was lit up in festive lights every Deepavali. At the time, High Street was home to Sindhi and Sikh jewellers and textile merchants who ran their businesses there.
In our present-day times, Deepavali is celebrated in households and at the different Hindu temples in Singapore. The Little India precinct at Serangoon Road, where many of the Indian shops are clustered, will usually be lit up in the festive period leading up to Deepavali.
Many Hindus will also make their way to the Sri Mariamman Temple, located in the heart of Chinatown. The Sri Mariamman Temple is the largest Hindu temple in Singapore and you will find many devotees there on Deepavali morning for special prayers.
---
Practices during Deepavali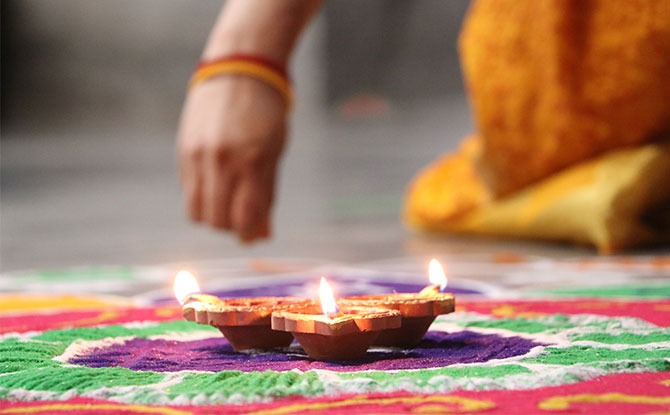 Like many religious festivals, the preparation for Deepavali starts weeks in advance with cleaning, decorating of the house, buying of new clothes and preparing of traditional snacks.
Many Indian Hindus may visit goldsmiths to purchase jewellery and shop for new clothes. Little India, the heart of Singapore's Indian community, is the focal point for festive shopping and the location for many Deepavali bazaars. There is also an annual light up that happens along Serangoon Road.
During Deepavali, the doorways of homes are decorated with diyas and rangoli, also known as kolam – intricate patterns made from coloured rice powder or rice grains. Kolams are thought to bring prosperity to homes. In olden days, kolams were drawn in coarse rice flour as a tribute to harmonious co-existence.with other living creatures that might eat the rice flour as food.
On the morning of Deepavali, it is customary for Hindus to wake up early to take oil baths. It is believed that taking an oil bath on Deepavali has equal merit to a bath in the sacred Ganges river in India. The oldest member of the family places three drops of oil on the foreheads of the other family members, after which they proceed to take their baths.
Thanksgiving prayers and pujas (prayer rituals) performed before the family shrine are also part of the morning ritual. During this time, younger family members may prostrate before their elders to receive their blessings. Younger family members may also be given small gifts by their elders.
Hindu families will then visit temples to offer prayers before visiting friends and relatives. Since Deepavali is a religious festival, some Hindus may also choose to abstain from meat.
---
Traditional clothing worn during Deepavali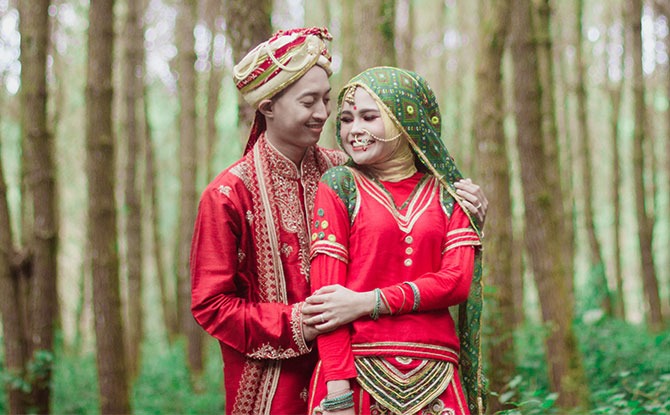 Similar to practices on a new year celebration, new clothes are worn during Deepavali, representing a new start and a hope that the individual will become a better person. The clothes are brightly coloured as part of the celebration of light. The men usually wear traditional Indian attire such as the dhoti, a piece of cloth knotted around the waist and extending to cover the legs, and angavastram, a piece of long cloth draped across one shoulder, paired with the dhoti. Women usually wear the sari, a long piece of fabric draped around the body, and a blouse known as chilli.
---
Food of Deepavali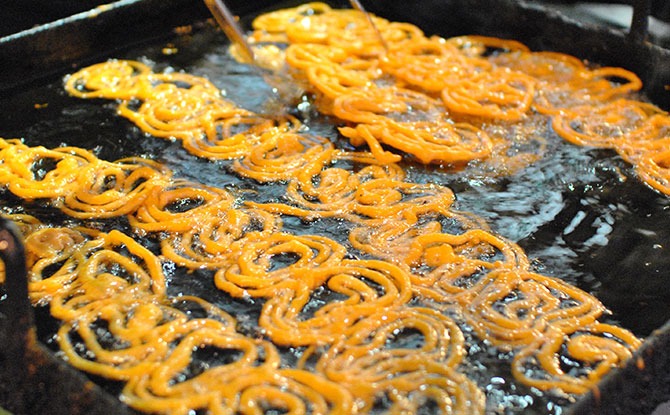 A celebration is usually not complete without food. Although sweets are a bigger highlight than special food dishes, this preference also differs by region. South Indian families might enjoy sakkarai pongal, a sweet rice-mush intensely flavoured with cardamom and nutty cashews, while Bengali families might indulge in rasgulla, a milky ball of maida or semolina flour, filled with dried and candied fruit.
Other Popular foods served during Deepavali include murukku, a savoury, crunchy snack, mithai, traditional Indian sweets, adhirasam, a deep-fried doughnut-like snack made with rice flour and jaggery, and vadaj, a savoury fritter.