Located at Sunset Way, Dawn's Gelataria is one of the newer gelato stores amongst the many other cafes, restaurants and eateries in the area. Although the store is branded as a gelato shop, they also offer a wide variety of starters, mains and drinks to go along with their delicious ice cream.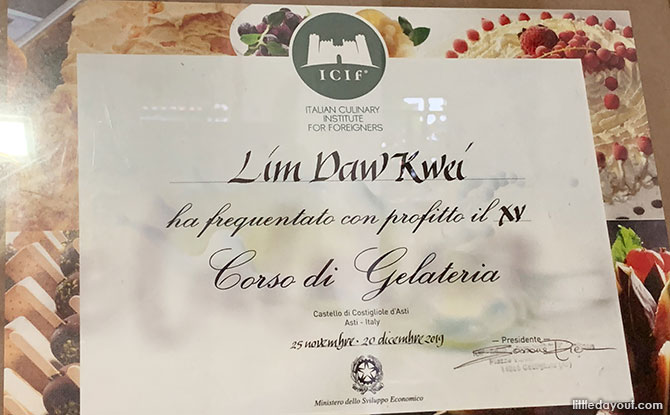 Dawn's Gelataria used to be under the name Verona Gelateria. The shop is named after the founder who flew over to Italy to further hone his skills of making premium gelato. The café has a relatively larger outdoor seating area that can hold up to around 30 people and the indoors can seat about eight.
---
Hot Foods in Dawn's Gelataria
If you're looking for some mains to fill your stomach before finishing it off with some sweet dessert, you'll be pleased to know that there are various items of quality foods to choose from. These are mostly priced in the $12 to $25 range.
Unlike many cafes who tend to serve finger foods as their starters, Dawn's Gelataria's starters include dishes made with premium ingredients such as NZ Green Mussels in Garlic Pinot Grigio Veneto Cream and the dish of Dawn's Specialty Gelato Salad
We ordered three mains: Beef Rigatoni, Daddy's Snapper Fish & Chips and a Garlic Butter Pork Ribeye.
We started with the Beef Rigatoni which also had mushrooms and a generous amount of garlic and onion. The dish was very flavourful and savoury with the beef slices being well cooked. We assumed that the day we went for a visit was the day the store ran out of rigatoni, which is why our dish had regular pasta as the base instead.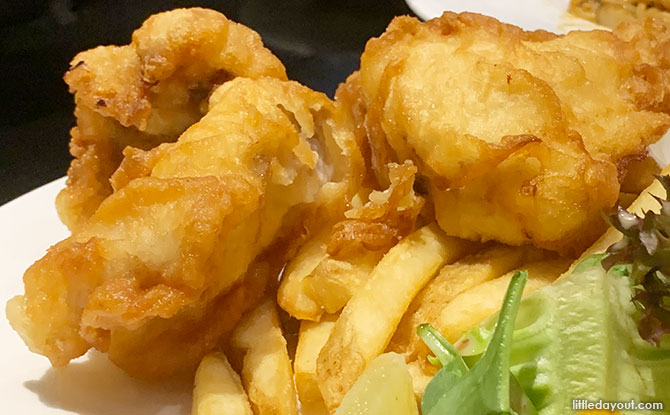 The other dish we tried was the Daddy's Snapper Fish & Chips. Coated with a beef batter, this crispy fish was thoroughly cooked but still very moist and flavourful. It came with a side of fries as well as salad.
The other aspect of the fish and chips to highlight is is homemade tartar sauce. Although some of us don't usually enjoy tartar sauce, we liked this particular one and finished almost all of it.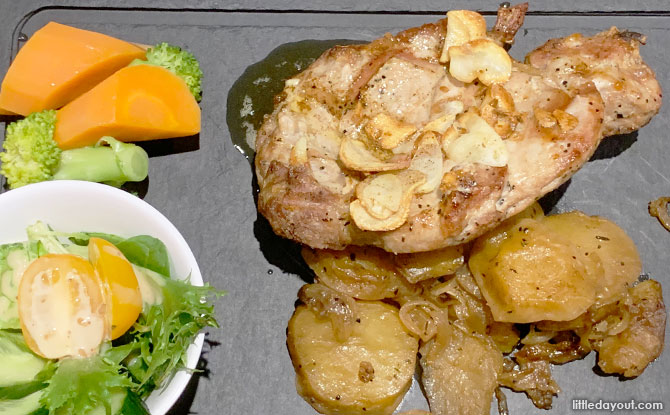 The last dish we tried was the Garlic Butter Pork Ribeye. It came served with some potatoes generously topped with carmalised onions as well as a garden salad on the side. We appreciated that the thickness of the meat was substantial for a good bite and also tender making it easy to cut and eat.
---
Premium Gelato at Dawn's Gelataria
At Dawn's Gelataria, there are usually a total of 18 flavours in rotation. The flavours that we saw that day included more familiar flavours such as Amarena Sour Cherry topped on a classic Fior di latte, flower of milk, cookies and cream, dark chocolate, pistachio, and a variety of sorbets.
Some premium and more local flavours included Ondeh Ondeh, raspberry cheesecake and tiramisu which contains a small amount of rum.
We tried two flavours: Raspberry Stratachella and Triple Ganache Brownie.
Raspberry Stratachella was made with a creamy Fior Di Latte with chunks of all-natural Valhorna Raspberry Chocolate. It was creamy and the fruity raspberry chocolate went very well with the sweet cream base. We also really enjoyed the Triple Ganache Brownie made with premium chocolate and we were happy that each bite had a good amount of brownie cake.
What we were impressed by was that the price of the ice cream was generally affordable for a premium gelato shop, and we were glad that even the smallest size was still very satisfactory and allowed us to mix more than one flavour in a single cup.
---
Location of Dawn's Gelataria
Our visit to Dawn's Gelataria was a pleasant one and we see ourselves returning back again in the future. Apparently, it has a range of unusual wines and beers (like Mandarin salted beer) too. It's a great location to check out if you want your starter, main and dessert all in one place. Next door to it is Mariners' Corner, an old-school Hainanese western place.
Dawn's Gelateria
106 Clementi Street 12, #01-38, Singapore 120106
Opening Hours: 11am to 10pm (Monday to Thursday), 11am to 11pm (Friday), 10am to 11pm (Saturday), 10am to 10pm (Sunday)
Website