It has been a trend that yu sheng platters during Chinese New Year are fashioned into a pretty presentation based on the year's zodiac animal. Therefore, it should come as no surprise that Chinese New Year 2020 is yielding some cute Year of the Rat yu sheng designs.
We found some cute yu sheng designs for the Year of the Rat. After all, in this Instagram age, why not have a yu sheng platter which you and your guests can "ooh" and "ahh" and snap some photos of first before it all gets tossed about for good luck.
Here are four cute Year of the Rat yu sheng designs and where to find them.
Umisushi umi Huat Huat Year of the Rat Yu Sheng Design
Raw fish is at the heart of the yu sheng dish, therefore, it kind of makes sense that Umisushi has a Year of the Rat Yu Sheng platter. The rat-themed umi Huat Huat Yu Sheng features the shredded vegetables with Norwegian salmon slices, arranged like a rat holding the condiments. One day advanced order is required. The umi Huat Huat Yu Sheng is priced at $98.88. Website.
---
-- Story continues below --
The Fullerton Hotel Singapore Jade Restaurant Gold Rush Salmon Yu Sheng
Jade Restaurant's Special Edition Gold Rush Salmon Yu Sheng features white, green and pink radish strips arranged into an image of a rat holding a traditional gold coin. In a twist to the traditional yu sheng ingredients, it includes Champagne jelly with gold leaf, honey pineapple dressing and cranberry cheese. It is priced at $388 and requires three-day advance order. Website.
Fat Chap's Cute Taro-taro Yu Sheng
The Suntec City restaurant is offering a cute Year of the Rat Yu Sheng platter. The Taro-taro Yu Sheng platter is available in two sizes – $38.80 for up to six persons and $48.80 for up to 10 persons. Three day advance notice is required. Website.
Lime Restaurant, PARKROYAL on Pickering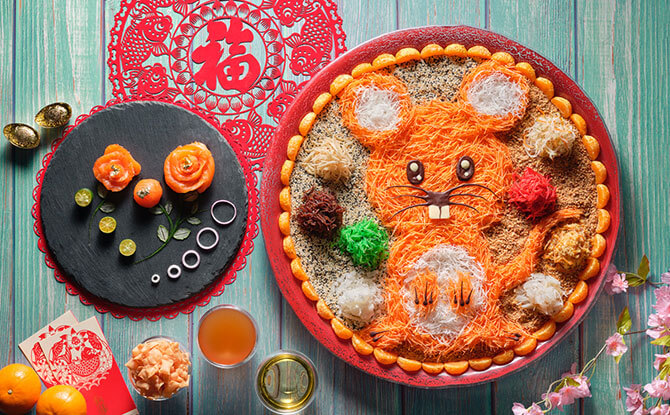 As part of Lime's Feast of Fortune dinner buffet on selected days in January and February 2020, diners with a table for six or more will receive a complimentary Prosperity Yu Sheng platter. Website.
BONUS: YUN NAN
To finish off the list, we have fifth contender for a Year of the Rat Yu Sheng platter. This one from YUN NAN restaurant differs from the other because the rats are look less cartoonish and more realistic. What do you think? Would you consider the pair of rats cute?