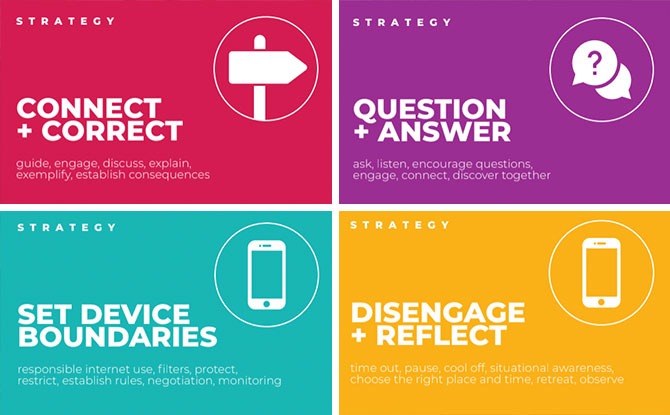 TOUCH Community Services has launched a new programme e-Conversations for the Family to equip parents to have conversations with their children about online harms. Their first edition of the cards tackles the topic of pornography. Through the programme, parents will learn to engage their children in conversations on pornography and shape their children's online habits, with the help of a specially designed conversation toolkit.
---
e-Conversations for the Family (Pornography)
The toolkit comprises a deck of cards that guide parents on how to have fruitful conversations with their children by asking the right questions and using effective communication techniques. Apart from the module on pornography, TOUCH will also be developing and introducing other modules on online harm, cyberbullying and excessive gaming, in the coming months.
There are five sets of cards in the deck: Connect + Correct, Question + Answer, Set Boundaries, Disengage + Reflect and Brain Pickings. The cards are colour coded and guides parents on notes to take before during and after engaging in a conversation and also when they can use such methods of talking.
The importance of talking to youths about porn
Research has shown that early exposure to porn at impressionable ages may adversely shape the sexual practices and attitudes of young teens that may stay with them throughout adolescence. TOUCH hopes that such tools would be able to help parents and youths navigate the online space safely and responsibly.
Mr James Tan, CEO of TOUCH said, "We cannot emphasise enough the important role that parents play in keeping our children safe online. As children navigate cyberspace, parents need to make this journey with them, building a strong parent-child relationship along the way while nurturing a positive digital culture at home."
He added, "Learning to speak with, not just speak to, our children is the first step a parent/guardian must take to release our children's potential and hedge protection over them against a multitude of online risks."
This toolkit was developed in partnership with Matthew Soon, an Industrial Design graduate from the National University of Singapore's School of Design and Environment, and his supervisor, Associate Professor Patrick Chia.
You can find out more about TOUCH Community Service's initiatives here.