Anxiety. Fear. Alarm. Grief. Worry. Anger. Frustration. Hopelessness.
We feel you.
The COVID-19 pandemic is not in our control, neither is it under control. There are brutal facts we have to face during this pandemic. There might be much inconvenience and huge disruptions to our lives. These are unprecedented times. And we know how anxiety can be overwhelming.
With the number of COVID-19 cases on the rise in Singapore, the feeling of helplessness might increase. Although there are many factors we cannot control, such as the level of social responsibility in people, the amount of social distancing by others, when the crisis will end, how badly the economy will be hit, there are certain things we can control to help ourselves and our families cope better during the crisis.
---
-- Story continues below --
What We Can Control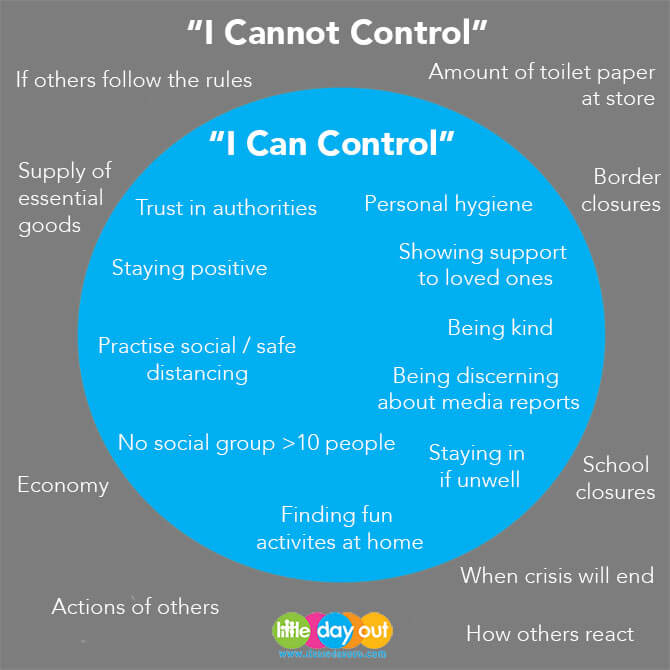 While much is not within our control, there are many factors we can manage.
We wanted to take stock of the situation we are in, as well as our environment.
Our healthcare system is one of the best and coupled with the competence of our government, we can overcome the outbreak. Singapore is said to be born in adversity, hence we have all been preparing since the birth of our nation to overcome impossible challenges. There are strategies to secure essentials and we have healthcare systems in place to support the many stricken with a highly contagious virus.
There is much to be thankful for.
Stay Positive
Having an upbeat attitude is contagious, in a good way. Smile at your spouse and your little ones. Being happy is also a good way to boost your immunity. It is not just a physical battle but a psychological one we must fight.
Be Discerning of Social Media and News
While getting updated by news from official sources such as the Gov.sg Whatsapp broadcast is great, perhaps checking news and social media updates every fifteen minutes is not too beneficial.
We are not recommending ignorance of any sort but minimising the amount of non-essential news is something we can control. We need to be digitally smart when consuming news and media reports, and discerning when it comes to social media which can perpetuate fake news and hearsay.
Tuning out of non-essential news and social media updates can lead to a clearer state of mind that is focused on other tasks. We will all care for our family in a better state as well.
Practise Safe and Social Distancing
If there is a need to head out, commute by public transport, do a school run or get groceries, we can do our part by practising safe distancing. As recommended by the authorities, a safe distance is at least 1 metre apart. If your workplace or commute tends to be crowded, wear a mask for further protection.
Personal Hygiene & Cleanliness
We have been reminded over and over again that our personal hygiene is the best protection from viruses of any kind. Washing hands WELL (yes really well) and NOT touching any part of the face is essential.
Simple routines are something we can control.
In addition, the cleanliness of our home, desks, surroundings are essential. Apart from disinfecting common surfaces, we can clean them regularly. That is one way to destress!
Loving and Showing Support for People Around Us
Visiting grandparents might need to take a hiatus, but there are other ways to show our love through dropping off care packages and ringing them up. We can also show our gratitude to the healthcare workers, civil servants, service staff and other frontliners by Project #stayhome, be kind and offer help when needed. A simple "How are you" will often remind us that we are very blessed to be safe and healthy.
Mingle in Fixed Social Group Fewer Than 10 People
Many social events are cancelled but that should not stop you from connecting with people over video-conferencing, phone calls, Skype, Zoom or even by playing games on social media. If you are well and would like to mingle with a social group, keep the group small and meet only this group for the time being. The alternative to playdates is to do a video-call or play a multi-player console game online. That way, there's plenty of distance to break any transmission of viruses.
Fun at Home with the Family
Time at home can be fun! Check out our superb list of fun things to do at home.
Much is Still Within Our Control
Perhaps there is still lingering anxiety. We feel you. We are in this together. And there is still some sphere of influence our own actions, attitudes, expressions and choices. Let us stand together. #SGUnited