A new pop-up Comics Library has opened at Anchorpoint with thousands of titles that will cater to various age groups.
---
Comics Library at Anchorpoint
A partnership between National Library Board and Anchorpoint, the Comics Library can be found on first floor near the mall's main entrance.
It will stay open for about a year.
---
-- Story continues below --
This follows the success of the pop-up Manga Library at City Square Mall, which ran from February to August this year.
---
Decor Inspired by the Pop Art Movement
It decor of the Comics Library is based on vibrant vintage comics and inspired by the pop art movement of the 1950s and 60s.
In addition, there is a new Wallpaper Library displaying QR codes so patrons can easily discover and borrow curated e-book collections in the comics, graphic novel, and manga genres.
There are dedicated sections for children, Mother Tongue Language titles, and a Reference Section for patrons to browse.
In addition to the full collection from the previous Manga Library, the Comics Library has the following new additions:
An English-language collection of popular comics and graphic novels
A collection of comics and graphic novels available in Chinese, Malay, and Tamil
A separate children's collection comprising comics and graphic novels in English, Chinese, Malay, and Tamil to provide young readers with opportunities to explore the comics and graphic novel genres.
The Comics Library will have 7,500 books as a start. This collection at the library will grow to over 11,000 titles by early 2024, with 9,500 titles in English, 800 in Chinese, 400 in Malay, and 400 in Tamil, for both adults and children to enjoy.
The Comics Library also has two e-Read screens for patrons to browse popular manga and comic e-titles on-site.
There are also seating areas, including bean bags, available for patrons to use.
---
Grab-n-Go for Extra Convenience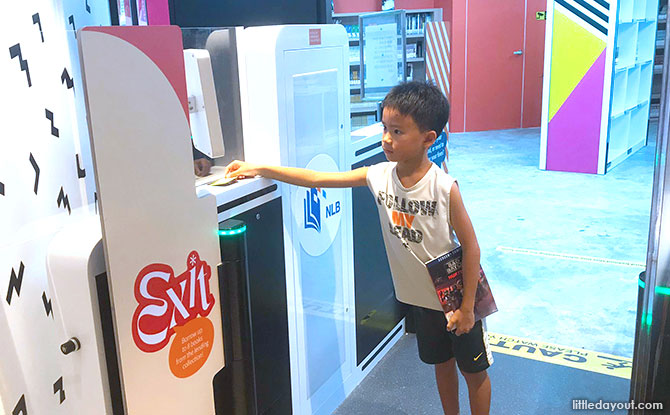 The Comics Library makes use of NLB's Grab-n-Go service.
NLB's Grab-n-Go service is an automated self-checkout service that allows patrons to can simply scan their ID to enter the space, pick out the titles they want to borrow, head to the exit gantry and scan their ID to check out their comics with ease.
Pay a visit to the Comics Library at Anchorpoint, Level 1.
If you enjoyed this story, we think that you will also enjoy this one about a new space-themed collection for kids that you can find at IKEA, opposite from Anchorpoint.