Most people head to the pool to get in some exercise or to have a soak. One day, we paid a visit to the Sengkang Swimming Complex for a completely different reason – to check out the food at Citrus Bistro – and, boy, were we glad we did.
Scroll to the bottom to participate in our Giveaway!
Cool Ambience & Decor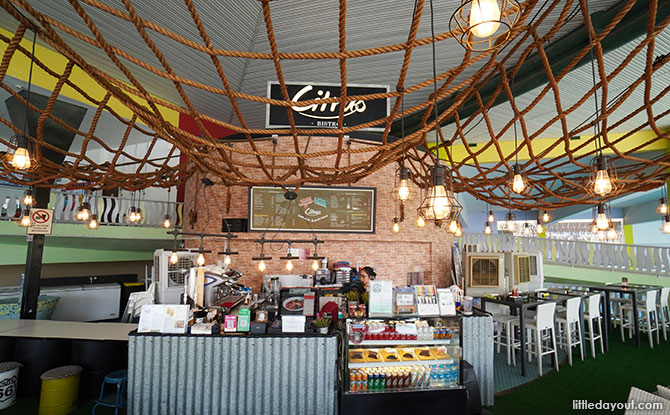 Citrus Bistro is sister outlet to Citrus By The Pool at Woodlands Swimming Complex and also affiliated to Good Bites at Bishan. The Halal-certified café means that even more diners have the option to fill their tummies with the spread of food choices available on the menu.
Decked out in beautiful pirate ship-themed décor, the vintage-looking lights and thick rope nets hanging overhead were an inviting touch to the alfresco dining experience. We taste-tested the signatures on the menu.
Signature Dishes To Bite Into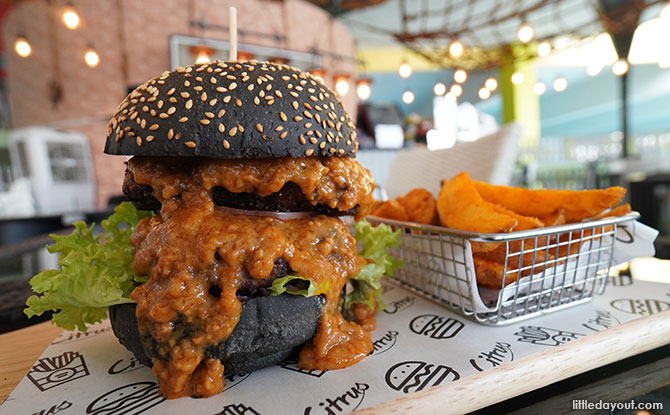 First up was the BIG Boss burger. The thick and juicy beef and mutton patties were sandwiched between toasted charcoal buns with a generous amount of caramelised onions, tomato, cucumber and all the good greens, plus, chunky satay sauce. This burger was well-seasoned and although we couldn't really taste a distinct the difference in the meats, it was a hearty burger that we imagine will be much welcomed after a long swim.
---
-- Story continues below --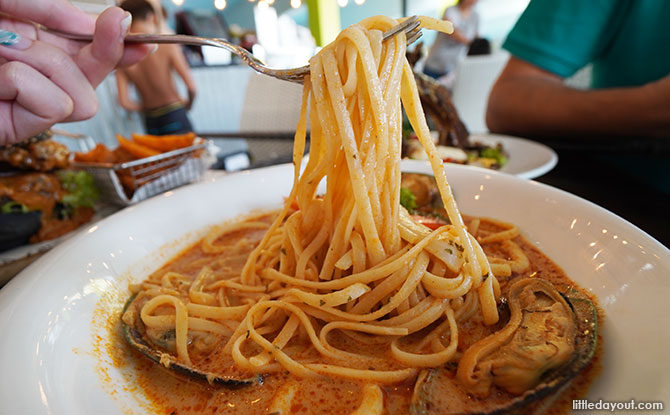 The second signature that we tried was the Tom Yum Seafood Pasta. This was the winner of the meal. I found myself being unable to stop going back for one mouthful after another of the sour, spicy and creamy tom yum sauce. When paired with the linguine that was cooked to an al dente consistency, as well as the seafood, it was a party in every bite.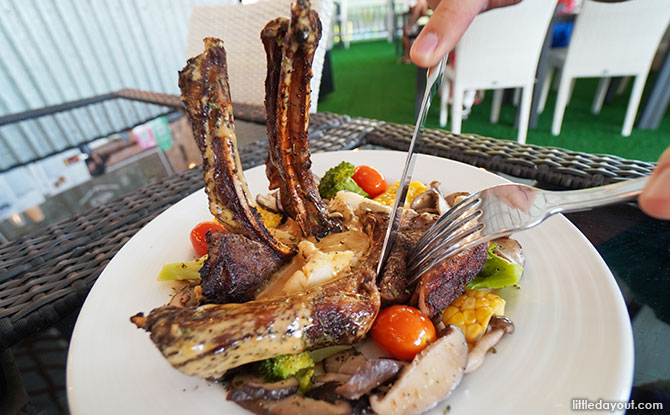 Another signature main that we tried was the Cajun Lamb Rack. Although this was one of the pricer items on the menu, we were pleased to see that there was more meat than there was bone in this lamb rack.
The vegetables and potatoes on the side had a bit of tang, which we assumed came from the dressing. Pour on some brown sauce, and enjoy!
The food here is not deep-fried, and so everything from the meats to the wedges can be enjoyed knowing that it was cooked more healthily.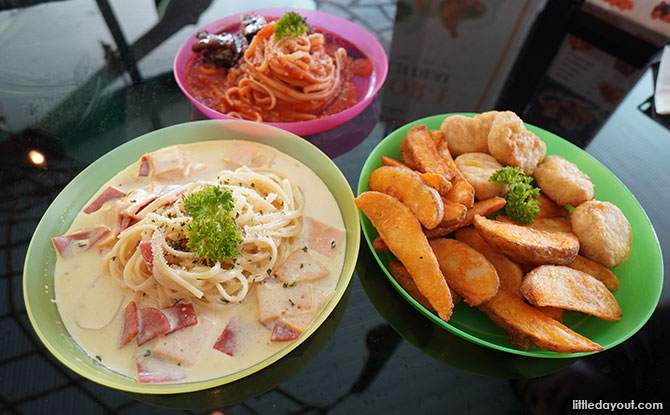 Hands up to parents who are familiar with a kid's request to "have their own food" but ends up being unable to finish it. Enter, the kid's meals here that offer the same delicious items on the menu, but in kid-sized portions. Choose from kinds of pasta and chicken nuggets for the little ones to enjoy.
Instagrammable Mighty Milkshakes (with Local Twists)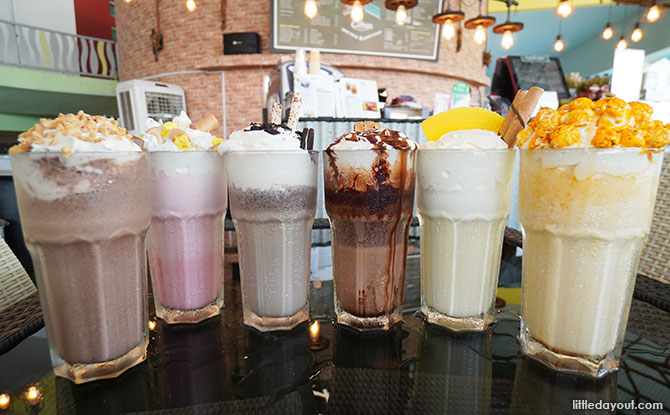 No meal is complete without dessert, and Citrus Bistro's Mighty Milkshakes are the "power rangers" of the dessert menu. Each milkshake indeed packs a punch of satisfaction with the creamy milk base and generous toppings. There are six different flavours to choose from, and, if it eases your mind, the base of each milkshake is made using low-fat milk.
We recommend sharing if you're ordering any sides or mains to go with this because of how filling it can get with the milkshakes.
We also heard that the chocolate lava cake is a favourite among the crowd, and we're marking our calendars to head down to try that for ourselves in the next visit.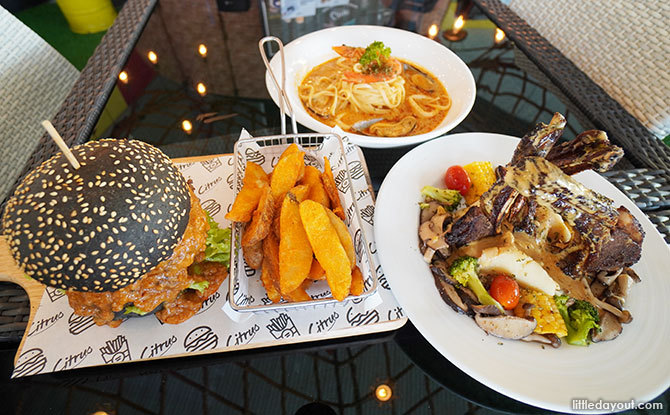 Citrus Bistro is indeed one of those places that we were pleasantly surprised by with its attention to detail in the ambience as well as it's seemingly simple yet appetising food.
Free Entry for Diners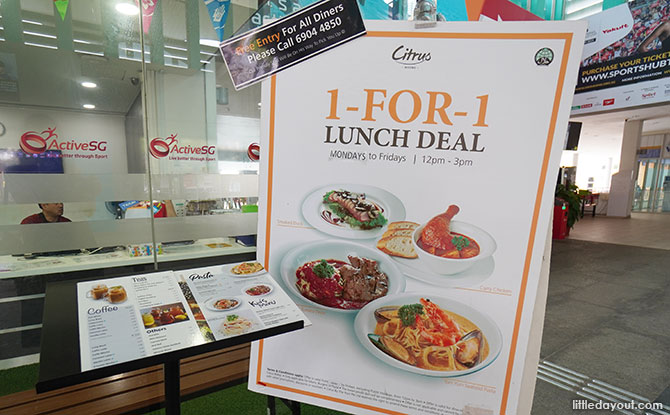 For visitors who want to dine here, don't be deterred by the fact that it is located within Sengkang Swimming Complex.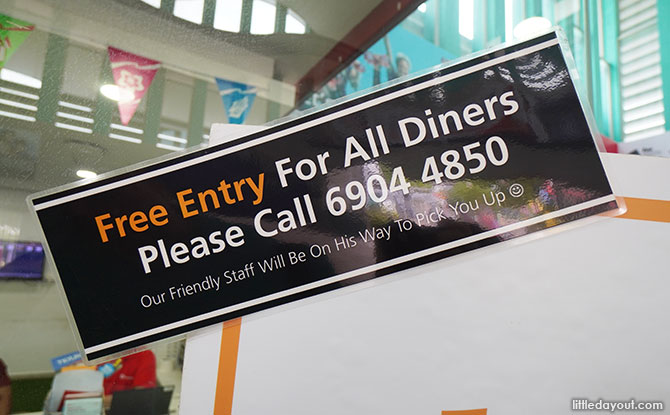 There is no need to pay the entrance fee. Simply call the number at the entry gate of the pool and Citrus Bistro's friendly staff will receive you. Do note that you are not allowed to use the pool facilities as a diner-only.
Citrus Bistro
Where: 57 Anchorvale Road, Sengkang Swimming Complex, Singapore 544964
Media Invite
GIVEAWAY: $50 Dining Voucher to Citrus Bistro!
Little Day Out is giving away:
3 sets of dining vouchers worth $50 to Citrus Bistro
---
This contest has closed. Congrats to Joanne C, Peiyu C and Linda L!
---