The circus is back in town! Under the Big Top next to Marina Bay Sands, Cirque du Soleil KOOZA opens in Singapore from 12 July 2017. This visual spectacular sees Cirque du Soleil return to its roots with a showcase of two circus traditions – acrobatics and clowning – and what an amazing showcase it is.
The highly demanding show features 50 acrobats, musicians, singers, magicians and actors representing 19 nationalities. And boy, they did pack in more than a punch with their fearless, death-defying feats and heart-stopping manoeuvres, carefully interspersed with comic relief from the funny clowns.
Out of the Box
KOOZA is inspired by the Sanskrit word "koza" or box. It starts off with The Innocent, the main protagonist representing the naïve child in all of us, accosted by the suave and charming Trickster. Together, they go on a madcap journey of self-discovery, meeting weird and wonderful characters along the way such as The King, Heimloss, a robot that lives beneath the stage, and The Mad Dog.
At Cirque du Soleil KOOZA, acts include an Aerial Hoop suspended above the floor of the Big Top, contortionists from Mongolia who are able to manipulate their bodies to create amazing living sculptures and a stunning high wire performance 7.6 metres above the stage. All of these skilful acts drew gasps and appreciative oohs from the audience which sat captive at the edge of their seats throughout their awesome performances.
---
-- Story continues below --
Aerial Suspense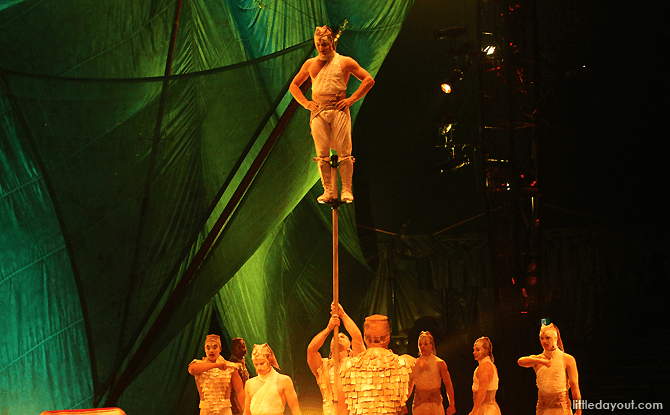 A highlight of the evening is the Teeterboard act. Using nothing more than a board that pivots in the middle like a seesaw, acrobats are sent flying into the air before landing perfectly on the ground – in stilts!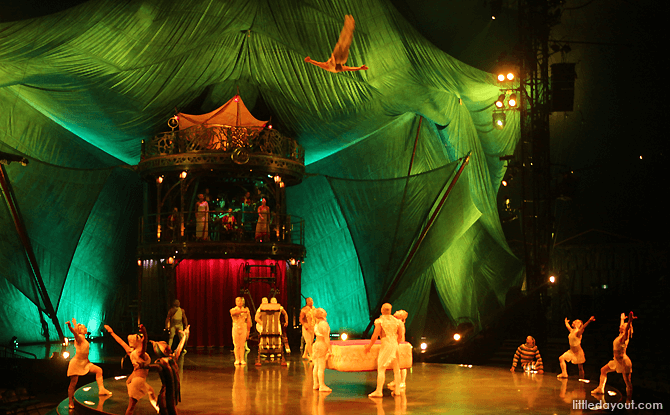 The most heart-stopping performance of the evening has to be Cirque du Soleil KOOZA's Wheel-of-Death. This spinning wheel, hung above the stage, weighs more than 700 kg. Two acrobats, Jimmy Ibarra and Ronald Solis, take to the Wheel-of-Death, cheating death with every rotation. Truly breathtaking.
Brilliant Music
Adding to the atmosphere and suspense of the evening are the sounds of the live six-piece band fronted by two powerful singers. The music was written by Jean-Francoise Cote and inspired by Western pop, 1970s funk and orchestral scores. You will also hear influences of Indian music in the live soundtrack too.
Cirque du Soleil KOOZA first premiered in April 2007 in Montreal, Canada. More than seven million people have seen the show and now, Singapore has the chance to add on to that number.
Cirque du Soleil KOOZA
From 12 July 2017
Venue: Bayfront Avenue beside Marina Bay Sands
Performance Times: Tue to Fri – 8 pm, Sat – 4.30 pm and 8 pm, Sun – 1.30 pm and 5 pm
Tickets Price: From $88
Ticket Bookings: www.sistic.com.sg or www.cirquedusoleil.com/kooza, +65 6348 5555 or in person at KOOZA Box Office on site at the Big Top on Bayfront Avenue, beside Marina Bay Sands
#KOOZA