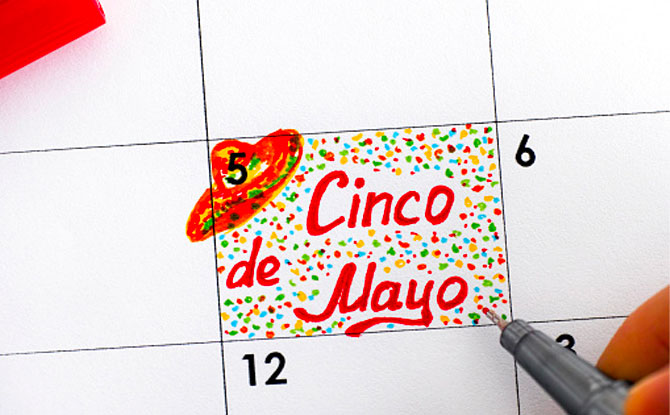 Cinco de Mayo is an annual celebration in Mexico held on May 5, which commemorates the 1862 victory over France at the Battle of Puebla during the Franco-Mexican War.
While it is a relatively minor holiday in Mexico, in the United States, Cinco de Mayo is a day that is mostly used to commemorate Mexican culture and heritage, especially in areas with large Mexican-American populations. Here are some light-hearted jokes about Cinco de Mayo Jokes
---
Light-Hearted Cinco de Mayo Jokes To Giggle At
1. Happy Cinco de Mayo
I hope every Juan has a great day
2. To all my Americans today: Happy Cinco de Mayo
To all my Mexican-American friends: Happy Thursday
---
-- Story continues below --
3. Cinco de Mayo is cancelled in 2020, so..hold de Mayo
4. I was trying to think of a bad joke for Cinco de Mayo but all of mine are 5/5
5. Happy Cinco De Mayo. A Mexican magician says he will disappear on the count of three. He says "uno, dos…" then disappears without a tres.
6. TIL: The Titanic was not just a passenger liner, but also a cargo ship
Among other things, it was carrying a large shipment of mayonnaise bound for Mexico. When Mexico heard that they would not receive it, they were understandably upset, and decided to name a day in memorial of it. And that is how they came up with the holiday…Cinco de Mayo.
7. What do you call a sink full of mayonnaise?
Sink o de mayo.
8. What did the Mexican say after celebrating Cinco De Mayo?
Taco about a good time.
9. What's the difference between St. Patrick's Day and Cinco De Mayo?
On Cinco De Mayo, not everybody pretends to be Mexican.
---
More Cinco de Mayo Jokes
10. Yesterday was Star Wars Day (May The Fourth be with you). Today is Cinco de Mayo. Combine the two and tomorrow is "Revenge of the Sixth".
11. Why do Mexicans cross the border two at a time?
Because the signs say "No Trespassing"
12. What's honey mustards least favorite holiday?
Cinco de Mayo
13. Where are the best margaritas served?
In the gulp of Mexico.
14. I hate Cinco De Mayo!
Said no Juan ever
15. Why did they call it Cinco de Mayo?
Because it seems like only white people celebrate it.
16. How do you break up a Cinco De Mayo celebration?
Call Nine Juan Juan.
17. When you enter a public restroom, what do you call the fifth sink in the row?
Cinco.
18. What do you call four matadors in quicksand?
Quatro Cinco
You may also enjoy reading some interesting Mexico facts for kids.