Christmas Wonderland 2021 is back this December at Gardens by the Bay. From 3 December 2021 to 2 January 2022, the lights are up at the Supertree Grove with festivities for visitors to enjoy.
Christmas Wonderland 2021 highlights include light displays, photo ops with Santa, games, rides, shops and a special light and sound show. Here's a look at what you can expect at Christmas Wonderland 2021.
---
Christmas Wonderland 2021 at Gardens by the Bay Highlights
Luminarie Light Displays
A favourite of many is the chance to enjoy the festive atmosphere created by the Italian light sculptures at Gardens by the Bay.
Greeting guests who arrive at the Golden Garden is one of the towering light displays. This gives a taste of what to expect at Christmas Wonderland 2021.
There are a total of eight light displays at Christmas Wonderland 2021. This include a brand new seven-storey tall Spalliera from Italy.
Among the light displays are baubles and a Magical Carriage presented by The Tiara Society.
---
Walk of Stars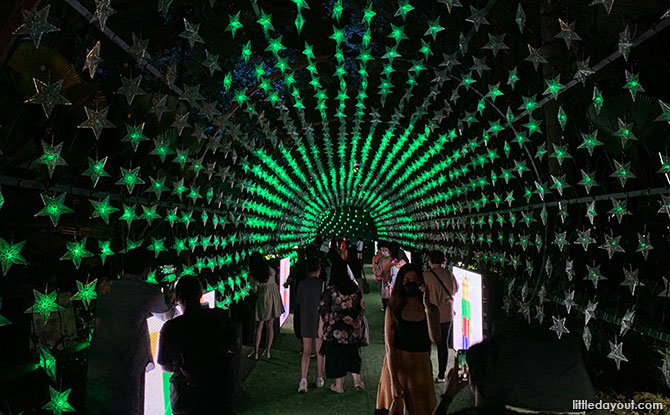 The 44-metre long Walk of Stars is a light tunnel filled with moving. It is a popular photo spot, so do expect to queue.
---
Enchanted Bridge
The 30-metre-long  Enchanted Bridge looks like it is modelled after the famous Rialto Bridge in Venice, Italy. The 7.7-metre tall display is sounded by a sea of blue lights; the entire display is illuminated by 100,000 LED lights. If you wish to enter the platform in front of the Enchanted Bridge, you may have to queue up. Otherwise, you can also take a picture of it from the side.
---
Venetian Double-Storey Carousel
It appears that Christmas Wonderland 2021 has a bit of a Venetian theme. One of the attractions at the fairground is a Venetian Double-Storey Carousel which has been hand-painted by artists and crafted by skilled European craftsmen.
Tickets are priced at $10 per person and $5 for each adult accompanying a child (12 years and below). Tickets must be pre-booked online.
There are also traditional carnival games at Christmas Wonderland for those who wish to try their luck.
There are also food stalls with a seating area at Christmas Wonderland 2021. However, you should also expect to queue to enter this as there is crowd limit at this area.
---
La Casa di Santa Claus presented by Livingcare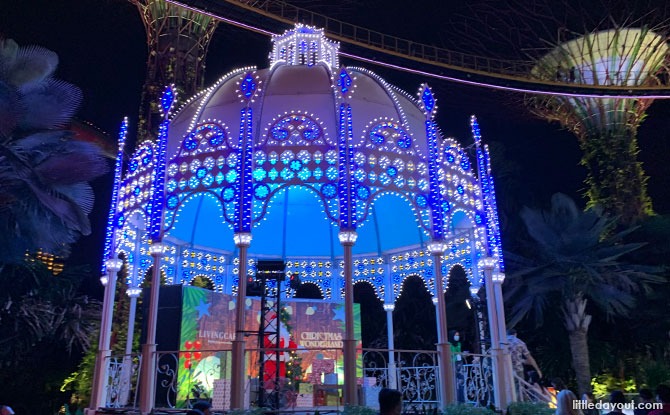 Want to take a Christmas photo with Santa? Head over to La Casa di Santa Claus, an Italian handmade luminarie light display.
---
Mistletoe Alley Market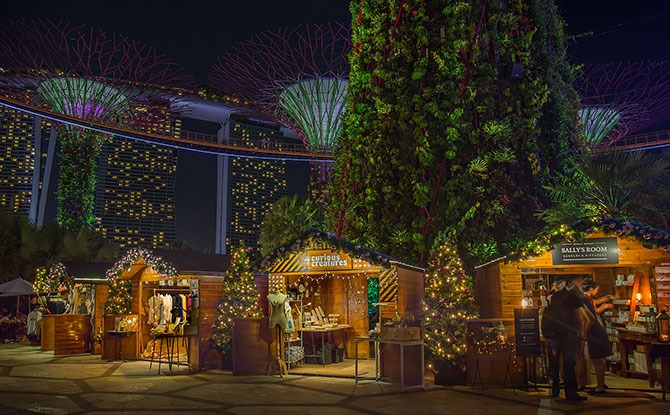 Along Mistletoe Alley, where wooden Christmas market shops have been lined up, visitors can shop for premium chocolates, teas, toys as well as wine and spirits from DFS Singapore.
Children can also sign up for a free workshop on Sustainable Dough Soap Making at the Fawn Labs hut.
---
Visiting Christmas Wonderland 2021
Tickets to Christmas Wonderland 2021 at Gardens by the Bay start from $7 and can be purchased via the official ticketing partner KKday. There are four daily sessions to choose from between 3 December 2021 to 2 January 2022, with hourly slots from 6.30 pm to 10.30 pm. Visitors are required to pre-purchase their tickets online.
Do take note to expect crowds at Christmas Wonderland 2021. From what we observe, the 7.30 pm timeslot is the most popular, but there are still plenty of people even at other times. We visited on the Friday evening; you can try visiting on a weekday instead.
Visitors to Christmas Wonderland 2021 can also consider visiting Poinsettia Wishes 2021 at the Flower Dome. Do also check out the many other things to do during the December school holidays 2021 in Singapore.