Christmas Wonderland 2018 will light up Gardens by the Bay from 30 November to 26 December 2018, bringing back yuletide crowd favourites like luminarie light sculptures along with new highlights such as a mirror maze.
Now into its fifth year, Christmas Wonderland 2018 brings the charms of a European-style Christmas fair back to Gardens by the Bay for the year-end holiday period. The fairground will occupy 57,000 square metres and is open to the public from 4 pm to 11 pm daily. Admission charges apply.
Highlights of Christmas Wonderland 2018
---
Luminarie Light Sculptures
A firm favourite of Christmas Wonderland is the stunning luminarie sculptures that are handmade by craftsmen from Italy. For Christmas Wonderland 2018, visitors can expect to see a towering 21-metre tall Christmas tree, brilliantly illuminated in gold.
Another highlight at Christmas Wonderland 2018 will be a 314 square metre luminarie mirror maze which will stand 22 metres tall.
---
Magic of Rob Lake
As if the light sculptures are not magical enough, Christmas Wonderland 2018 will also be presenting the magic of Rob Lake. A quarter-finalist in America's Got Talent 2018 and named "The Top Illusionist in the World" by Caesars Entertainment, Rob will delight audiences with his magical illusions. His performances will take place at The Meadows and tickets are priced from $12 for an adult ticket and $8 for a child ticket.
---
Santa's Grotto
The Christmas Wonderland 2018's Santa's Grotto will be the biggest yet with festive installations and a kinetic light installation within the 400 square metre attraction. And, of course, there will be opportunities to meet the big man himself, Santa.
---
Outdoor Skating
Go skating on a rink brought in from Switzerland. The outdoor skating rink at Christmas Wonderland 2018 will even have a Christmas tree in the middle of it for those festive feels.
---
Slice of SAVOUR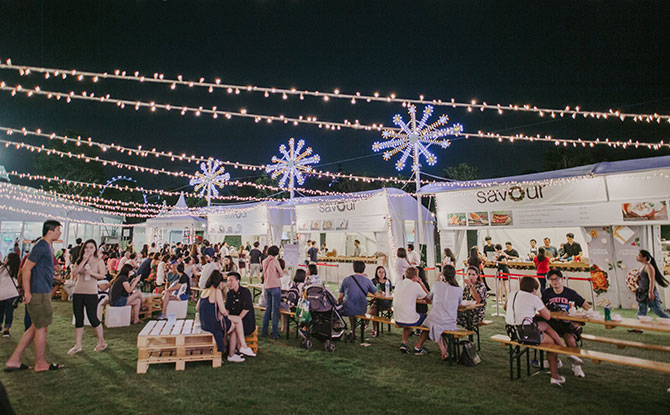 Get a taste of gourmet delights at Slice of SAVOUR. Try gourmet comfort food from some of Singapore's trendiest restaurants. Access to Slice of SAVOUR is free with a Christmas Wonderland 2018 ticket.
---
Festive Entertainment, Markets and Games
The bustle of Christmas Wonderland 2018 would not be complete without songs and games to add to the cheer. Choral performances will take place under the Cassa Armonica gazebo. More than 10 school choirs are lined up to perform along with local musicians such as Joanna Dong, Rani Singam & Andrew Lim, Lorong Boys, Orchestra Collective and Sobs.
For some festive feasting, look out for savoury treats such as the giant Turkey Leg from The Beast, Beef Tenderloin Cube Rosti from The 6ixs Rosti and Truffle Lobster Roll Croissant from Street Food Circus SG. Shoppers can also look forward to beautiful handmade jewellery from Bacteria Secret, artisan-crafted products from Bold&Craft, handmade natural soy wax candles from Sally's Room, sock toys from Angel Wings Workshop and beauty products from Macqueza.
Rides and attractions for kids include the Snowman Swing, Santa's Train, Mini Ferris Wheel, Carousel and Ski Gliders.
Tickets for Christmas Wonderland 2018 at Gardens by the Bay go on sale from 1 November 2018, 5 pm onwards. Admission ticket prices start from $4. A discounted bundle is available for Christmas Wonderland and "The Magic of Rob Lake" show.
Get more details here.
More Stories on Christmas: