This year's Christmas On A Great Street 2018 light-up along Orchard Road promises to be even more breathtaking as Orchard Road Business Association (ORBA) works with The Walt Disney Company to present "Disney Magical Moments", the first ever branded light-up in the event's 35-year history.
As you stroll down Orchard Road taking in the spectacular light-up, which runs from 10 November 2018 to 1 January 2019, you will be joined by familiar and well-loved Disney characters such as Mickey and Minnie Mouse, Cinderella, Elsa and Woody.
Disney on Orchard Road
Sponsored by Hitachi, this will be Disney's largest Christmas street light-up in Southeast Asia.
For Christmas On A Great Street 2018, Orchard Road will be transformed into four distinct Disney themes, namely Disney Princess (Tanglin Mall to Shaw House), Mickey Mouse and Friends (ION Orchard to Mandarin Gallery), Frozen (313@Somerset to Orchard Central), and Toy Story (Orchard Central to Plaza Singapura).
---
-- Story continues below --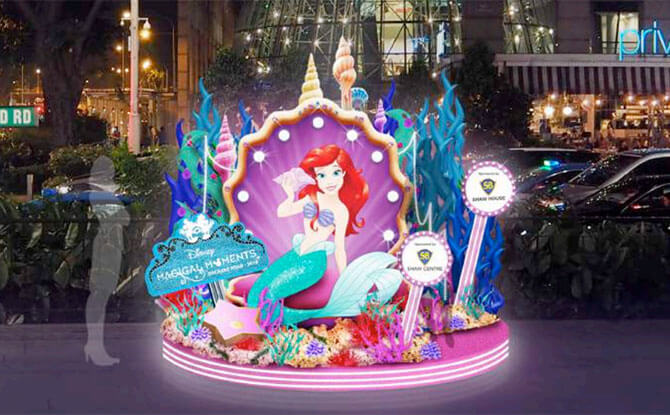 Based on the theme of the zone, the corresponding street lights will include iconic elements, such as Snow White's poisoned apple (Disney Princess), and Mickey's white glove (Mickey Mouse and Friends). Not only will you have the usual hanging lights to gawk at, there will also be Instagram-worthy life-size dioramas placed along either side of Orchard Road as part of the Christmas light-up 2018. (Ariel, here I come!)
The Great Christmas Village
A highlight of last year's Christmas on A Great Street was the Great Christmas Village. For Christmas On A Great Street 2018, this even will return for a longer run at Ngee Ann Civic Plaza, from 15 November to 26 December 2018.
Get a headstart indulging at the "Timbre x Food Village" and be entertained by nightly live music performances by artistes from the Timbre Music Academy, Eat, drink, and then be merry as you hop on an amusement ride or two, like the duplex carousel, complete with a special seat carriage for the wheelchair-bound.
There will also be a Santa House with arts and crafts activities to keep your children busy. Want to ask Santa for something extra special this year? Meet & Greet with him every Friday and Saturday, between 7 pm to 9 pm.
Christmas On A Great Street 2018
Get your dose of Disney at this year's Orchard Road Christmas light-up extravaganza. The Light-Up Ceremony for Christmas On A Great Street 2018 will be held on Saturday, 10 November 2018 at 6.30 pm.
More Stories on Christmas: