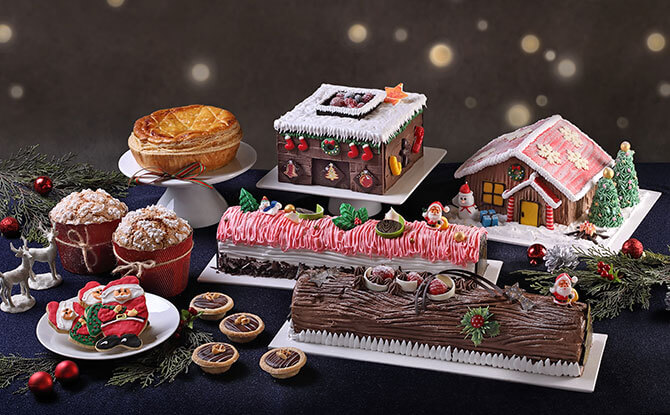 Nothing quite says that it is a Christmas party than a log cake. And if you are looking for log cakes in Singapore 2019, there are many different choices available. Here are some yule log cakes in Singapore where you can get a delectable showpiece for your festive party.
Take note that pre-orders are often required for log cakes from hotels.
Log Cakes In Singapore 2019
---
Paul
Bavaroise cream made with dark chocolate, praline, cocoa genoise and almond dacquoise biscuit come together in Paul's deliciously decadent Chocolate Praline Log (Small, $30, Medium, $52). For those who want a traditional roll, the Individual Dark Chocolate Roll Log ($15) made with 60% dark chocolate mousse will take the cake!
For a festive centrepiece, how about a Snow Covered Forest Cake (18 cm, $40) to usher in those holiday feels.
---
-- Story continues below --
---
Pacific Marketplace, Pan Pacific Hotel
Pan Pacific is offering some unusual Christmas log cake flavours for the holiday season in Singapore. These include the Jivara Milk Chocolate Pear William and Caramel Nut Log Cake (1 kg, $70), and local flavours like the Mao Shan Wang and Gula Melaka Log Cake (1 kg, $70) and Coconut Mango Calamansi Log Cake (1 kg, $70). Other Christmas-themed delights at Pacific Marketplace include a Giant Santa with Pralines (1.4 kg, $108) and a Snowboarding Snowman Chocolate Figurine (400 g, $24).
---
Shangri-La Singapore
For Christmas this year, Shangri-La Singapore has unveiled an all-new exclusive creation, the Cocoa Bean Strawberry Log Cake ($75). The luscious cake is made from moist genoise sponge, strawberry juice, strawberry inspiration cremeux and finished with a vibrant red glaze.
Other delectable yule logs available include the All-Time Favourite Grandma 66% Yule Log Cake ($72) and Chestnut & Yuzu Log Cake (S$75) made with pain de genes (almond sponge), and Japanese yuzu-infused pear compote. The hotel's Coffee & Baileys Log Cake ($72) will appeal to the coffee-lover who likes a little kick in his or her log cake.
Those who really wish to "wow" their guests, the elaborate Limited-Edition Christmas Signature Carousel Cake ($298) with festive characters will do the trick. It looks amazing.
---
The Capitol Kempinski Hotel
Bring home some Christmas cheer with log cakes in Singapore 2019 from The Capitol Kempinski Hotel. Go with tradition chocolate in the form of a Chocolate Yule Log with Crunchy Pearls, Chocolate Buttercream and Chocolate Ganache (1 kg, $62) or opt for the classy Madagascar Vanilla Mousse Cake with Mixed Berries Jelly and Raspberry Custard
(1 kg, $62).
---
PrimaDéli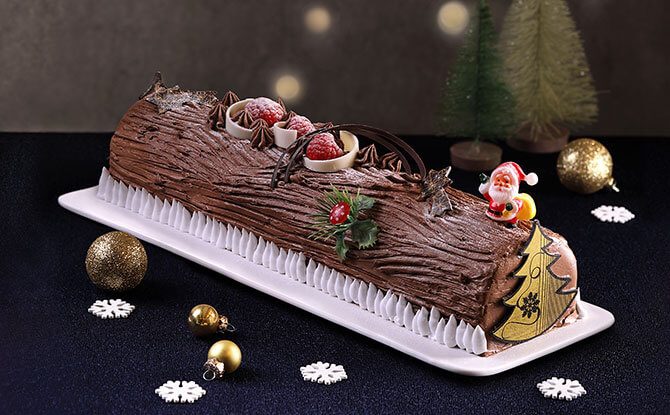 PrimaDéli's all-chocolate Christmas classic and fan favourite Truffle Yule Log (Regular, $44.80, 1 kg, $55.80) is back for Christmas 2019. This year, the homegrown bakery is also unveiling the new Strawberry Cream Cheese Yule Log (Regular, $44.80, 1 kg, $55.80) with velvety smooth strawberry cream cheese amidst fluffy vanilla sponge. For those who wish to have something decorative for their dessert table, how about an enchanting handcrafted Santa's Cottage (Approx 1 kg, $54.80). This beautifully sculpted cottage is filled with delightful dark sweet cherry between layers of rich chocolate sponge.
---
PARKROYAL on Kitchener Road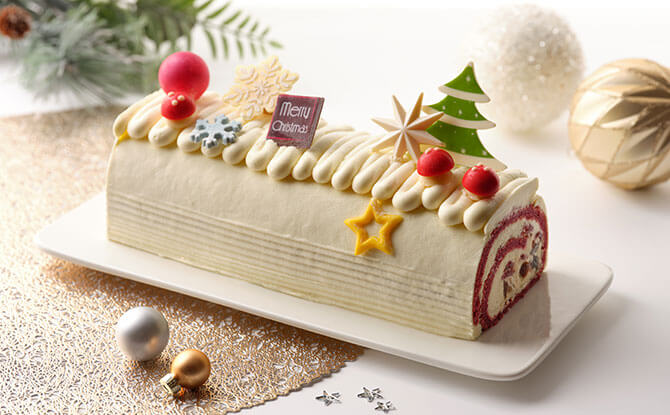 Indulge in a White Chocolate and Cream Cheese Red Velvet Yule Log with Brandied Fruits and Nuts ($58) inspired by traditional Christmas fruit cake. It features a light red velvet sponge rolled with a combination of Griottes cherries, cranberries, raisins and citrus peel that are soaked in rum, kirsch and cognac for months. It is covered with a thick, luscious layer of cream cheese and white chocolate. It is available at the Spice Brasserie on pre-order or you can sample it for yourself at the Festive Buffet.
---
BreadTalk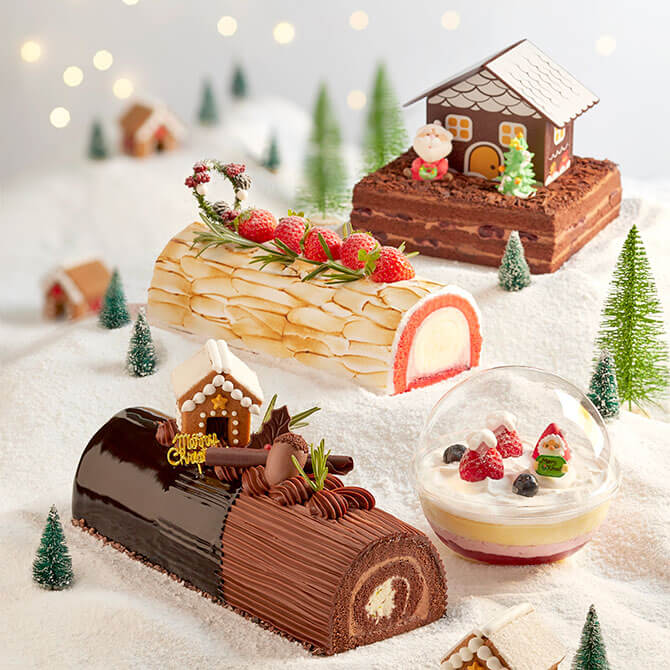 BreakTalk is offering a selection of Christmas cakes for the 2019 holiday season. The Nutty Valrhona Log is made with chocolate chiffon cake rolled between layers of 55% chocolate mousse and pistachio cheese mousse infused with candied orange. This log cake in Singapore 2019 is finished off with a gingerbread cottage and rich sea salt ganache.
If you are looking for something more "fruity", try the Rosy Berry BTXmas which consists of BreadTalk's signature Hokkaido snow white roll wrapped with raspberry mousse and a layer of raspberry rose coulis at the base. It is finished off with Italian meringue and fresh strawberries for a refreshing, fruity flavour.
---
Mandarin Oriental
For something different, check out Mandarin Oriental's Ruby Cocoa ($88). It is shaped to look like a cocoa pod with layers of raspberry mousse, raspberry chocolate cremeux and chocolate almond cream. It will definitely get your guests' attention. The hotel's traditional Chocolate Yule Log costs $43 for 500 g version or $85 for a 1 kg cake.
---
Swensen's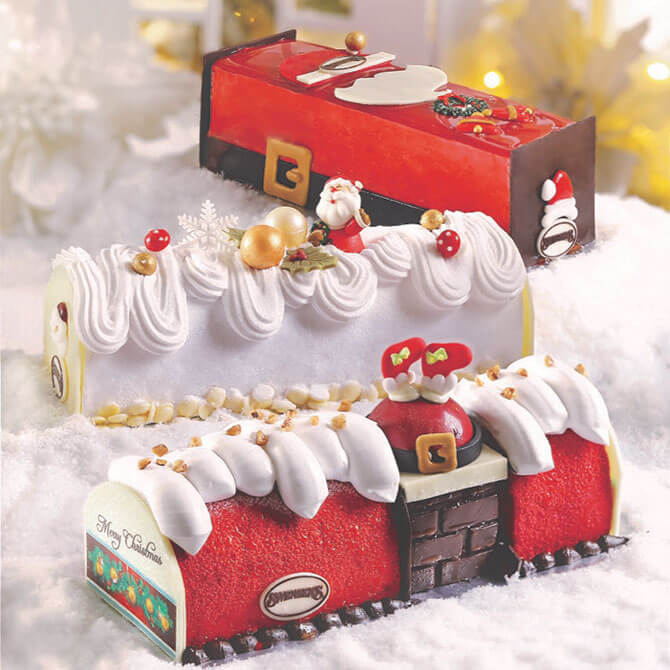 Milk tea ice cream log cake, anyone? Ho-Ho-Ho (1kg, $65) at Swensens's features its new Butterfly Pea Flower Milk Tea ice cream. It has a merry red glaze and has been made to resemble Santa's belt with a buckle and strap made out of fondant. There are five other new log cakes at Swensen's Singapore available for Christmas 2019. For Frozen fans, Swensen's also has a Frozen in Time cake (1 kg, $65).
---
Grand Mercure Singapore Roxy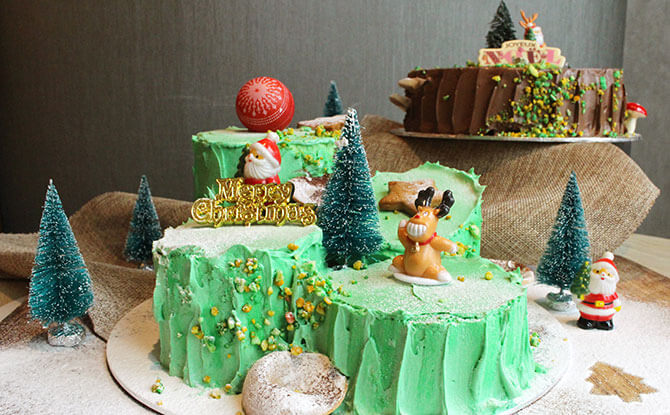 The Gula Melaka Pandan Log Cake ($42) is back at Grand Mercure Singapore Roxy. It consists of the natural sweetness of the palm sugar and the fragrance of pandan leaves. Other options include the Classic Christmas Yule Log and, for a variation, the Nutella Tree Trunk Cake. Both of these are $42.
---
Marriot Singapore Tang Plaza
Pandan seems to be a recurring them for log cakes in Singapore 2019. At Marriot Singapore Tang Plaza, pandan meets berries in the Pandan & Mixed Berries Chiffon Log Cake (1 kg, $68). This creation is a modern interpretation ofpandan chiffon cake with soft pandan sponge interweaved with lightly whipped ganache and a marmalade made with whole fresh berries.
Another new log cake is the Brandy White Chocolate Chestnut Log Cake (1 kg, $68). This yule log features vanilla sponge soaked in brandy and interlaced with whipped white chocolate ganache and a generous filling of premium chestnuts imported from France as a homage to Mont Blanc. Pre-orders required.
More Stories on Christmas: