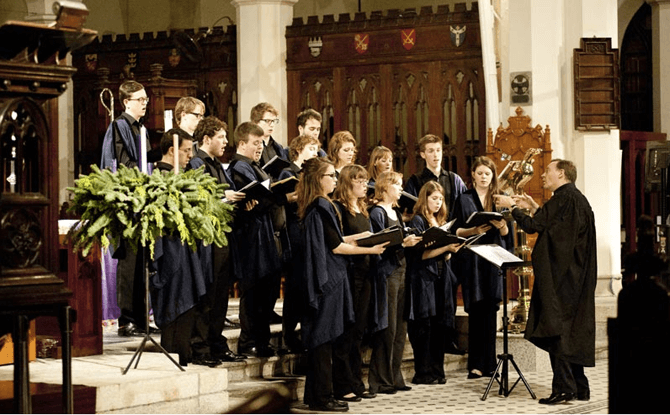 During the festive season, there is nothing like the sweet sound of carols to put you into the holiday mood. Where can you go to hear carols in Singapore 2017?
There are plenty of spots around town and more. You can look forward to hearing carols in Singapore at many shopping malls, hotels and even in the concert hall this year-end Christmas season.
Here are 14 places where you can enjoy the angelic sounds of carols in Singapore 2017.
1. A Capella Carolling @ Tanglin Mall
Listen to carols performed a capella, with sounds made without any instruments except the human voice, at Tanglin Mall. Other festive treats taking place at Tanglin Mall include Santa meet and greets, snow splendour and a festive market.
16, 17 and 23 December 2017, 12.30 pm
Tanglin Mall
More
2. SSO Christmas Concert
Join the Singapore Symphony Orchestra and Associate Conductor Joshua Tan for cherished yuletide melodies and a sing-a-long segment with the orchestra. Marvel at their coordination and the grand sound of instruments playing in one accord.
15, 16 December 2017, 7.30 pm
17 December 2017, 4 pm
Victoria Concert Hall
More
3. Christmas Wonderland
Take a stroll in our very own version of a winter wonderland! Choirs and choral groups will be at the Cassa Armonica gazebo to share the Christmas spirit through music at Christmas Wonderland. Look out for other fun activities to try such as ice skating under the stars, a festival market and yummy foods, all surrounded by sparkly light installations. Take note that entry to Christmas Wonderland is ticketed.
1 to 3, 8 to 10, 18 to 26 December 2017
Gardens by the Bay
More
4. Christmas With DingYi
Experience Christmas music with a twist as it gets performed by Ding Yi, a Chinese music ensemble at Gardens by the Bay's Canopy and as they rove around. Definitely one way that shows that Christmas is not just a "western celebration", but one for all!
16 December 2017, 6.00 pm
Canopy at Gardens by the Bay
More
5. Britten – A Ceremony of Carols Choral Music for Advent and Christmas
Enjoy a performance of Advent and Christmas music showcasing solo harp and upper voices at Victoria Concert Hall. They will be covering a variety of carols from traditional pieces as well as some French romantic favourites. Tickets are available at SISTIC.
19 December 2017, 7.30 pm
Victoria Concert Hall
More
6. Let Your Light Shine @ St Andrews Cathedral
Celebrate Christmas at the eye-catching St Andrew's Cathedral with an array of festive activities for the young and old. Both events are free. There will also be a retelling of the Christmas story, led by the Cathedral Choir. 
Let Your Light Shine!
21 – 23 December 2017
Performances @ The Cathedral Cafe: 12.00 pm to 1.30 pm, 5.00 pm to 9.30 pm
Lessons and Carols Service, featuring the Christmas Story
16 December 2017, 7.30 pm
More
7. Melodious Medleys at The Fullerton Hotels
Let your ears be treated to a melodious performance by the Hwa Chong Voices, as they delight you with favourite Christmas carols and their own rendition of familiar songs like Jingle Bells. Handbell Ringers will also perform weekly at The Fullerton hotels.
Grand Staircase, The Fullerton Hotel Singapore
24 December 2017, 5.00 pm, 8.30 pm
25 December 2017, 1.30 pm, 3.30 pm
The Clifford Pier Foyer, The Fullerton Bay Hotel Singapore
24 December 2017, 7.30 pm
25 December 2017, 4.30 pm
More
8. CCIS 2017
CCIS or "Celebrate Christmas in Singapore" is an annual event to celebrate the season of Christmas in the heart of Orchard Road. Together with participants from other parts of the world, CCIS commemorates the reason for the season during the first Christmas, through a multimedia celebration of performances, interactive activities, carols, floats, mass choirs, and more.
16 to 23 December 2017
Along the pedestrian walkways of Orchard Road, between the Scotts and Bideford Road junctions
More
9. Christmas of Endless Wonder on Orchard Road
From 11 November 2017 until 1 January 2018, Orchard Road is adorned in hues of purple, blue and silver, along with interactive street-side installations. Visit the Christmas Village outside Ngee Ann City from 25 November, as well as a series of carolling performances at Paragon and Orchard Gateway.
7 pm to 9.20 pm
ION Orchard to Ngee Ann City
More  
10. Carlton Hotel
Sing along with the talented a Cappella group from the National University of Singapore. Take photos with the decorated live Christmas pine tree and handmade Gingerbread Castle at the hotel lobby, and say hi to Santa Claus and Santarina, who will be making their appearance on Christmas Eve and Christmas Day itself.
24 December 2017, 7.45 pm, 8.30 pm
25 December 2017, 1.30 pm, 7 pm
Carlton Hotel
More
11. Park Royal Hotel
Tuck into festive delights with an extra treat at Lime Restaurant at Park Royal Hotel. Immerse in the holiday festivities and sing along with the carolers, or take a shot with special guest Santa Claus to remember the special occasion.
24 December 2017, 5.30 pm at the Lobby, 7.00 pm and 8.15 pm, Lime Restaurant
25 December 2017, 1.30 pm, 3.00 pm, 7.00 pm and 8.15 pm
Lime Restaurant, Park Royal Hotel
More
12. Sheraton Hotel
Pamper yourself this Christmas holiday at Sheraton Towers Singapore with a Christmas room package along with other yummy goodies. Don't forget to make your way to the hotel lobby and sing along to your favourite Christmas carols.
23 December 2017, 7.30 pm
24 December, 7.30 pm and 8.30 pm
More
13. The Anglo-Chinese Junior College Choir
Catch the yuletide cheer with the Anglo-Chinese Junior College (ACJC) Choir at the Esplanade's annual Christmas celebration performances. The multiple award-winning choir will also be performing at various venues within the CBD.
11 & 12 December 2017, 7.15 pm and 8.15 pm
Esplanade Concourse
12 December 2017, 12.45 pm
Ocean Financial Centre
14 December 2017, 12.45 pm
Bugis Junction Towers
15 December 2017, 12 pm, 1.10 pm
Metropolis
14. Prudential Marina Bay Carnival
Be captivated by the voices of Evokx as they usher in the Christmas spirit at the Prudential Marina Bay Carnival.
In December 2017, on Wednesday, Thursday and Weekends, evenings
The Promontory