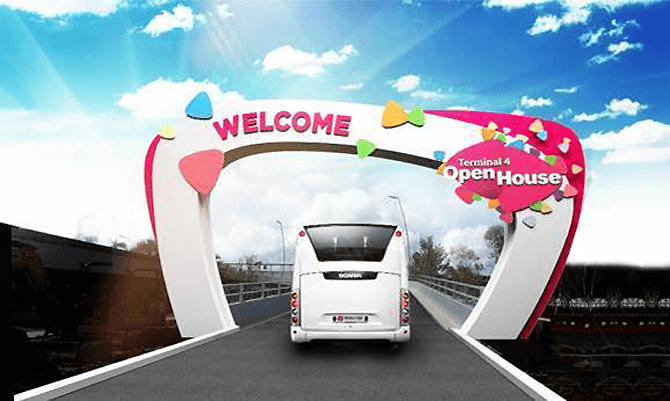 Curious about Changi Airport's new Terminal 4? Be among the first to get a sneak peek at the new terminal at the T4 Open House taking place from 7 to 20 August 2017.
New Innovations at the Terminal
Changi Airport Terminal 4 is a new two-storey, 195,000 square metre terminal. It is about half the size of Terminal 3 but able to manage about 70% of T3's capacity.
In addition to allowing visitors to view the boutique interior decor of the new terminal, the Changi Airport T4 Open House will also showcase the various innovations, streamlined processes and technologies that make the increase in capacity possible.
Signing Up for T4 Open House
The Changi Airport T4 Open House is a free but ticketed event.
To attend, interested members of the public will need to register online at T4OpenHouse.com from 5 July 2017, 0001hrs onwards.
Each person can register for up to six participants, inclusive of himself or herself. Registrants need their NRIC/passport number, mobile number and email to register. Children are welcome to attend the T4 Open House and will need to register as well.
A total 200,000 tickets will be made available during the two weeks of the T4 Open House. Registrations will close on 19 August 2017 or once all the tickets have been taken up. No walk-ins will be entertained.
Visitors can choose to drive, take a taxi or a take a free shuttle bus from Terminal 3 to get to Terminal 4.
T4 Open House App
To help visitors explore the new Terminal 4, a new T4 Open House app has been created. Visitors can make use of the app to go on a self-guided tour around the terminal building and to view its various points of interest.
The tour route is about 1 km long and expected to take between 90 minutes to two hours.
At various zones along the tour route, visitors will be able to take part in in-app games where they stand to win e-vouchers that can be used at Changi Airport's retail and F&B outlets.
There will also be a daily lucky draw with tickets from airlines flying out of T4 up for grabs. These include return tickets to destinations such as Bangkok, Hong Kong, Seoul and more.
"The public has been eagerly waiting to see how the new T4 will be different from Changi"s other terminals. At the Open House, we will showcase T4"s latest innovations in enhancing operational efficiencies and productivity, in addition to the terminal"s many unique features. The Open House visitors will be among the first to learn about and experience the innovations and "wow" features at T4 – facial recognition technology, integrated duty-free shopping, kinetic art displays, a Heritage Zone, and specially curated sculptures, among many others," said Ms Poh Li San, Vice President, T4 Programme Management Office.
Changi Airport Terminal 4 Open House
Dates: 7 to 20 August
Times: 9 am to 6 pm
Register for the T4 Open House here from 5 July 2017 onwards.