Deepavali, the Hindu Festival of Lights, is round the corner and Little India is all aglow. Little Day Out checked out the bright lights and festivities, to bring you some of the highlights that you too can enjoy with your kids and celebrate with the Indian community.
Hop onto the Deepavali Light-Up Tour
Little India is all lighted up! 'Deep' means lights and 'avali' means a row, or a row of lights. And indeed, row after row of archways with swans, peacocks and lotuses stretching from Selegie Road, down Serangoon Road, and part of Race Course Road are now alive with rope lights from 7 pm nightly. Catch it now till 18 November 2012.
For the first time this year, Little India Shopkeepers and Heritage Association has chartered open-top double-decker buses so you can enjoy a tour of the illuminated streets. Tickets for the bus ride is $3 per person and you'll get a scenic overview of the festive displays. There are only four tours available at half-hour intervals on Saturdays, starting from 7.30 pm, till 10 November 2012, so do call them to book them in advance. Click here for more details of the first ever Deepavali Light-up bus tour!
Explore the Deepavali Festival Village
Over at Campbell Lane and Hastings Road, the streets are bustling daily from 10.00 am to 11.00 pm with more than 50 stalls offering colourful flower garlands, Indian ethnic costumes, intricate jewellery, arts & crafts, decorations, traditional treats and festive cookies. It's all there for you to soak in the festive atmosphere with your kids! Check out more about the annual Deepavali Festival Village here.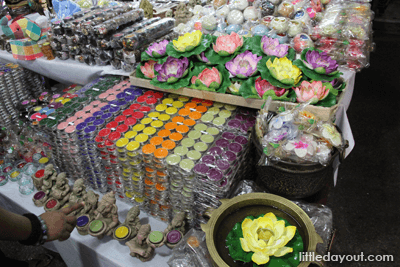 Bedazzled at Deepavali Heritage and Crafts Exhibition
For a deeper take on the festival, visit the Heritage Village around the middle of Campbell Lane. Learn about the origins and traditions of Deepavali and watch skilled craftsmen from India demonstrate the designing of beautifully embroidered and jewelled saris, the making of pots and the tying of flower garlands. On Friday, Saturday and Sunday evenings from 7.00 pm to 10.00 pm, you can catch the live musical performances, including those by contestants of Super Singers, a children's singing talent show.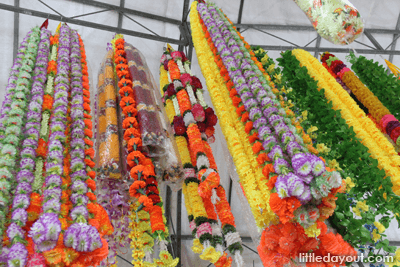 Shop for More at Festival Bazaar
If you venture further down Little India, there's also another bazaar taking place opposite Serangoon Plaza. There are more than 100 stalls selling a variety of goodies, knick-knacks and festive items. They are open daily from 10.00 am to 12.00 midnight.
There's also the Deepavali Countdown Concert complete with fireworks at Farrer Park field and UTSAV Street Parade at Race Course Road happening on 12 and 17 November respectively.
With so much going on, there's no better time to enjoy Little India than during Deepavali, the most important festival in the Hindu calendar! Have a deLIGHTful Little Day Out!