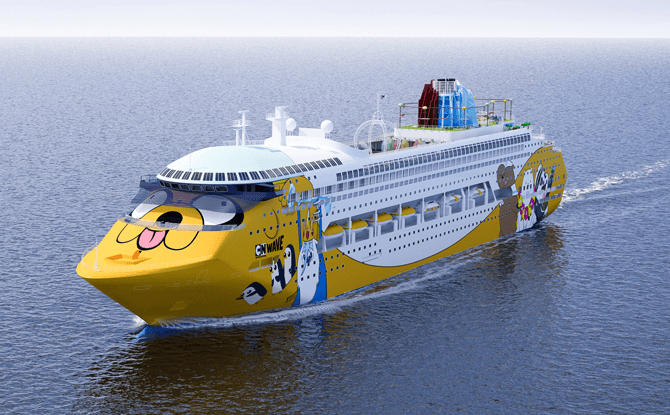 Soon, you will be able to cruise with your favourite Cartoon Network characters from Adventure Time, Ben 10, The Powerpuff Girls, We Bare Bears and more on board the Cartoon Network Wave cruise ship.
The completely Cartoon Network-themed cruise liner will have 11 guest-decks and carry up to 2,000 guests. The ship will have Jake the Dog from Cartoon Network's Adventure Time as the titular character branding the ship's façade.
Immerse Yourself In The Cartoon Network World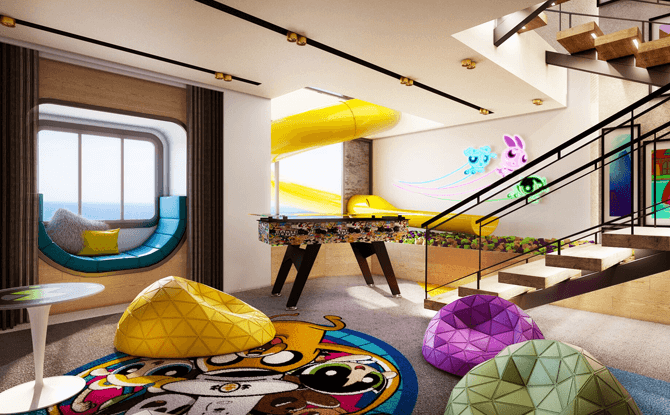 On board, Cartoon Network Wave will feature 800 fully-themed cabins and suites. These include two Triplex Suites, a world's first. These are two-bedroom suites designed especially for families that include a Jacuzzi, family lounge and play corner.
Families will be able to enjoy a variety of entertainment options, recreational activities and retail shops while cruising. There will also be nine restaurants, pubs and bars offering Cartoon Network-themed food & beverage options.
---
-- Story continues below --
Maiden Voyage in Late 2018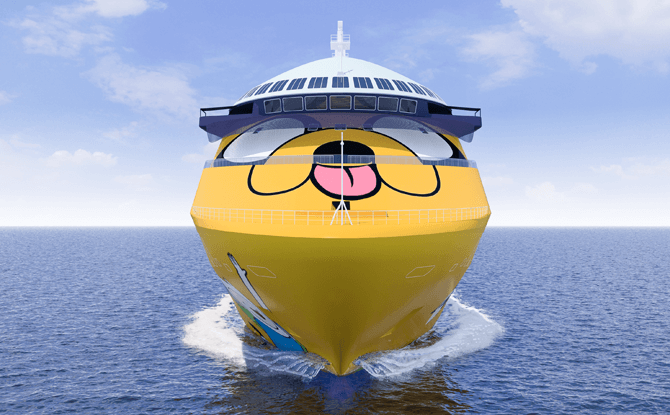 Cartoon Network Wave's maiden voyage is scheduled for late 2018. Details of dates and itineraries will be announced in the coming months. These details will be made available on the ship's website, www.cartoonnetworkwave.com.
The fully-branded cruise ship will call Singapore its home port and be docked at the Singapore Cruise Centre. From Singapore, it will sail to 13 destinations in the Asia Pacific region including Malaysia, Thailand, China, Taiwan, South Korea, Australia and Japan.
A New Cruise Experience
This is the first Cartoon Network-themed cruise experience in the world. It is the result of a partnership between Oceanic Group, a leading cruise management company, and Turner, the media company behind Cartoon Network. This partnership was formalised at a signing ceremony held on 25 January 2018 in Singapore and represents Turner's first foray into the passenger cruise industry.
"A homegrown cruise project, Cartoon Network Wave heralds the start of a new vacation experience for cruise-goers in Asia where cruise travel meets personalised journeys through experiential story-telling," said Mr Daniel Chui, Oceanic Group's Chief Executive, "Cartoon Network Wave will revolutionise cruise travel in the Asia-Pacific region and create and curate new cruise experiences for holiday makers, cruise-goers and generations of pop culture fans."
"Turner is always looking at new ways to bring our characters to life – and Cartoon Network Wave will be their home on the high seas. The ship has remarkable potential to offer our existing fans a truly unique, immersive experience, as well as create new ones. We couldn't be more excited by the partnership with Oceanic Group in jointly creating a world first," said Mr Ricky Ow, President of Turner Asia Pacific.