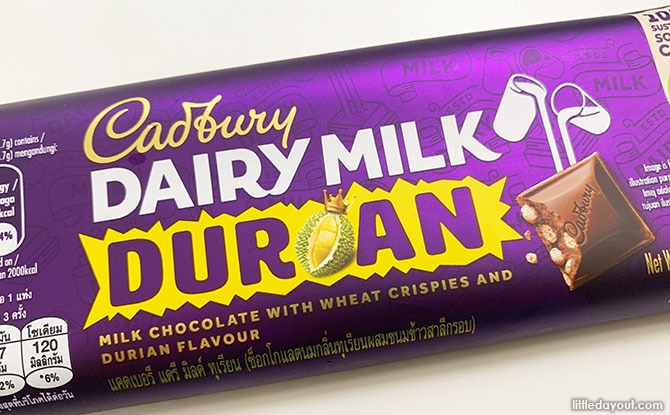 Durian lovers may wish to take note – Cadbury has a special edition durian milk chocolate bar available at NTUC FairPrice.
Most people would either love or loathe durians. If we had to hazard a guess, we'd say that the majority of Singaporeans absolutely love the king of the fruits. Unsurprisingly, we have come up with many different wants to enjoy the strong flavours of durian's creamy flesh.
There are ice creams, desserts and all sort of concoctions that aim to provide fresh takes on durian's flavours. Of course, there are those also say that you shouldn't mess around with perfection; the best way to enjoy durians are straight out of the husk at a table in front of a durian stall.
---
Chocolate-maker Cadbury has come up with its own take on the fruit. The special edition Cadbury durian milk chocolate bar is made up of dairy milk chocolate with wheat crispies and durian flavour.
It comes in a 100-gram bar made from 100% sustainably sourced cocoa.
After we unwrapped the attractive, purple outer wrapping, our noses were hit with the whiff of durian. It was stronger than we had expected coming out of a durian chocolate bar.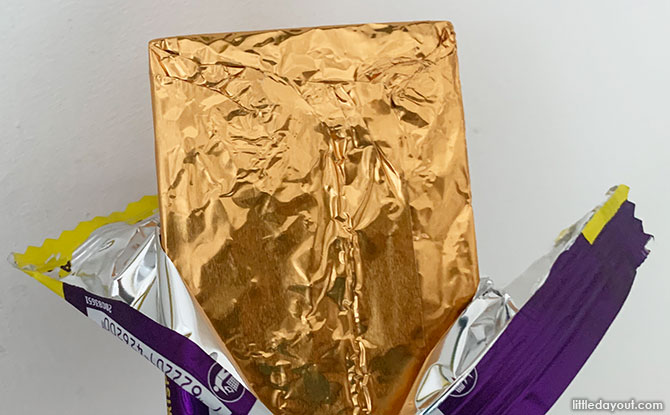 The bar is covered in a golden foil.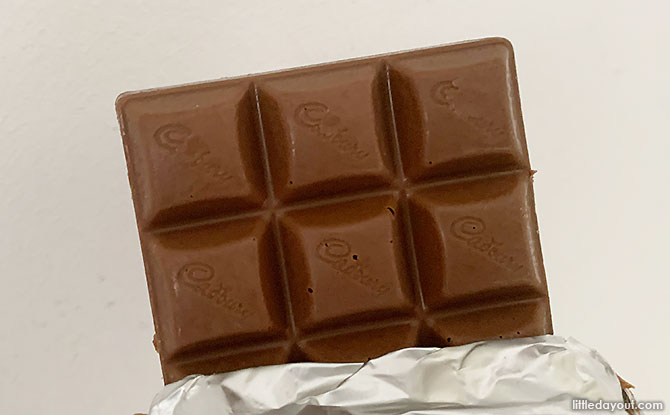 Peeling this back reveals the square morsels of Cadbury's dairy milk chocolate.
---
Taste Test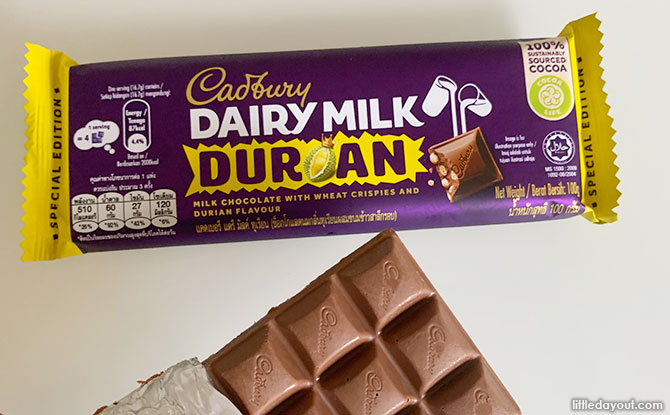 We enjoyed the flavour combination of the chocolate and durian. Durian-flavoured chocolate is not new. They can be found in plenty of tourist souvenir shops (hmm… remember tourists?).
What we particularly enjoyed about the Cadbury durian chocolate was the creaminess of the chocolate (don't refrigerate your chocolate) and the crunch added by the wheat crispies.
The Cadbury Dairy Milk Durian chocolate bar is available at NTUC supermarkets and online platforms like Shopee. It retails for $2.50.
This story contains affiliate links. This means we earn a small fee if you purchase something through a link from our website. There is no additional cost to you. This helps to support Little Day Out and keeps us going.