Carnival rides are great fun and a must-do is usually the bumper cars. But, where you can find bumper cars in Singapore?
Where to Find Bumper Cars in Singapore
If you have your heart set on a "bumpity" time, here are some places where you can have a fun with bumper cars in Singapore.
Timezone, Vivocity
Timezone at Vivocity is about the only permanent location offering bumper cars in Singapore.
---
-- Story continues below --
These brightly-coloured cars with flashing lights are brought in from Italy. There are five cars available within the driving pen. The cars are self-powered and do not need pole sticking out from the back to pick up electricity from the grid above. That's good as we always find it eeky when the pole sparks occasionally!
It costs $6 to get into one of these bumper cars. Drivers have five minutes to go hurtling off at each other. No real skill needed. In fact, the less skill the better. Just step on the pedal, twist the wheel and have a fun time crashing into each other.
Each car can accommodate up to two persons. Kids must be at least 106 cm tall. If they are shooter than 130 cm, they will need to be accompanied by an adult.
Editor's Note (March 2018): Timezone VivoCity has shifted to a new location on the second floor of the mall and still offers bumper cars. Find out more about the new Timezone VivoCity flagship store here.
The Rink
Ok, when we said Timezone VivoCity was the only permanent place offering bumper cars in Singapore, we were only counting regular bumper cars.
Over at The Rink, they offer bumper cars on ice. Actually, these "cars" look more like inflatable tires with a yellow cockpit but they are are still built for bumping.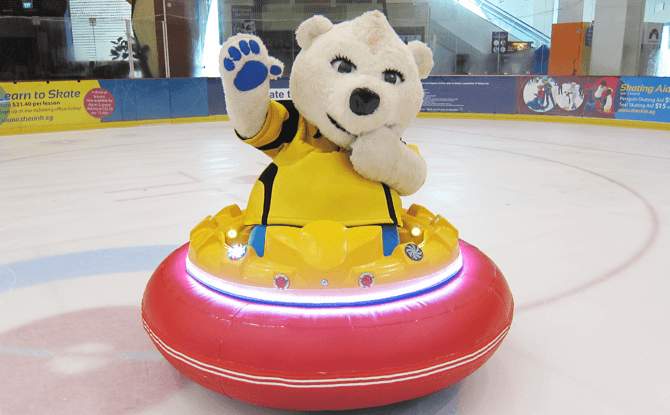 Bumper Cars on Ice takes place on Saturdays between 5.15 pm to 9.30 pm. This takes place in a separate area from the rest of the skaters for safety reasons. For those who can't skate, the Bumper Cars are a great way to have some fun on the ice. It costs $8 for a 10-minute ride time. The minimum age for riders to ride alone is four years old. Kids younger than four can be accompanied by an adult in the car.
Uncle Ringo Carnivals
Uncle Ringo carnivals pop up all around Singapore. One of the most popular rides at the carnival are the bumper cars. Two persons can get into each car and once the buzzer sounds, off you go. The minimum height for kids accompanied by an adult is 90 cm. The minimum height for kids to ride alone is 120 cm.
The best way to track down the latest Uncle Ringo's carnival location is through their Facebook page here.