Buds by Shangri-La Hotel is the first interactive play space for children within a hotel on Orchard Road that is open to both hotel and non-hotel guests.
The playground spans over 1,872 square metres in total – 572 square metres indoors and another 1,300 square metres outside. The different immersive and curated play spaces within Buds by Shangri-La Hotel allow children to learn through play creatively and independently – there's something for the active toddler, to the show pony, and even baking classes for the budding patissier.
---
Indoor Play Zones
Well-lit and welcoming, there is a chic yet playful vibe about Buds. Upon entry, you will find the Explorer Zone to the left, and the Toddler Zone to the far right.
---
-- Story continues below --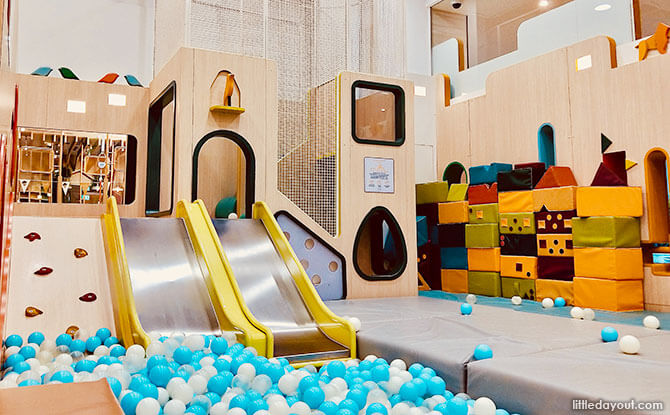 At Buds by Shangri-La Hotel, the Toddler Zone is a soft play area complete with jumperoos, slides, an interactive piano floor, a ball pit and vintage kiddy rides. It is suitable for babies from 6 months and up.
Although just a mere fraction of the whole indoor playground, there is still a lot for the toddler-baby to conquer in the Toddler zone! From the wee obstacle course that leads to the slides and ball pit, to the large foam blocks for stacking and knocking over, we reckon a good nap awaits at the end of play time.
If you have older children, they are sure to have their socks knocked off in the Explorer Zone at Buds.
Stepping in, you will be transported to an enchanting environment of different themes that have been integrated seamlessly. There's the impressive meshcape, and a beautiful waterfall (where the cassia seeds can be found); or launch into space station, shoot air blasters at the fire mountain, and dive underwater. The Explorer Zone at Buds by Shangri-La is breathtaking to say the least!
Creatively designed, there is so much more than meets the eye in the Explorer zone, guaranteeing hours of fun for the children as they explore every possible nook and cranny. Time will fly by as they whizz through the expansive mesh maze, into the massive ball pit, and down all manner of slides. Sound like your usual indoor playground suspects? Well, trust Buds by Shangri-La to exceed your every expectation.
---
Recharge at Buds by Shangri-La
Worried about not keeping up with your little ones? At Buds, the staff are standing close by to supervise, especially since adults are not allowed on the meshcape climbing frame. Mummies and Daddies – breathe easy, and have a coffee and cake at Recharge, Buds' cafe.
Located right by the entrance, Recharge has a lovely selection of coffee, fresh fruit, quiches, cakes and cookies if you or your children are having the munchies. Take five on the luxuriously cushy seats, and relax a little as your children let loose – you deserve it!
---
Themed Activity Rooms
If your child has had her fill of the indoor playground, there are a number of activities held in the different themed play rooms for her to choose from.
Do like Picasso in Muddy, and create a masterpiece or two. Then, get groovin' in Stage and go wild on the drums! Mind you, my daughter couldn't get enough of Stage. I practically had to drag her out of there, and who could blame her?
In addition, on Saturdays, Sundays and public holidays, your child can unleash his inner Ramsay in Bake, a fully-equipped cooking classroom at Buds. For a small fee, you and your child can pick up some culinary skills from Shangri-La Hotel's very own trained chefs.
If you're looking for a party venue for the next birthday bash, look no further than Party at Buds by Shangri-La. Choose from three themes: Super Star, Wild World and Royal Fiesta and leave the rest to the staff. All invited guests will be entitled to play time in Buds and special themed activities too!
---
Outdoor Water Play
Lastly, be sure to pack in your swimmers when visiting Buds by Shangri-La as the fun extends outdoors! Your children can play make-believe inside the Giant Pirate Ship which offers challenging climbs and slides, and a water play zone with specially designed Splash Pads.
If you haven't been to Buds by Shangri-La, make time for play today! We promise neither you nor your children will be disappointed. For more information on admission, go here.