Associated with good fortune, the lion dance is a common feature at many celebrations in Singapore. Lion dances troupes in Singapore are often booked for festive occasions such as Chinese New Year as well as for openings of stores and offices throughout the year. Booking a lion dance in Singapore can be as easy as picking up the phone but what do you need to know before you get down to confirming a troupe to show up at your doorstep?
If you are planning to book a lion dance troupe in Singapore, here are six useful things that you should know about.
#1. Types and Number of Lions
In general, there are two types of Chinese lions – Northern Lions and Southern Lions.
Northern Lions are typically red and orange in colour. They have a long fur (because it is cold in the North) and a golden head. The Northern Lion dance style is more acrobatic and was performed as entertainment in the Imperial courts of China.
Southern Lions come in a wider variety of colours. These include bright colours such as yellow and white, or darker colours such as black. The Southern Lions have shorter "fur", large eyes and a horn at the centre of its head. They often come in pairs.
The Southern Lion dance is the more popular style performed in Singapore. It is often associated with driving out bad luck and summoning good fortune. This is ideal if you are looking for an auspicious start to the New Year or a new business venture.
When booking a lion dance troupe in Singapore, clarify which style of lion dance the troupe performs and the number of lions that will be appearing at your event. You should also ask if the lion dance troupe would provide additional characters or mascots, such as the God of Fortune, as part of their performance.
Nowadays, some lion dance troupes even provide LED lion dance performances too.
#2. Space Needed for the Lion Dance Performance
Lion dances are associated with energetic, acrobatic movements. Having ample space allows the lions to show off their playful personalities. However, it is also possible for a lion dance to take place even in smaller spaces.
The Southern Lion Dance performance can be performed in a space as small as 2 metres by 2 metres. This is the minimal amount of room they need to carry out their dexterous movements.
The lions will also be accompanied by musicians on drums and cymbals. As such, when booking a lion dance troupe in Singapore, you should set aside an area for the musicians to stand. Ideally, musicians should be at a spot where the drummer can make visual contact with the dancing lions.
#3. When To Book Lion Dance Troupes in Singapore
Lion dance troupes in Singapore are in demand throughout the year, bringing good fortune to events, homes, office openings and store launches. However, the peak season for booking lion dance troupes in Singapore is during the Lunar New Year period.
As such, if you are planning to hire a Singapore lion dance troupe for the Lunar New Year, it is advisable to do so at least two months in advance. At other times of the year, a minimum of two weeks will usually suffice.
#4. Things to Prepare for the Lion Dance Performance
A highlight of any lion dance performance is the "caiqing" or when the lion "plucks the greens". This involves the lion eating up some lettuce and spitting the leaves back out as a symbolic act of blessing.
Another highlight, quite common nowadays, is when the lion forms a set of auspicious 4D numbers using oranges.
As such, some of the things needed for these aspects of the lion dance performance includes oranges, vegetables and a red plate.
When booking a lion dance troupe in Singapore, clarify with them if you need to prepare the items or if it will be provided by them. Professional lion dance troupes will normally prepare all these necessary items themselves but it is best to be certain.
It is also a nice gesture to prepare a red packet or ang pow to be placed in between two oranges for the lions to "bless" the premises.
#5. What To Expect On The Day Of the Lion Dance
Ahead of the day of the lion dance performance, be sure to confirm who your point of contact at the troupe will be. It is the point of contact's job to brief the lion dance performers on your requirements and the flow of the event.
You can expect the lion dance performance to last for about 12 minutes. This does not include the time that they may take to move around the premises for "blessings" (if you want them to go to multiple rooms) and to take photos with the audience.
#6. Rates for Lion Dance in Singapore
How much can you expect to pay when hiring a lion dance troupe in Singapore?
A two-lion performance by an experienced troupe can cost around $688 or slightly cheaper during the Lunar New Year period.
As with all things, prices may vary from troupe to troupe.
By engaging an experienced team from a reputable lion dance troupe, you can be assured they will appear on schedule and deliver on their promises (for example, if they have committed two lions to appear, two lions will appear).
The last thing you want after you have assembled your guests is to have your programme held back by the late arrival of the troupe and having your guests disappointed.
In addition, experienced lion dance teams will be careful not to damage the furniture and fixtures in your property. Most importantly, they will not take unnecessary risks that may harm your guests.
Lion Dance Singapore
To bring you this feature, we interviewed Lion Dance Singapore, an experienced lion dance troupe that counts among its customers MNCs, Government Statutory Boards, SMEs, schools and private individuals.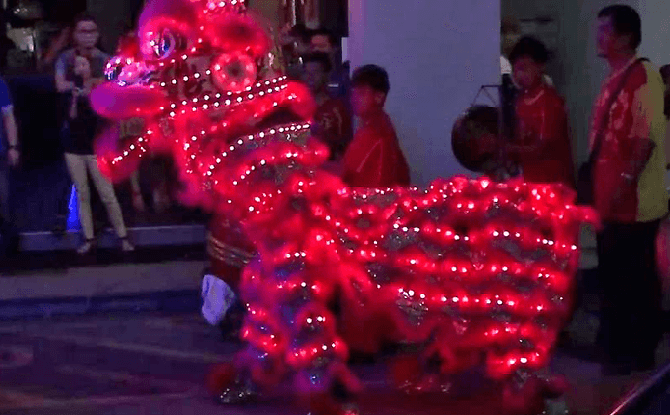 Besides traditional lion dances, Lion Dance Singapore also provides dragon dances, LED lion dances and Mask Changing/Bian Lian performances.
Find out more about Lion Dance Singapore and the services they offer here.
This post is brought to you by Lion Dance Singapore.
More Stories on Chinese New Year: