The Angry Birds have come to roost at Changi Airport Terminal 3. From 16 Nov till 6 Jan next year, blast off to outer space with them during the school holidays and have a star-speckled Christmas!
Gigantic Super Red Bird Spacecraft from Angry Birds Space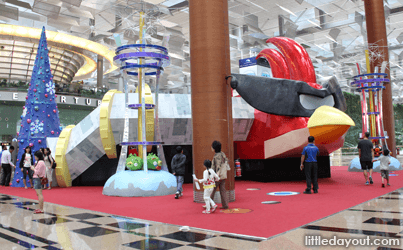 Based on Rovio's latest game in the franchise, Angry Birds Space, a fiery Super Red Bird from Angry Birds Space stands as a space shuttle ready to be launched into orbit at Terminal 3's Departure Gate. And take off it does, every day from 6.00 am to 8.00 am and 5.00 pm to 11.00 pm, complete with smoke and a spaceman to boot. Young space cadets can even climb aboard to pilot the spaceship and imagine they are on a mission to rescue eggs from the Evil Pigs in outer space.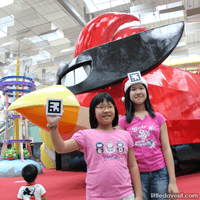 Around the space shuttle, there is also an augmented reality photography station. Roving professional photographers can take a photo of you with a QR code cut-out and 48 hours later, you can view your digitally enhanced photo online with animated Angry Birds by your side.
Angry Birds Space Lounge
Over at Departure Row 11, the Angry Birds theme continues at the Angry Birds Space Lounge. Kids, aged three to 12 years old, will find themselves in a space-themed indoor playground where younger ones can enjoy a ball pond and trampoline and older kids can explore an indoor play structure and inflatable catapults. Die-hard fans can enjoy the popular Angry Birds Space game on large touch-screen monitors. A minimum spend of $20 (or $15 for Changi Rewards members) is required for entry into the Lounge.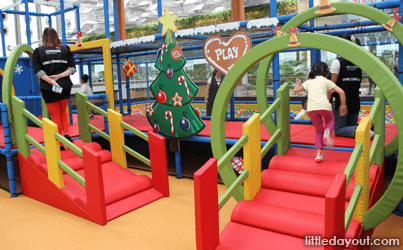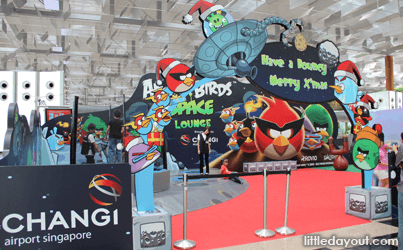 Angry Birds Handicraft Workshops & Memorabilia
Still can't get enough of the feathered flock? Head down to Basement 2 where you will find an Angry Birds activity workshop. With a minimum spend of $60 (or $40 for Changi Rewards members), children can choose to make either a 3D space model, a clock or a tote bag that they can bring home. There is even a life-size Angry Birds block structure, complete with Evil Space Pigs, that kids can try knocking over with their space comrades.
Angry Birds Space Plush Toys Collection
Throughout this festive season, those making multiple trips to Changi Airport will also be rewarded. Angry Bird Space plush toys are up for redemption during this period. There are seven in total to collect and a new one character will be revealed each week. Each plush toy is redeemable with a minimum spend of $60 in public areas or $120 in supermarkets.
For more information on the 2012 Christmas celebrations at Changi Airport, visit www.changiairport.com/christmas. Or check out our feature on Changi Airport: No Ticket Required before you go!