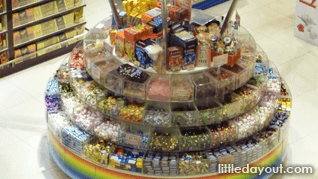 The sweet scene in Singapore is certainly looking sweeter than ever, now that more chocolate and candy stores from all around the world have found their way here.
Little Day Out collated some of the best shops for sweet treats that will make kids very happy on every occasion and draw out the kid in you.
Bring your kids out for a spot of sweet shopping and you will discover that these places are thematic destinations in themselves as you soak up the sights, sounds, smells, and touch and taste the world of delicious candy. Don't forget to enjoy that twinkle in your little one's eyes even if he or she keeps asking for more!
Sweet Specialty Stores
Sticky, opened in 2008, is the first handmade Australian rock candy store to grace Singapore's shores and there are now three outlets here – The Central, Cathay Cineleisure Orchard and JCube. It is absolutely fascinating to stand and gawk at how the skilled master confectioners pull, twist and sculpture long strips of colourful candy into intricately designed and beautiful bite-sized bits right before your very eyes. Show one of these clear glass jars filled with bright, fun rock candy dressed in delicious flavours and memorable words or pictures to your little tots and they will smile oh-so sweetly.
For exclusive Japanese sweets not found anywhere else in Singapore, visit one of the eight Yamakawa Super outlets. This funky Japanese food specialty store stocks several different types of Japanese products ranging from chocolates, biscuits and ice cream to produce bearing flavours from the four seasons of Japan, such as strawberry-inspired goodies in winter to early spring, and green tea items in summer. Look out for Yuzu flavoured Hi-Chew candy, Tahitian Vanilla Pocky, MentaikoPretz and lime-flavoured After Eights.
Candy Concept Couture
Au Chocolat, the French-inspired candy store cum bistro, patisserie and confiserie at Marina Bay Sands, is the new kid on the choc block. From the get-go at the storefront, you will be attracted by unique finds such as sugar necklaces, English cream toffees, ice cream gummies and sherbet bombs.
Besides being filled with other familiar favourites like jelly beans, chocolates and other candy delights, you can watch mouthwatering chocolate creations being made through a window and also follow the toy train chugging around the store. The handmade chocolate pralines come infused in a variety of interesting flavours such as lychee and dark balsamic vinegar.
Stop to take in some Parisian chic at the 92-seater bistro with its main courses and desserts, and soak in the French lifestyle with the help of three fictional mascots including Danielle, the female who owns a pug and French bulldog!
The next time you catch a flight in or out of Changi Airport, stop by Asia-Pacific's biggest M&M flagship outlet for M&M's candies and collectibles not found anywhere else in Singapore. M&M's concept store threw open its doors in January 2012 at Changi Airport's Terminal 3 Departure Transit Lounge and another larger colourful store quickly followed in August 2012 at Terminal 2 Departure Transit Lounge to cater to all with a soft spot for round chocolates. But much more than just the famous candies, you will find all things M&M's from exclusive novelties, souvenirs, toys, candy dispensers and travel accessories.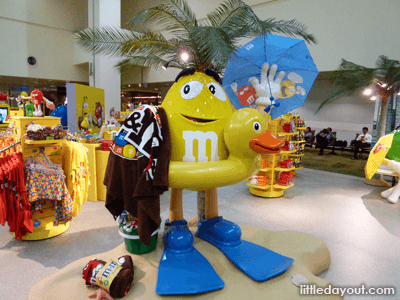 Terminal 2's store is a fun destination in itself with three thematic zones – 'Holiday' featuring Singapore's famous landmarks, 'Travel' showcasing a mini airport complete with a mock conveyor belt and 'At Home' with a large Blue M&M character lounging on a comfortable sofa. Have fun playing interactive games at the giant red M&M-shaped touchscreen and taking pictures with M&M's friendly mascots – Macho Red, Clumsy Yellow, Sexy Green, Confident Blue and Neurotic Orange found throughout the 256 square metre megastore. You'll certainly feel young again and leave with a big smile.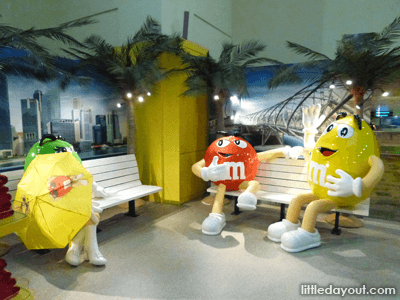 A world of cheerful chocolates greets you in the form of a giant Hershey's Kiss at Hershey's Chocolate World. Be enchanted in this delightful world with all things Hershey's including giant chocolate bars, Hershey's memorabilia and customised products. The company, founded by Milton Hershey in rural central Pennsylvania in the U.S. more than a century ago, continues to delight kids today with its delicious milk chocolate bar, drops, nuggets, kisses, fudge and more.
Giant Candy Galore
The Cocoa Trees is a chocolate lovers' dream come true with its wide range of international brands such as Toblerone, M&Ms, Droste, Swiss Delice, The Belgian, Hawaiian Host, Ritter Sport and many more. There are 17 Cocoa Tree stores around Singapore with ten of them located in Changi Airport alone!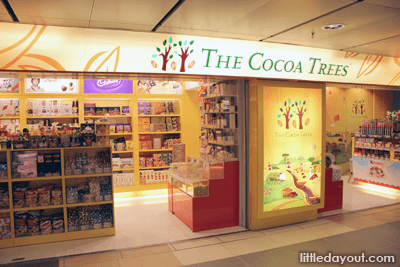 Candy Empire is a western candy retail concept with its shelves filled with a large variety of chocolates, candies, biscuits, potato crisps, novelty drinks, jams, chips and other savoury snacks from Australia, Europe and the U.S. Carrying such a wide range, you can find treats from all over the world in this one store. Its flagship store is located at VivoCity and it has stores in TripleOne Somerset and Millenia Walk as well as a unique airport store at Changi Airport's Terminal 3.
If there is one word to describe their candy, then it can only be Candylicious. The two Candylicious outlets – one at Resorts World Sentosa and the other at Takashimaya Shopping Centre – are out on a mission to help us "Eat Happy"! With over 5,000 kinds of candy and chocolate, you can certainly find your way to your happy favourite. Walk through these whimsical candy stores and you will be filled with a continuous sense of discovery as you run your hands on the visually mesmerizing pillars embedded with sweets or go under a canopy of the world's largest lollipop trees. Take your pick from Asia's largest 'Pick and Mix' wall and find the most awesome gummy bears and worms, peach rings, cola bottles and bedazzled by the candy-inspired T-shirts, cushions and bags.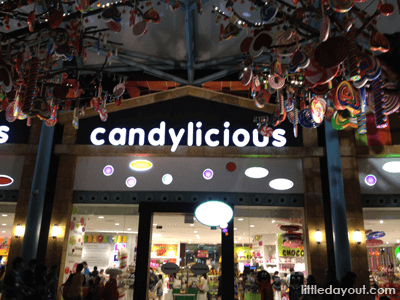 Sweet Old School Favourites
Last but not least, let us go back in time to Old Singapore when the only imported cookies we knew were the Danish ones in blue round metal tins. At the Biscuit King, biscuits are still stored in the good old-fashioned rectangular biscuit tins and you have a wide variety from the standard lemon cream and pineapple jam biscuits, to the little round ones with colourful squirts of icing sugar on top. Besides biscuits, there are all kinds of preserved fruits as well as the nostalgic Chinese haw flakes and the white rabbit sweets that we used to eat together with the paper wrappings.
With a purchase of $50, all the goodies that you pick will be delivered free to you anywhere in Singapore. But nothing beats making a trip down memory lane and personally introducing your sweet favourites to your kids. Pick out some for a kid's party or package them together as great gifts.
This snack shop is also piled high with biscuit tins and nostalgic sweets that will transport you back to your childhood. Newly opened in March 2012 by two cousins, Ken and Norman Quek, Munch Munch is out to satisfy your cravings with ice gems, alphabet biscuits, flying fish biscuits, roll crackers, satay sticks and much more. There are also assorted nuts and sweets that you can pick and choose from to keep on munching and munching.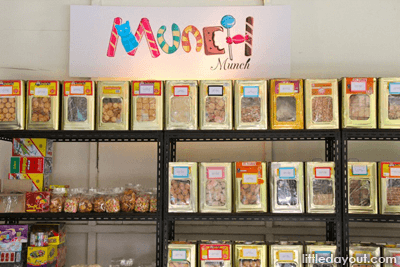 We hope you enjoy the simple pleasure of candies. Have a happy little day out bonding and sweet shopping! And do drop us a note on your sweetest places for treats!