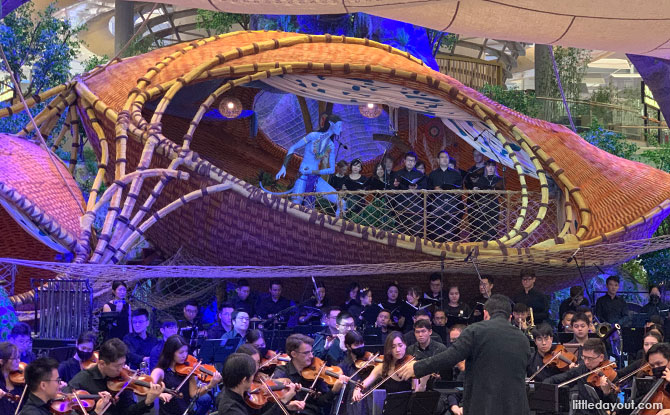 Avatar has landed at Changi Airport this year-end 2022 with light-and-sound experiences, as well as a giant set that will make you feel the magic of Pandora without leaving Singapore.
---
Changi Airport Avatar Experiences
Avatar Marui Pod at Departure Hall, Terminal 3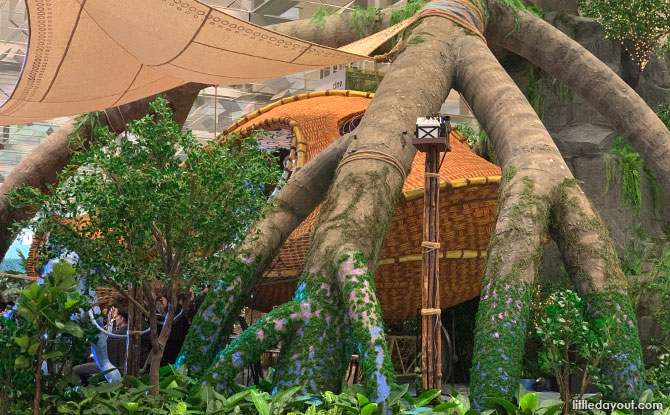 What looks like a giant tree stump is actually inspired by the homes of the Metakayina Clan, that overlook the water, from Pandora.
This massive set includes a Marui Hut where you can get a picture taken. The photo sessions take place from 11 am to 7 pm daily. To redeem this photo opportunity, spend a minimum amount of $50 ($80 for supermarkets and Jewel) in a single same-day receipt from participating Retail or F&B outlets. Or you can purchase a photo pass at $5 each.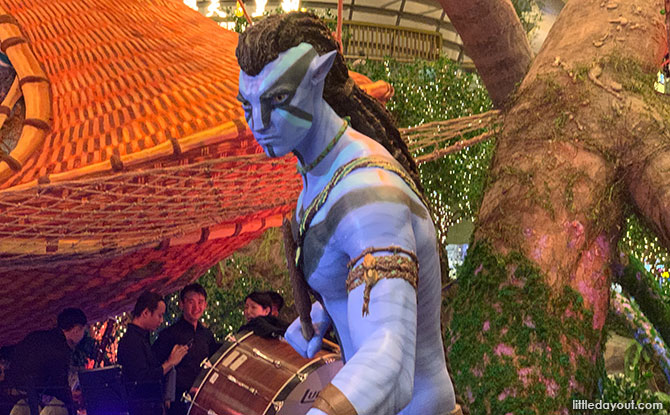 Even if you are not traveling anywhere, at least you can say that you have traveled to an alien world while at Changi Airport this year-end.
In the evening, as darkness falls outside, the Marui Pod comes to life. Watch as the  bioluminescent waters of Pandora glow, thanks to projections, special effects and lightings.
To watch this light, sound and projection show, pay a visit at these times –
Monday to Wednesday (two shows per day): 7.30 pm and 8.30 pm;
Thursday to Sunday (three shows per day): 7.30 pm, 8.30 pm and 9.30 pm
There will also be live performances at these dates and times –
11, 12, 19, 26 November 2022: 7.30 pm and 8.30 pm;
10,17, 23 December 2022: 7.30 pm and 8.30 pm.
The Avatar Marui Hut experience at Changi Airport Terminal 3 takes place from 11 November 2022 to 1 January 2023.
---
Avatar: The Way of Water-inspired Rain Vortex Show
There will also be an exclusive light & sound show inspired by Avatar: The Way of Water between 11 November 2022 and 2 January 2023.
The shows take place daily at 7.30 pm, 8.30 pm, 9.30 pm and 10.30 pm.
As we approach the end of December, there will be additional shows on special days as follows:
23 December 2022: 11 pm
24 December 2022: 11.55 pm
25 December 2022: 11 pm
30 December 2022: 11 pm
31 December 2022: 11.55 pm
1 January 2023: 11 pm
---
Mangrove Adventures
Also at the T3 Departure Hall, close to Check-In Row 11, there is Mangrove Adventures where you can save the mangroves from unwanted trash. There is also a crafting station where you can make your own illuminated Mangrove Jellyfish.
---
Light Installations at Canopy Park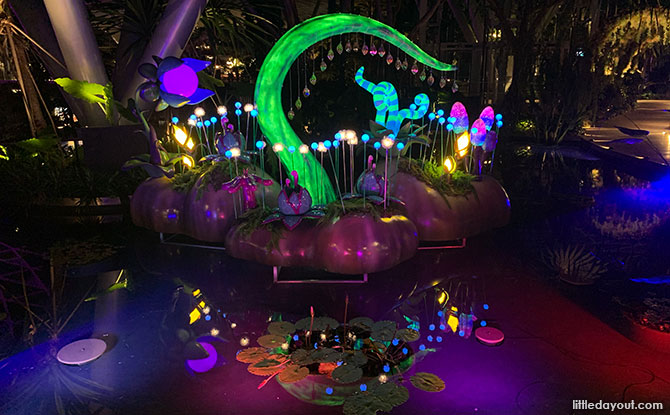 There are also light installations throughout Canopy Park.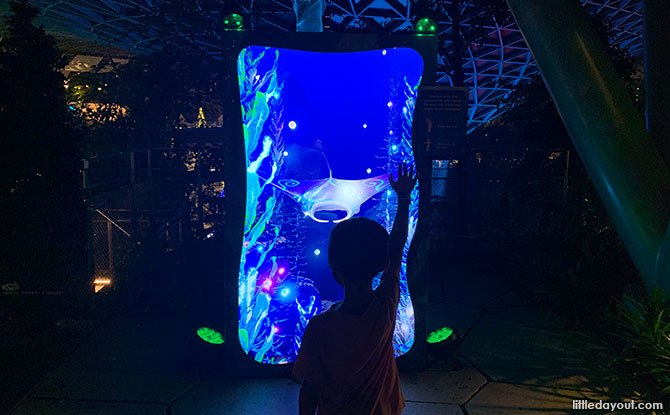 These are based on an underwater theme and there are digital interaction points with "sea creatures" at Canopy Park.
Canopy Park admission is ticketed. You will need to purchase a Canopy Park ticket to enter to enjoy the bioluminescent light installations.
All these activities are part of Changi Festive Village, which includes themed carnival areas at the basements of T3.