Catch a "moving" dance performance in the March 2020 edition of Arts in Your Neighbourhood – on a bus plying the streets of Bukit Panjang!
Marvel at how a street art installation at the void deck comes to life, literally, through the magic of Augmented Reality.
Join a spontaneous parade to explore our relationship with Mother Earth while taking in the beauty of the neighbourhood.
These are just some of the unique experiences you can look forward to from 12 to 29 March 2020, when Arts in Your Neighbourhood brings more than 40 activities ranging from dance to music, theatrical performances, interactive arts programmes and literature right to your doorstep!
---
-- Story continues below --
An initiative by the National Arts Council, Arts in Your Neighbourhood is held twice a year, in March and November. In each edition, a neighbourhood is chosen as the town of focus. This time round, the spotlight is cast on Bukit Panjang, a precinct in the west of Singapore with lots to discover. Think floating wetlands, a scenic boardwalk, nature parks, hiking and cycling trails, and a diverse range of flora and fauna!
With interesting programmes taking place in Bukit Panjang and other locations across Singapore, everyone has the opportunity to encounter the arts in fresh and unconventional ways.
Programmes For Families With Young Kids
Rolling On [CANCELLED]
How can we involve kids in our efforts to save the earth? Take part in 'Rolling On', a dance performance and parade created with the help of children to raise awareness of Earth Hour!
Conceptualised by creative groups Rolypoly Family and The Kueh Tutus, 'Rolling On' takes inspiration from children, who are roped in as co-creators of movements that explore our bodies' relationship with the earth.
The performance starts off at the Pang Sua Pond Boardwalk and gathers children along the way as it roves to form a parade. Participate in this meaningful arts activity with your little ones! It will be a great opportunity to bond with your family while appreciating the unique charm of the Bukit Panjang neighbourhood.
When: 28 and 29 March 2020, 4.30 – 6 pm
Where: Pang Sua Pond Boardwalk and Outdoor Amphitheatre, Bukit Panjang
Suitable for children aged 5 to 12. Register your interest here to participate in the parade and pre-event craft activities for free, and redeem an AYN tote bag.
[Update as at 25 March 2020: The performances on 28 and 29 March for 'Rolling On' have been cancelled.]
The Mighty Mousedeer Of The Forest [CANCELLED]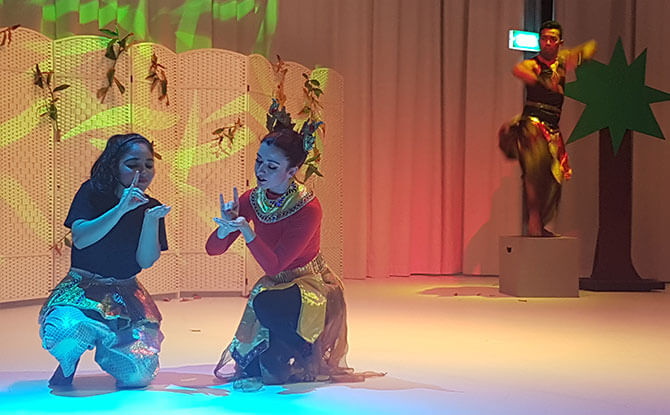 The kancil, a species of mousedeer, is the smallest known hoofed mammal in the world. How, then, does it triumph over animals that are far bigger and more powerful in the forest? With its wits, of course!
Catch the story of the mighty mousedeer presented through Indian dance traditions (Bharatha Natyam) and creative movements by Maya Dance Theatre. Grab this chance to introduce the kids to our rich multi-cultural traditional arts!
When: 29 March, 4pm and 6pm
Where: Kampung Admiralty Community Plaza
[Update as at 24 March 2020: The 4 pm and 6 pm performances on 29 March for 'The Mighty Mousedeer Of The Forest' have been cancelled.]
BOUND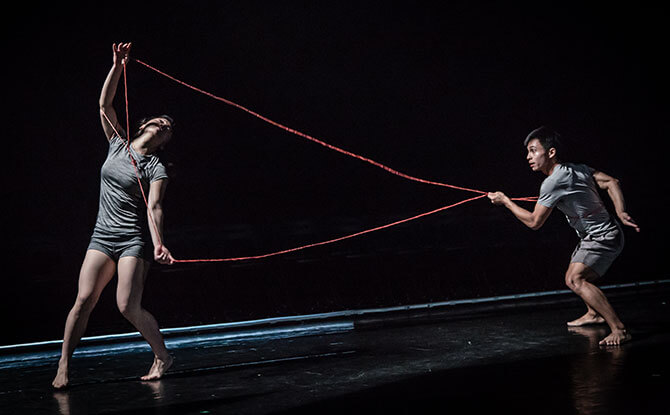 For a contemporary performance of dance, catch 'BOUND'. Inspired by Zero Point, a childhood game many parents would have played, dancers from RAW Moves use the familiar jump rope made from rubber bands to explore the theme of boundaries.
Kids get to try their hand (and legs) at playing the game too! They are bound to love it!
When and where: 15 March 2020, 3pm at Bedok Town Square; 21 March 2020, 6pm at Toa Payoh HDB Hub; 28 March 2020, 5pm at Hillion Mall (Bukit Panjang)
[Update as at 24 March 2020: The 5 pm performance on 28 March for 'BOUND' has been cancelled.]
Hug The Tree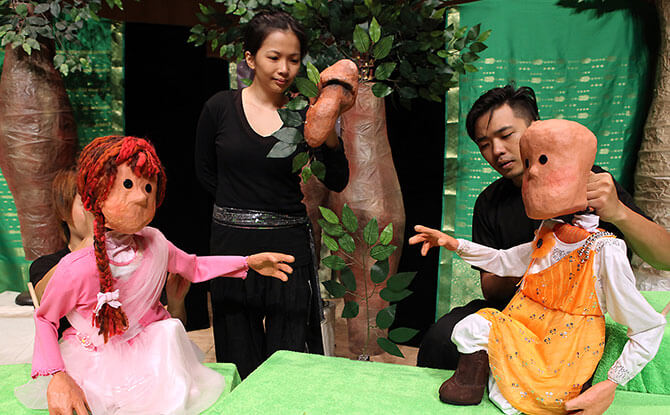 Did you know that in the 1970s, villagers in India managed to save forests from being irresponsibly logged by embracing the trees in them? The Chipko Movement – "chipko" in Hindi means "to hug" – is the subject of 'Hug The Tree', a puppetry performance put up by Paper Monkey Theatre.
The show not only resonates with today's fight to save the environment, but also sends the message to children that everyone can make a difference.
When and where: 14 March 2020, 2pm and 5pm, KINEX Mall; 15 March 2020, 2pm and 5pm, Bedok Town Square
Hello SingLit!
Some of the Arts in Your Neighbourhood programmes this March are held in collaboration  with #BuySingLit, an industry-led movement to celebrate stories from Singapore. 'Hello SingLit!', a book fair organised by Woods in the Books, is one of them. Here, children can immerse themselves in delightful local stories and creative tales told by our very own Singaporean authors, and enjoy fun fringe activities too!
Why not take this opportunity to cultivate a love for Singapore literature in our young? Without a doubt, SingLit deserves a place in their hearts.
When: 13 – 16 March 2020, 11am – 8pm
Where: Bedok Town Square
Programmes Inspired by The Neighbourhood
Back Of The Bus [CANCELLED]
[Update as at 19 March 2020: The upcoming performances for Back of the Bus have been cancelled due to potential travel/border restrictions for the Australian/New Zealander performers. Ticket buyers will receive a full refund.]
Who says that a dance performance can only be staged at a theatre – or at least on solid, stationary ground? In 'Back Of The Bus' by Java Dance Theatre, contemporary dancers stretch lithely, leap into the air and execute acrobatic moves on a moving bus – while you and other passengers discover the nooks and crannies of Bukit Panjang through the arts!
Premiering in Singapore following sell-out seasons at more than 17 arts festivals worldwide, 'Back Of The Bus' is an interactive performance not to be missed. Climb aboard, sit back, relax and enjoy the show! Bus rides have never been more exciting!
When: 14, 15, 21, 22 March 2020, 9.30am and 11.30am; 19 and 20 March 2020, 5pm and 7pm
Where: Bukit Panjang Hawker Centre and Market (Meeting Point)
Suitable for ages 5 and above. Tickets are at $5 each. Book your tickets here.
The Outer Space*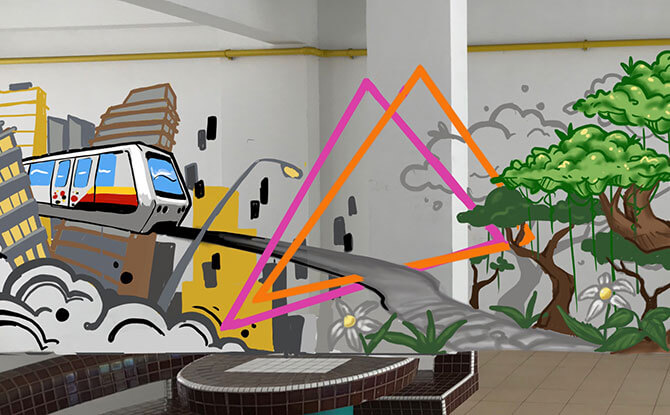 Explore outdoor spaces and embrace the unknown with a realm of artistic expression that is out of this world, yet firmly rooted in the everyday life of the Bukit Panjang community.
'The Outer Space*' is a street art trail, curated by 2013 Young Artist Award recipient Zul Othman (ZERO), that brings new life to Bukit Panjang with four artworks located around the neighbourhood. HDB void decks, non-descript outdoor spaces, the playground, even a ramp – any place can be a canvas for a guerrilla art showcase.
Look out for a mural that opens up another dimension of enjoyment with the use of Augmented Reality, created in collaboration with the residents of the town!
[Update as at 25 March 2020: Pag-Ahon + Meningkat will be removed but the murals at Blk 139 and 256 will remain.)
When: 12 – 29 March 2020
Locations of artworks: 139 Petir Road, 257 Bangkit Road, 133A Cashew Road, Holland-Bukit Panjang Town Council (playground and open space)
Podscape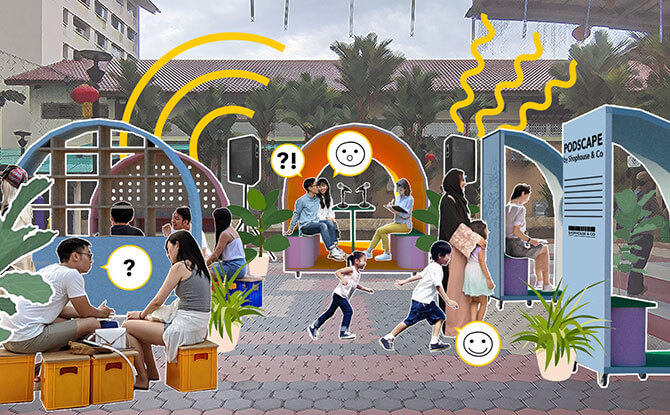 Besides the sights, the sounds of a neighbourhood are also integral to its identity. Residents of Bukit Panjang get to feel a greater sense of home with the invitation to contribute personal stories at a pop-up recording and broadcasting booth set up at the Holland-Bukit Panjang Town Council. These real-life tales will be overlaid with soundscapes from the town and launched as podcast episodes.
Bring the family down to record some anecdotes or soundbites during the pop-ups, and hear your voices transformed into audio art!
When: Pop-up: 14, 21, 28 March 2020, 9am – 12pm; Installation: 13 – 29 March 2020
Where: Holland-Bukit Panjang Town Council (playground / open space)
[Update as at 25 March 2020: The 28 March pop-up for 'Podscape' has been cancelled.]
A Collection of Things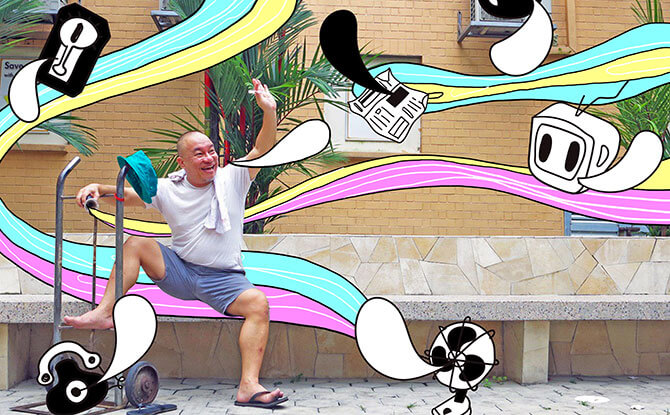 "Karung guni! Karung guni!" Ah, the familiar call of the karung guni man, accompanied by a few toots of his unique-sounding horn. Except that this time, karung guni man Uncle Teong is not here to collect old newspapers, electronic goods or bottles of hard liquor. Instead, he is going to show off some of the precious objects that he has collected over the years, while sharing his fond memories of Bukit Panjang!
Join him in this interactive performance, brought to you by theatre practitioners Isabella Chiam and Cherilyn Woo. It is now your turn to collect things from the karung guni man: memorable anecdotes and a deeper appreciation of the neighbourhood.
When: 21 March 2020, 10am and 11.30am; 22 March 2020, 10am, 11.30am and 1.30pm; 28 March 2020, 10am and 11.30am; 29 March 2020, 10am, 11.30am and 1.30pm
Where: Holland-Bukit Panjang Town Council (playground / open space)
[Update as at 23 March 2020: The 1.30pm show for A Collection of Things on 22 March and the shows on 28 March and 29 March for 'A Collection Of Things' have been cancelled. Audiences affected by the cancellation for the 28 March shows, and the 1.30pm show on Sun 29 March, may still redeem their AYN tote bag by showing their registration email.]
Enjoy The Arts Right In Your Neighbourhood
Many other programmes await your discovery at Arts in Your Neighbourhood March 2020! For the full calendar of events, visit artsforall.sg/AYN. Follow National Arts Council on Facebook and Instagram too, to be in the know about the latest arts happenings.
With the enriching activities of Arts in Your Neighbourhood happening right where you live and play, enjoying the arts together with family and friends is an absolute breeze!
A Rewarding Experience
Want to own a cool AYN Bukit Panjang tote bag? Simply share pictures or videos of your family enjoying Arts in Your Neighbourhood this March on social media with the hashtag #ArtsinYourNeighbourhood for a chance to win it!
As you immerse yourselves in the arts, exclusive promotions are yours to claim. Check here for the full list of partners and offers available.
This feature is brought to you by the National Arts Council.