A playspace within the Mountbatten private estate, Arthur Park Nature Playgarden is an open green space that residents around the area can enjoy. There is a playground area with different elements for play as well as a few natural elements to interact with.
---
Playground at Arthur Park Nature Playgarden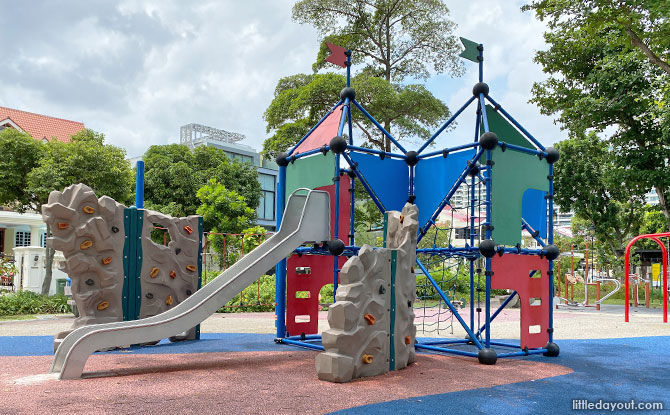 The playground has colours of pink, blue, green and red and two flags at the top. The structure reminded us of a typical castle made with square building blocks stacked on top of each other. There is a long grey slide, a few climbing nets and ladders.
There is also a mini rock climbing wall that you can explore and play around. This is an ideal playspace to build strength as well as hand-eye coordination.
Sandpit at Arthur Road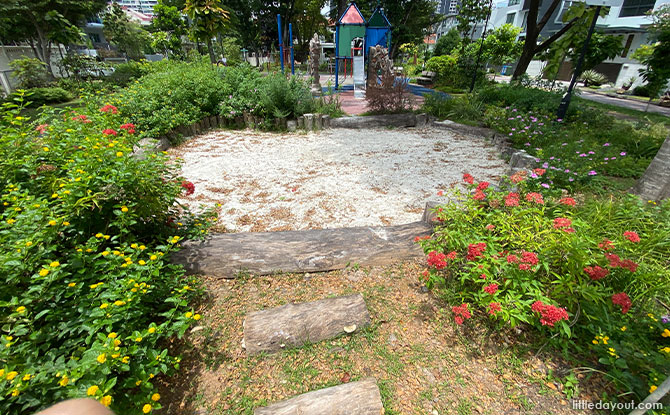 The Arthur Park Nature Playgarden also has a large sandpit at one end of the park. This sandpit is surrounded by flowers and a mini log fence used to keep the sand in. Sandpits are a fun play space and those at the park can use their imagination to interact with them in various ways such as using sticks to draw in the sand.
---
Other Playspots at Arthur Road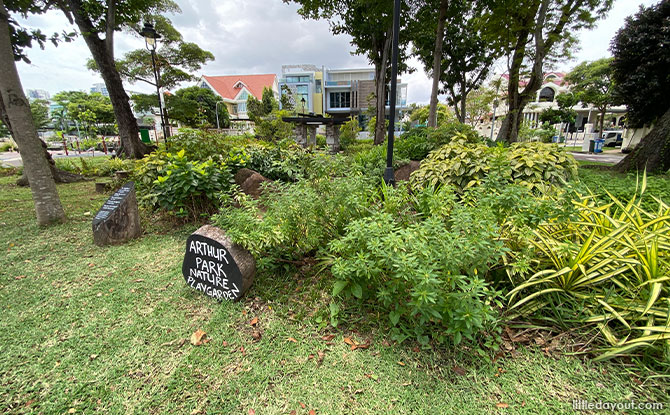 There are various playspots in this play garden – some of which require just a little more imagination. One fun aspect of this nature playground is the amount of greenery that is around the area. Smaller kids can have fun using the various bushes as hiding spots and also as a "maze" of sorts.
There are also some uneven logs that young kids can use to play on and around by jumping on the tree stumps and using it to test their balancing skills.
The surrounding area also has a few stone chairs with backrests for visitors to sit on and a swing set. There is also a fitness corner with basic fitness equipment for those who wish to work up a sweat.