Singapore Zoo turns 50 and as part of the celebrations, ART-ZOO Happy Zoobilee edition has animal inflatables, educational activities that families with young children can enjoy. There is also a 21 metre long inflatable playground for kids to play at upon completion of all the activities.
Here are some must-knows before you embark on the zoo-per adventure.
---
ART-ZOO Happy Zoobilee Edition: What to Know and Expect
1. Timings of ART-ZOO Happy Zoobilee Edition
The ART-ZOO trail activity stations and paper-recycling workshops are available from 10 am to 4 pm from now till 27 August 2023. Families can collect the trail booklets from the Boat Dock from 10 am to 12.30 pm and between 1.30 pm to 4.30 pm.
---
-- Story continues below --
Once the activities on the trail booklet have been completed, children can redeem their pins! Redemption of pins is from 10 am to 5p m at Pavilion by the Lake.
---
2. Use the Trail Map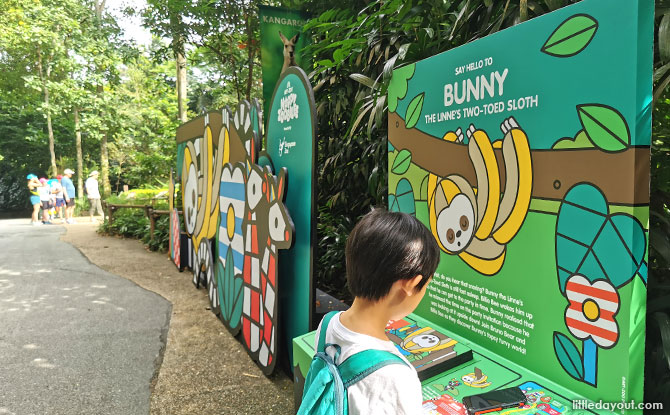 The trail booklet serves as a guide which children can easily navigate and complete the activities leading up to Pavilion by the Lake. The "end point" is also where workshops, animal encounters and the inflatable playground await.
It is quite a short trail which can be completed quite easily within an hour with check points at the Treetops Trail, Boat Dock, Pygmy Hippos enclosure, Australasia plus Pavilion by the Lake. Just keep left after the Treetops Trail where you can see the giant inflatable animals quite evidently.
---
3. Remember a pencil or crayon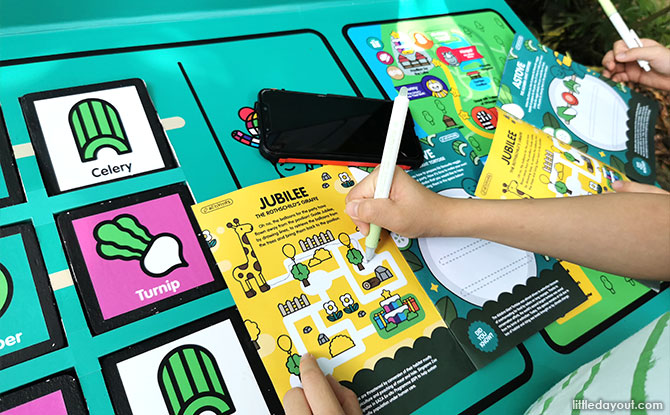 You will need a pencil or crayon to fill in the activity booklet! Children will get to learn some fun animal facts as they visit the ART-ZOO trail activity stations.
There are a total of six activity stations each featuring an animal that can be found at Singapore Zoo.
---
4. Wear a Hat & Remember to Keep Hydrated
While it is a short trail, do remember to be dressed and ready for the weather.
The inflatable playground is not shaded, and it can get very hot while playing under the sun.
---
5. Animal Encounters at Pavilion by the Lake
For close encounters with animals, do note the timings to learn more about the animals from their keepers. The dates are 29 May to 2 June, 5 to June, 12 to 16 June and 19 to 23 June from 3 pm to 3.20 pm at Pavilion by the Lake.
---
6. Participate in Workshops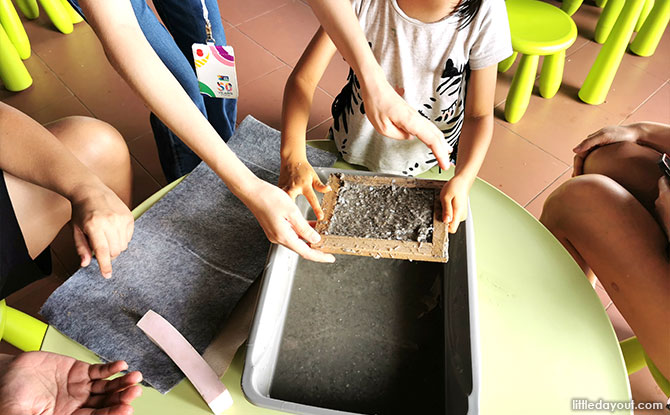 Families can choose to participate in workshops as well to drive home the message of sustainable practices that can impact wildlife positively. Children can learn how to make recycled paper, create unique textures and patterns and incorporate natural materials. Do note that the workshops are chargeable.
The activity costs $10 and up. Workshops are conducted from Fridays to Sundays in June.
On 5, 6, 9, 12 and 13 August, learn to create mesmerising marbling techniques and print the creations on paper.
---
Happy ZOO-bilee with ART-ZOO!
ART-ZOO brightens up Singapore Zoo with its vibrant characters and children will certainly love posing with their favourite animals. Get more details about what's on activities for the Singapore Zoo's Golden ZOObilee.
You may also enjoy reading about what to expect at Bird Paradise.