Anime fever has arrived at Singapore Philatelic Museum with the Anime X Stamps exhibition taking place from 16 November 2017 to April 2018.
View anime artwork, from classics such as Astro Boy and Gundam to contemporary series such as Naruto and Attack on Titan, on more than 700 stamps at the exhibition.
The philatelic items are complemented with displays of anime collectables and even original production artwork.
Japanese Pop Culture in a Stamp
Anime X Stamps provides a look back at the history of Japanese anime, a cultural phenomenon which traces its roots back to the 1917 animated film, The Dull Sword by Junichi Kouchi. This pedigree makes 2017 the 100th anniversary of Japanese anime.
At Anime X Stamps, in addition to beautiful anime art miniaturised on beautifully designed stamps, information panels provide interesting facts about different anime series.
For example, you can find out why Doraemon has no ears or why he is blue in colour.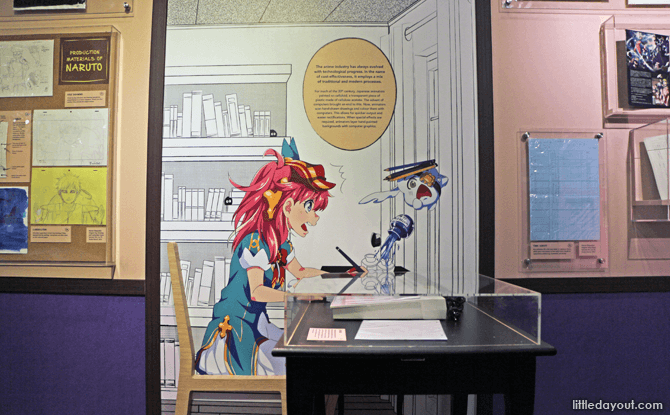 Going deeper into the design and production process, visitors can learn about how Japanese anime is made through displays of rare original production artwork from series such as Naruto and My Neighbour Totoro.
Stamps reflect the icons of a nation and many Japanese stamps have issued on the subject of anime. At Anime X Stamps, anime genres such as suspense and lifestyle are represented. There are stamps that pay homage to popular anime series such as Code Geass: Lelouch of the Rebellion, Sergeant Frog and Yo-kai Watch on display.
Life Anime-ting Art
Beyond the main exhibition room, a separate section of the Anime X Stamps exhibition delves into how people have incorporated Japanese anime into their lifestyle. On display are costumes and other collector memorabilia.
To bring to life the wonderful (and sometimes wacky) world of Japanese anime during the November-December school holidays, Singapore Philatelic Museum is organising Animania Sunday on 19 November and 17 December 2017.
Activities taking place during Animania Sunday at Singapore Philatelic Museum include cosplayers walkabouts, a yukata and cosplay dress-up booth, sushi-making demonstrations and more.
For more details, visit the Singapore Philatelic Museum website.
Anime X Stamps
Dates: 16 Nov 2017 to April 2018
Hours: 10 am to 7 pm
Admission charges: Free for Singaporeans and PRs; Otherwise $8 for adults and $6 for children (3 to 12 years old).