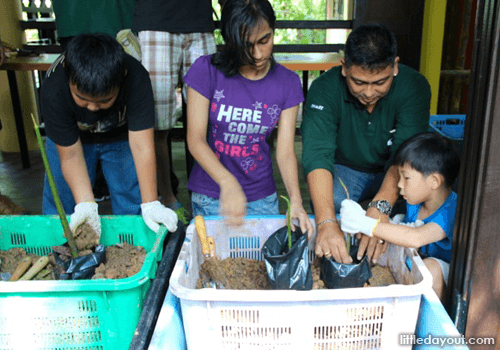 Everyone can now have a closer, round-the-clock view of flora and fauna at Sungei Buloh Wetland Reserve with four animal cameras launched by NParks on Saturday, 20 April, as part of Earth Day celebrations 2013.
From the NParks' webpage, we can view live footage of flora and fauna within a Reserve through our desktop or mobile phones for the first time. We can also view short snippets of animal action, including those of the grey heron, giant mudskipper, stock-billed kingfisher, civet cat and yellow bittern, previously caught on camera.
Read Little Day Out's article on Sungei Buloh Wetland Reserve: Kit Kat Moments with Animal Cameras for the locations of and the rationale behind these four animal cameras.
Adults and children who were there at Singapore's first ASEAN Heritage Park, joined in the Earth Day celebrations in the morning, planting mangrove propagules, painting pebbles painting and folding nature origami.
Children trying their hand at planting a mangrove propagule with the help of an NParks officer.
Click here to see more of the morning's activities in pictures.
In celebration of Earth Day, NParks (through its registered charity and IPC, Garden City Fund) has partnered a number of organisations to spread the Earth Day message to the local community:
• Gap is selling 3,000 limited edition water bottles at $15 each from 18 April to 22 May. For every bottle sold, Gap will contribute $5 to GCF.
• Timberland has set up a herbs and edibles garden within the Breast Cancer Foundation's premises so that breast cancer survivors can enjoy the benefits of nature and greenery.
• SHARP is launching a butterfly garden at Alexandra Canal Linear Park Connector.
This year's Earth Day is especially significant for Singapore as it commemorates 50 Years of Greening Singapore, an important milestone in its journey to become a Garden City.