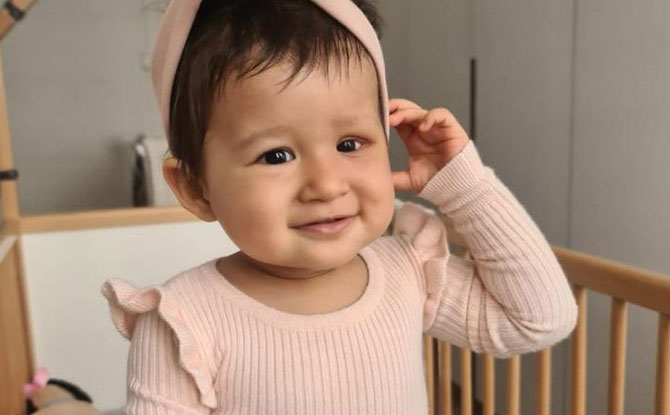 Aria Zhiruo Jesudasen was born in November 2020 and, like other children, she enjoys spending time outdoors and visiting places like Jurong Bird Park.
---
Aria's Cancer Journey
Unfortunately at just 7 months, in July 2021, she was diagnosed with rhabdomyosarcoma, a rare soft tissue cancer that primarily affects children.
She began chemotherapy treatment at KK Women's and Children's Hospital which required nine cycles with local control being performed after four cycles. For this Aria needed Proton Beam Therapy (PT) which was not offered in Singapore. She and her parents moved to Chennai, India for two months to receive the PT before returning back to Singapore in November 2021 finish her chemotherapy cycles.
Unfortunately, in April this year, bad news came back. Here are her parents' words from their Ray of Hope page,
"Just 5 months later, in April 2022, we received unexpectedly devastating news: Routine scans had picked up a small growth near Aria's initial tumour. A biopsy confirmed that Aria was suffering a local relapse of RMS. A relapse this soon after intensive treatment underscores the severity of Aria's RMS. Local control will need to be much more aggressive to increase her chances of beating RMS. This would mean that Aria will lose her left eye and some of the surrounding tissue to boost her chance her chances at beating cancer.
Once again, no facility in Singapore can treat a patient of Aria's age. So to save our child, we will have to bring Aria to Princess Máxima Center in Utrecht—Europe's largest comprehensive childhood cancer center—for treatment with AMORE."
AMORE stands for Ablative surgery, MOulage brachytherapy and surgical REconstruction. AMORE is considered the most promising treatment for paediatric head and neck rhabdomyosarcoma like Aria's.
---
Aiming to Raise $135,000 for AMORE Treatment for Aria
Parents would understand that this is one of the worst nightmares imaginable. And for Aria's parents Ritvik and Elizabeth, the financial cost of treatments has exhausted their financial resources. This is why they have started a crowdfunding campaign on Ray of Hope with the aim to raise $135,000 to send Aria for AMORE Therapy in the Netherlands.
The Ray of Hope is a registered charity which verifies each individual beneficiary to make sure the need is genuine and a member of the National Council of Social Services.
If you feel so led, pay a visit to the AMORE for Aria page on Ray of Hope to find out more about the campaign story and the family's needs. You can also find out more about Aria's story on the AMORE for Aria Instagram account.