There are many touted benefits of subscribing to Amazon Prime for just a couple of dollars per month. These include perks like:
free and fast delivery (including a two-hour super-fast delivery)
movies
games and
early access deals
However, we wanted to test it out for ourselves and experience Amazon Prime for ourselves and validate the various claims. So, we signed up for a free 30-day trial and gave the Amazon Prime membership a try.
Here's our honest review of Amazon Prime after making use of the service for some time.
---
Amazon Prime Benefit: Free & Fast Delivery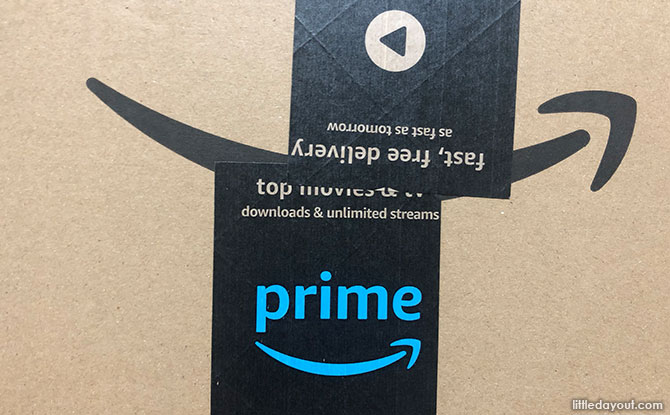 ---
-- Story continues below --
We know the pain of paying for delivery fees, especially when it it is for smaller quantities purchases. To compensate, we usually end up buying things that we do not need to meet the minimum spend.
Other pain points include having to wait weeks for shipping, and having to bear large shipping costs when buying items from overseas.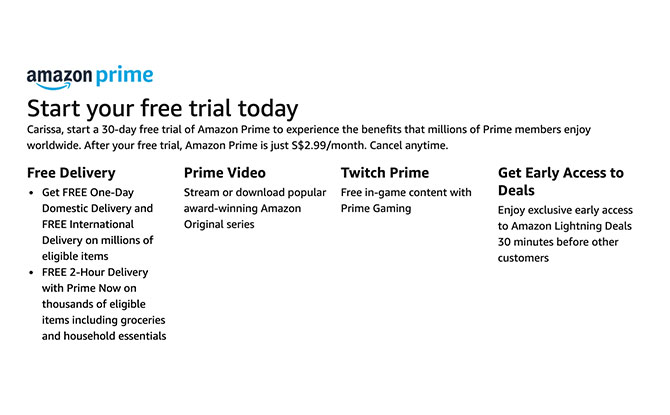 However, with Amazon Prime membership, items shipped by Amazon SG are promised to arrive within the next day. There is also free delivery with no minimum purchase as long as the items have the Amazon Prime logo.
Amazon Prime members can also get free delivery on eligible items sold by Amazon US for international orders over S$60 when they shop on Amazon.sg. Membership also provides exclusive early access to Amazon Lightning Deals 30 minutes before other customers.
To put the membership privileges to the test, we ordered a few items to see if the the claim of "next day delivery" holds true, as well as try out the user experience of shopping on Amazon.
The navigation process of Amazon.sg can seem overwhelming because of the sheer number of products sold. Thankfully there are result filters that make the shopping process easier.
When making this order, we searched for general terms such as "health foods" and a more specific item, "oven mittens heat resistant".
The results that showed up in the "health food" search gave us a good selection of relevant results, and there were even some offers available for a limited time that day.
The search for specific products showed more targeted results, but upon applying the "Amazon Prime" filter, especially when searching for products that "ship from Singapore", the number of products that qualified for free shipping with no minimum purchase was more limited though.
However, the promise of next day delivery was fulfilled. We got a message from Amazon Prime informing us that the package was at the door. It came well wrapped and the items were in good condition.
---
Prime Now: Super Fast Delivery
Another unique feature of Amazon Prime's is the access to "Prime Now" and its promise for ultra-fast delivery.
Amazon Prime members can order groceries and other available items such as household essentials on the Prime Now app and have them, arrive at your doorstep within a one to two-hour window!
Orders that are above $60 will receive free delivery within 2 hours too.
To use this service, Amazon Prime members have to download the Prime Now app. Other than food items, there are also household items such as toiletries, health and baby items that you can add to cart to hit the $60 mark for free delivery.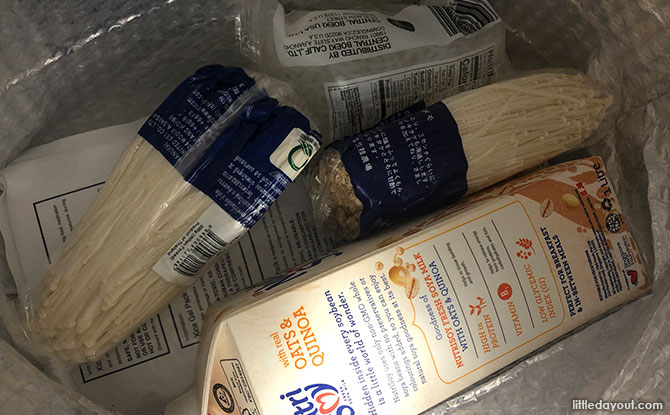 The app itself was easy to navigate. However, as much as there was a good variety of items on the app, these are specific to the items and brands that Amazon SG keeps in stock. It isn't as wide a selection as you'd get at a full scale supermarket, but you should be able to find the item that you need.
We tested this two-hour delivery service by placing an order which included heat-sensitive items such as milk. We also ordered fresh foods such as mushrooms.
Upon checkout, we were told to select the delivery time window. The food arrived on time and in good condition within the two-hour window.
There were multiple ice packs in the cooler bag to ensure that items were kept cool.
---
Prime Video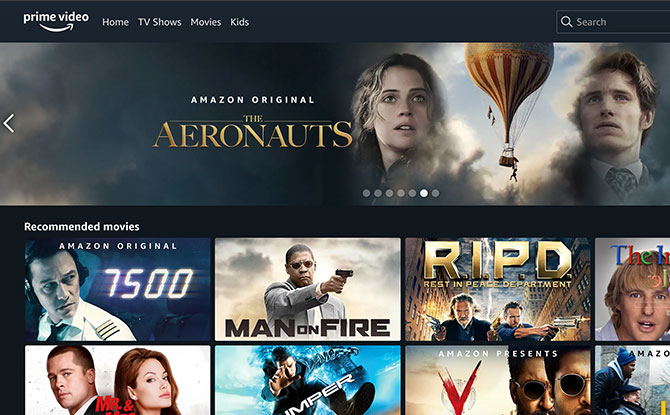 Being an Amazon Prime member has another perk: movies!
With popular shows such as The Office, Tom Clancy's Jack Ryan and award-winning Amazon Originals such as The Man in the High Castle on top of popular movies and TV shows, Amazon Prime's videos offer a large range of videos that allow members to have lots of choices be it watching something old or new.
Some movies that are sure to be popular with the kids include Kung Fu Panda and Despicable Me.
With Amazon Prime video we were able to watch shows across multiple devices and get unlimited streaming in HD quality.
---
Prime Gaming
Prime members can enjoy a selection of free games every month, access to free in-game loot, and a premium experience on Twitch.
For those who are unaware of the platform Twitch, it is a live streaming platform where streamers play popular games such as Fall Guys and the current viral game "Among Us" while interacting with fans and their audience in real-time.
Prime users can use their Amazon Prime account to subscribe to their favourite streams and receive subscriber benefits on Twitch.
Lastly, for gamers on using Amazon Prime, they get free in-game content with Prime Gaming. The games that are downloaded within the duration of the subscription is theirs to keep. Other perks include getting in-game level ups with weapons, characters, skins, boosts, upgrades and more.
---
Final Thoughts on our Amazon Prime Review
After trying out the different perks of Amazon Prime, we felt that the free and fast delivery was the perk we'd see ourselves using the most.
Other than not having to worry about the international shipping costs when purchasing items from overseas, we really appreciated having the option of getting certain items delivered within a small window of time.
Amazon Prime membership would be useful for households who are unable to find time to head out to get necessities. At $2.99 a month for the convenience of Amazon Prime's delivery, it can be a useful time saver for time-pressed shoppers.
As for perks such as the access to videos and twitch gaming perks, they were a good add-on which will appeal to a more specific group of people. Amazon's selection of TV Shows and movies help to complement other entertainment subscription services.
There is a 30-day free trial for Amazon Prime so you can try it out for yourself to see if it fits into your lifestyle. Find out more about Amazon Prime.