View A Galaxy of Moons & Stars at The Gem Museum.
In conjunction with the 10th edition of the Singapore Night Festival, Singapore's only museum dedicated to gems that is open to the public will be holding a specially-themed gemstone exhibition.
Precious stones such as Moonstones, Star Sapphires, Star Rubies, Star Rose Quartz and Cats' Eyes will be specially displayed as stars in the night's sky around The Gem Museum.
Twinkle, Twinkle Little Gems
Moonstones, a type of gemstone, are named for the shimmer they give off. Found all around the world, their ethereal glow is the result of structural anomalies within their crystalline structure. They come in a variety of colours that include white, brown, yellow, green or even peach.
Another variety of gemstones that will be on display at A Galaxy of Moons & Stars are Star Stones. So-called for the optical starburst effect that can be seen in them, these precious stones are prized among gemstone collectors for their rarity.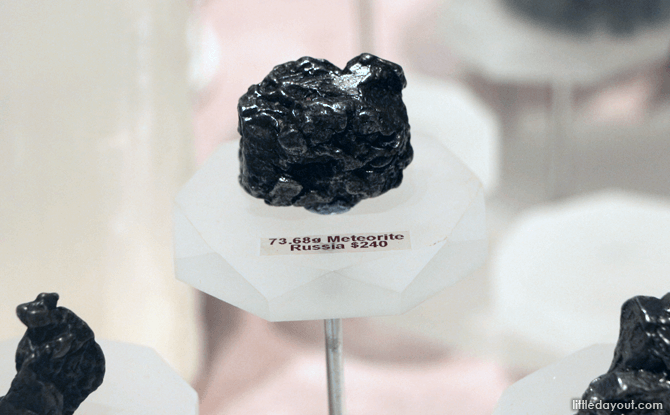 During Singapore Night Festival 2017, The Gem Museum will also have on display rocks that fell from the stars themselves – meteorites. Visitors can view samples of meteorites that have travel unimaginable distances across space and landed on Earth.
Another group of rocks associated with meteorites are Tektites. These blackish-brown rock-like pieces are actually a type of natural glass formed as a result of meteorites impacting the Earth's surface.
Discover Little Gems
To help visitors gain a better appreciation of the gemstones on display, The Gem Museum will have a video presentation with information on the reasons behind the optical phenomenon like the moonstone's glow and asterism, or star effect, in Star Stones.
A Galaxy of Moons & Stars will be held between 18 to 26 August 2017, except on Sunday, as part of the 10th Singapore Night Festival. This is the second time The Gem Museum is participating in the Singapore Night Festival.
During this period, an exclusive collection of moonstones and star stones will be made available for sale. Visitors can also take home a moonstone, star stone or natural gemstones in $20 mystery dip.
A Galaxy of Moons & Stars
Venue: The Gem Museum, 222 Queen Street, #02-02, Singapore 188550
Dates: 18 to 26 August, except Sunday
Opening Time: 3 pm to 10 pm
Admission: Free