Intrigued by the Montessori pedagogy after reading a book on it, Stay-At-Home-Mum Cheryl Ow, 38, has been actively bringing up her daughter, Emma – now two and a half – the Montessori way, and sharing snippets of their home-life with the world on Instagram where her handle is ow.montessori.family.
Play is the Work of Children – Ow Montessori Family
It's hard not to be wowed and inspired as you scroll through the squares depicting Cheryl and Emma's daily life. Think age-appropriate prepared environments where an Ikea play kitchen has been hacked to allow Em to wash vegetables or an open pantry where the little one can prepare a snack for herself.
If anything, Cheryl makes it look easy, almost effortless, to live the Montessori life.
"Don't be fooled by the pictures on Instagram! It has taken a lot of trial, error, and determination to get to where we are today. Each new day is different and I am still constantly learning," quipped Cheryl.
---
-- Story continues below --
On a typical morning, you'll probably find Cheryl and Em outdoors getting in a dose of Vitamin D. The afternoons are reserved for exploring museums, going to the library or just staying home for practical work like preparing dinner or washing the car.
Let Children be Children
It's Cheryl's hope that Em remembers her early childhood being spent in nature and always being free to explore her surroundings.
Driven by the philosophy that play is the work of children, Cheryl makes sure to invest in good quality open-ended toys for Em, which is how she chanced upon the Wobbel Board, a curved balance board that stimulates balance and strength.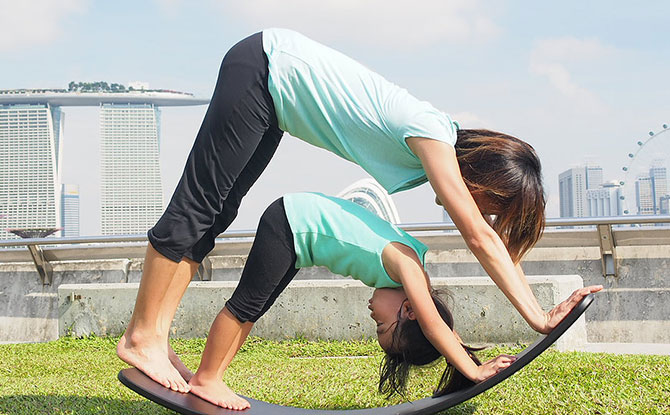 A certified yoga practitioner, Cheryl now conducts outdoor WobbelYoga classes for children through her school, Tiny Movements Co., which she founded in 2017.
Let children be children, Cheryl often reminds herself, because it is through play that a child – and oftentimes, the parent too – learns self-regulation to one day becoming a productive member of society.
Follow Cheryl on Instagram at Ow Montessori Family and find out more about Tiny Movements Co. here.