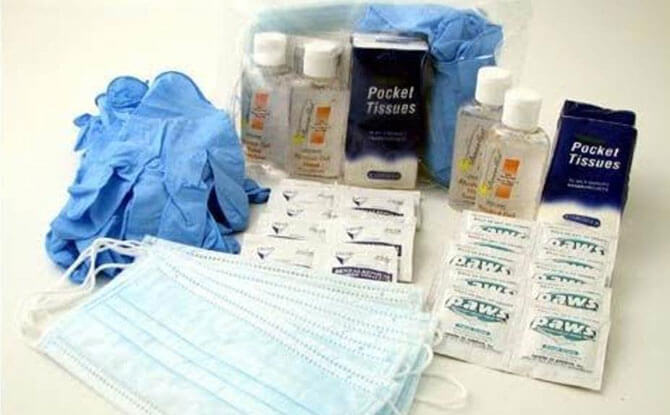 As an ordinary Singaporean, you might be wondering what you can do to help in these times with the COVID-19 outbreak? Besides practising good hygiene habits, that is.
Plenty.
Ways to Offer Help During the COVID-19 Outbreak
---
Start With Your Own Sphere of Influence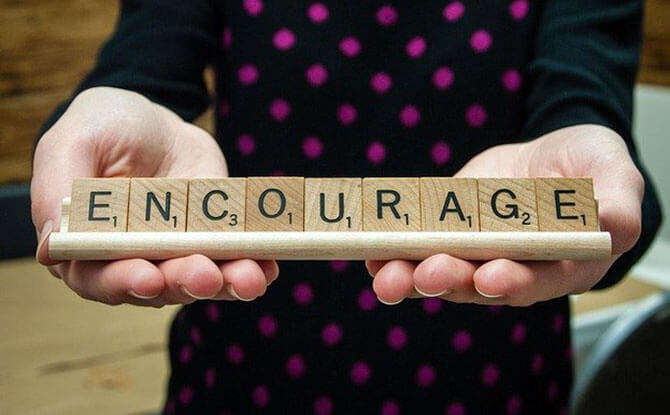 For starters, you can encourage someone you might personally know who is going above and beyond during these times out of social responsibility or in response to the call of duty.
Friends and relatives in frontline fields like the healthcare and the transport industries come to mind. But think also of educators bearing the load and constraints of implementing MOE directives meant to keep our kids safe in school. How about those on inconvenient state-or self-imposed quarantines out of consideration for others?
---
-- Story continues below --
Send a note. Ask after them. It doesn't take much. Small gestures can show appreciation and cheer them on, like these two little angels did their doctor friends.
It goes without saying that we can share what we have with those immediately around us. If you are in possession of viral-times essentials like masks, sanitizers and immunity boosters don't hoard them. Be generous – like this group mums who supplied their neighbourhood with home-made hand sanitizer. Knowing that folk are looking out for each other can go a long way to quell the contagion of fear that may arise during crises.
Watch out for themore vulnerable around you – the elderly neighbour who lives alone, the uncle manning the security post, our own domestic helpers. The impact of the virus threat is unfortunately not just potentially on the health, but also the livelihoods of many who are already vulnerable. Spare a moment to see how they're doing.
And of course, use social media responsibly to spread love, not fear. Enough said.
---
Join with Other Ordinary Singaporeans
Beyond our immediate circles though, why not take a step further and join hands (figuratively) with other ordinary Singaporeans who are also looking to make a difference across our Little Red Dot?
A heartening number of helping initiatives have sprung up in the past weeks. Here are just a few you can get on board with:
Encourage Someone
Healthcare workers fronting the battle against COVID-19 are obvious candidates for our appreciation. Check out our list of ideas to encourage and support them.
Operation Transmit a Simple Thank You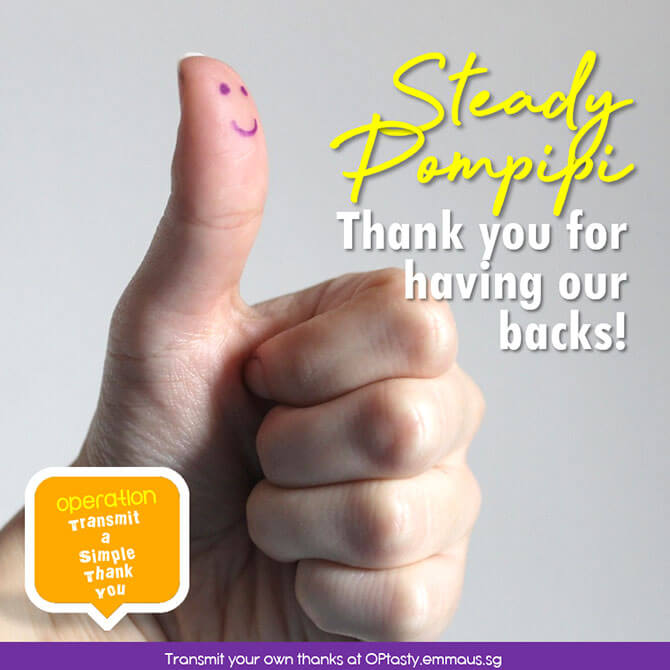 But beyond the healthcare sector are many other unsung heroes deserving of our gratitude too. A local social enterprise has started an appreciation movement "Operation Transmit a Simple Thank You" (Op T.A.S.T.Y) to remember all those who continue to allow our lives to go on amidst the impact of COVID-19. Use their Singlish e-cards to transmit thanks through Whatsapp or Social Media. Read about the movement and download the cards here.
---
Contribute.sg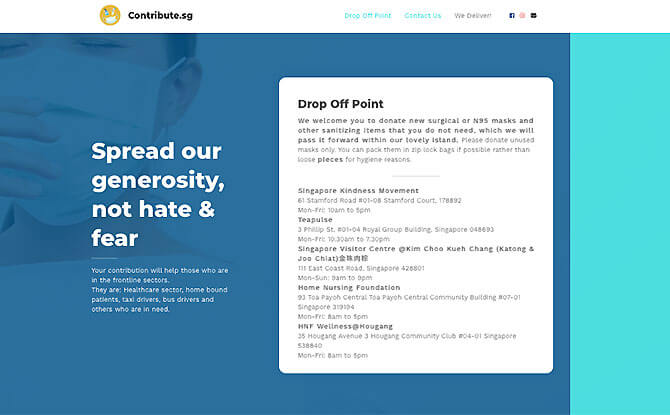 If you happen to have new surgical or N95 masks and any other sanitizing items that you're able to share, Contribute.sgis accepting drop-offs at four locations around the island and will consolidate and forward them on to where they're needed in the healthcare, transport and charity sectors. Find out more here.
Donate Blood
The Red Cross and Health Sciences Authority are also calling for blood donors. Our national blood bank levels are critically low at the moment, as donor numbers have rapidly dwindled, with an impact on our hospitals. Share this life saving resource if you are eligible. Find out where you can make a blood donation here. 
---
Help the Vulnerable and Less Privileged
The Courage Fund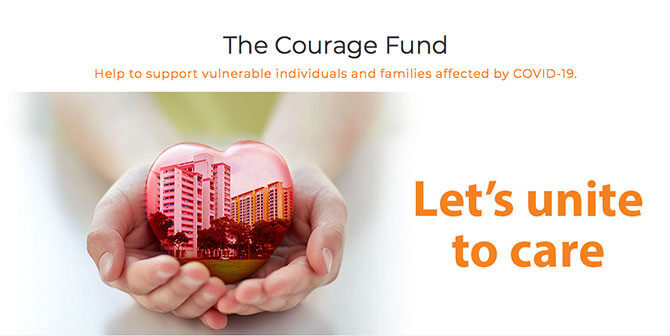 Able to help financially? First launched in 2003 for SARS victims and healthcare workers, The Courage Fund, administered by the National Council of Social Service and Community Chest, will be channeling donations to provide relief to vulnerable individuals and families affected by the COVID-19 situation. You can make a contribution here.
Food Charities
Alternatively, you could offer your time or food donations to charities that continue to operate daily to provide food to the needy. Organisations like Willing Hearts, Food From the Heart and The Food Bank Singapore have been particularly hard hit by the fall-out in volunteers and donations since the start of COVID-19.
ItsRainingRaincoats
Local volunteer group ItsRainingRaincoats,which collects and re-distributes thoughtful gifts to migrant workers, is calling for items like masks, sanitizer, soap and vitamin C or oranges for the migrant worker community. Head here find a drop off point near you.
Healthserve

Healthserve, a charity providing medical services to low-wage migrant workers, is requesting similar donations for their clientele – masks, goggles, sanitizer and disposable medical gowns for the clinic, as well as medical volunteers currently without movement restrictions to serve at the clinic. Find out more here.
---
Spread Love not Fear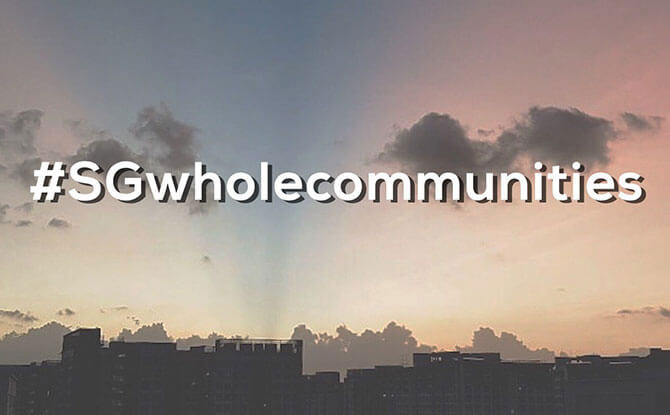 Common Ground's #SGwholecommunities is collecting wholesome and uplifting stories that showcase the good in our midst during these times. Contribute to the narrative here and share these stories on social media and WhatsApp.
---
Connecting Initiatives with Needs
National Volunteer & Philanthropy Centre
To provide a focal point for the host of ground-up initiatives springing up, the folks at the National Volunteer & Philanthropy Centre (NVPC) have started a public Facebook group where initiatives and resources required can be highlighted and matched with those ready to help. You can also check out their Giving.sg page to volunteer or donate to various COVID-19 charity efforts.
Our Singapore Fund
And if you have an idea for an initiative and would like to start something, Our Singapore Fund is accepting fast track applications for funding of up to $3000 for urgent public efforts towards community response to COVID-19. Find out more here.
There is no lack of avenues for the willing to offer help during the COVID-19 outbreak. Don't be afraid to start small, because a little from everyone can go a long way.