Had it not been for the strong encouragement of my brother-in-law, who's an avid driver, we wouldn't have dreamt of taking a road trip to Malaysia's Ipoh with kids. The capital city of the state of Perak is a good 540 km from the Malaysian checkpoint – that's a 6-hour drive without taking rest stops into account!
The main draw of Ipoh is, of course, its glorious food, though there's much more to the city than that.
Admittedly, we were there primarily for the feasting.
But between sinking our teeth into famous eats and hanging out with our relatives (often overlapping activities), we managed to catch a bit of the natural beauty of Ipoh and explore its heritage lanes in our four days there.
---
-- Story continues below --
Getting to Ipoh with Kids
As we were travelling in two cars with kids as young as 10 months old and elderlies in their seventies, we decided to split the journey into two legs.
Part 1: Singapore To Malacca
The first leg of our drive was from Singapore to Malacca. We took the North-South Highway, with breaks at a couple of R&R stops along the way. Four hours later, we had reached our Airbnb accommodation for the night.
We took a walk down the night market along Jonker Street, snacking and shopping. By now, the baby had fallen asleep. But the two older kids were excited by the buzz of the place!
Part 2: Malacca To Ipoh
The next day, we bade our very nice accommodation goodbye temporarily (we would be staying at the same place on our return trip) and made our way to Ipoh, again taking the North-South Highway. This leg of the journey took a little longer. After a few rest stops and some traffic congestion along the way, we reached Ipoh six hours later.
Let The Feasting Begin!
From the famous Lou Wong beansprout chicken, to the white coffee and roast pork at Sin Yoon Loong …
… and curry noodles and Ipoh hor fun at Fei Lou Curry Noodle (Ipoh Garden South), we ate so much good food that my belt broke – no kidding!
If you're up for a late-night gourmet adventure, Tong Sui Kai is a good choice, with numerous stalls offering mouthwatering fare from char kway teow to grilled cuttlefish and tong sui (or desserts) that the establishment is named after.
Qing Xin Ling Leisure & Cultural Village
Though often overshadowed by the food, the scenery in Ipoh is actually really fantastic. The area is surrounded by limestone karst mountains, many of which contain caves.
Mountains like these are poetically set around a quiet lake at Qing Xin Ling Leisure & Cultural Village, reminding one of China's Guilin.
Adding to the natural beauty of the place, are manmade scenes of nostalgia. Make soya milk using a manual stone grinder. Sit in the barber's chair in a room littered with vintage memorabilia. These high-touch exhibits make for great conversations between curious kids and their parents or grandparents.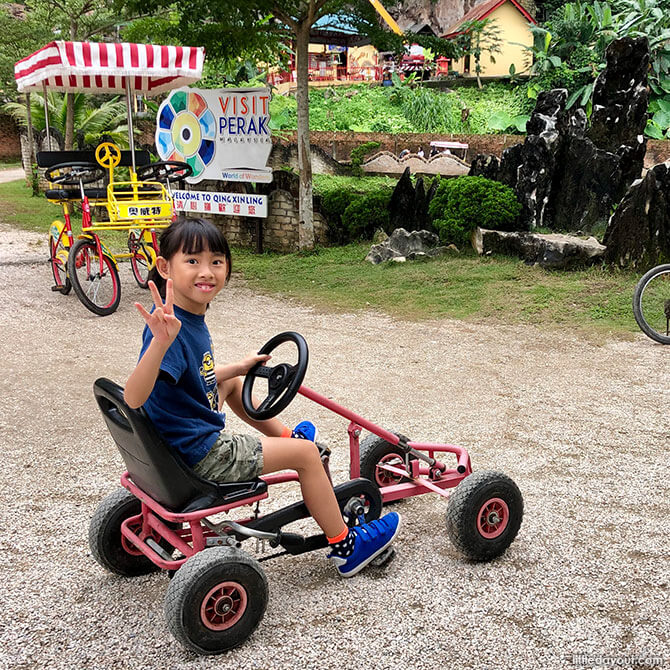 Visitors also have free access to the bicycles, pedal cars, trishaws and rickshaws in the village and can have fun interacting with the wall murals depicting life in the olden days.
This is a bit random and out of theme, but we did have fun looking for dinosaurs (we saw them listed on the map of the village)!
At just RM$10 per person for admission (free for children below seven years old), Qing Xin Ling Leisure & Cultural Village made for a quaint spot for our families to enjoy inter-generational fun. Note that tickets are not available at the entrance and have to be bought in advance at a furniture shop that is about five minutes' drive away.
Concubine Lane And Kong Heng Square
No one leaves Ipoh without walking down Concubine Lane, the most famous of the three heritage lanes that mining tycoon Yao Tet Shin gifted to his wife and concubines following a rebuilding of the old town area after a fire in 1892.
Flanked by numerous attractive shops and food outlets on both sides, the lane was crowded with people when we visited and we could see why.
Colourful decorations made for photo spots, wall murals beckoned interaction, and curious sights drew us into stores, some of which opened up a whole new world of exploration for us.
The cotton candy stall provided lots of fun for the kids as they watched how their creations were made before demolishing them, leaving colourful "evidence" all over their faces!
Rain forced us to cut our visit short, but we returned on another day to chase wall murals along the three heritage lanes, all the way to Kong Heng Square.
Previously an abandoned space near the concubine lanes, Kong Heng Square has been transformed into an artisanal craft centre, with hip cafes and fashion boutiques drawing locals and tourists alike.
Continue walking from Kong Heng Square, and you'll reach the Birch Memorial.
A flight of steps down from the structure, a giant 'Ipoh Heritage Trail' is stamped on the floor. Mandatory group photo here!
We had wanted to bring our adventurous daughter to the Lost World of Tambun, but unfortunately did not have the time to do so. Even without the theme park thrill, we had fun in Ipoh!