Veteran parents would often say there are some toys that give more bang more the buck. Toys should encourage more creativity and imagination, while keeping children engaged beyond 5 minutes. STEM toys for kids– or toys that help with understanding principles of Science, Technology, Engineering and Mathematics, are one of the best to invest in.
These are 8 of the best STEM toys for kids that we think are great to keep and gift! They are also perfect for tinkling together with the rest of the family at home.
STEM Toys for Kids
---
Hape Junior Inventor Deluxe Experiment Kit
This 57-piece kit gets children manipulating and using various parts to build and experiment. With varied tools and components, children can construct many different things like cranes, bikes, robots. Aside from problem-solving skills development, this toy set encourages logic thinking and honing the basics of STEM learning. Get it here for children ages 4 and up. Find out more about it here.
---
Bloco Toys Anklyosaur & Young Raptors or Marine Creatures
Love dinosaurs or marine creatures? Bloco Toys has tools to build all creatures extinct or not, using hundreds of high-density foam and plastic connectors. Parents have given these sets a thumbs up for its safe, resistant pieces which are easy to manipulate and washable. Get more details here. 
---
-- Story continues below --
---
Learning Resources Botley the Coding Robot Activity Set
Ever wanted a robot friend? Botley the robot is STEM toy that will help your child learn skills such as coding and navigating obstacle course designed by kids. It provides a way to pick up screen-free coding with no devices required; simply use the remote programmer to transmit commands to get Botley going. The 77-piece activity set comes with a remote programmer, detachable robot arms, 40 coding cards, tiles, obstacle building pieces and a started guide with coding challenges. Get your robot friend here.
---
Magna Tiles Metropolis Set
Many parents would want to lay their hands on this one, also extolled by Stories of Play for being one of the well-loved toys in her home. I second this as well. One tip is to get a bigger set with more pieces to build larger structures. Colourful magnetic tiles will have the children building 3D structures, vehicles, magical creatures and whatever they imagine. It also helps children to develop mathematical, scientific, spatial and tactile skills. Buy the STEM-related Magna Tiles here.
---
National Geographic Glowing Marble Run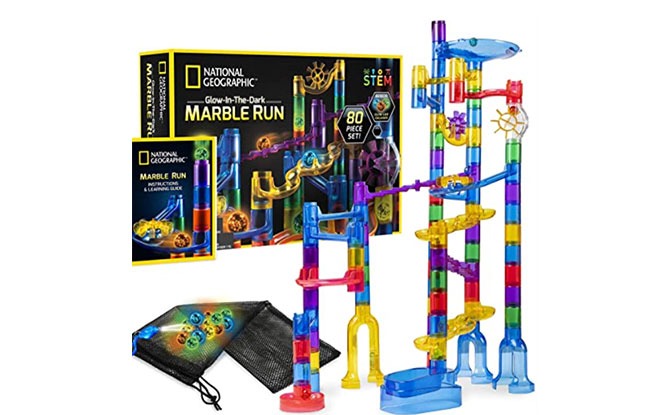 Who doesn't like a good marble run? A glow-in-the-dark version always doubles the fun. National Geographic's glowing marble run has glow-in-the-dark marbles that shine bright, a learning guide teaching the physics of motion and aerodynamics as well as marble run construction experiments. Light up your play here.
---
Klutz LEGO Chain Reactions Craft Kit
How about building your own marble run and ramps from scratch? This kit won the NAPPA Silver award, comes with 80 page instructions, 33 LEGO pieces, instructions for 10 modules, plastic balls, paper ramps and others. Sounds like hours of STEM-themed play.
---
Tegu Magnetic Wooden Blocks
Another magnetic building set, Tegu Magnetic wooden blocks set incorporates nine unique shapes, lead-free, non-plastic, non-toxic and made from sustainably sourced hardwoods. One thing it has over other sets is the magnetic wheels! It encourages imaginative play and plenty of educational fun off-screen. Get them here.
---
Kubi Dubi Wooden Blocks
Plain blocks are fantastic toys to have or give. The set my children owns is always a staple in play. From castles under siege to cities to the tallest structure in the world – anything is a possibility. Children will learn STEM concepts like shapes, weight, balancing, proportion. Buy the Kubi Dubi blocks here.
---
Science is Fun
Science is fun, and even more so with these amazing STEM toys for kids that will inspire hours of educational joy.
This story contains affiliate links. This means we earn a small fee if you purchase something through a link from our website. There is no additional cost to you. This helps to support Little Day Out and keeps us going.