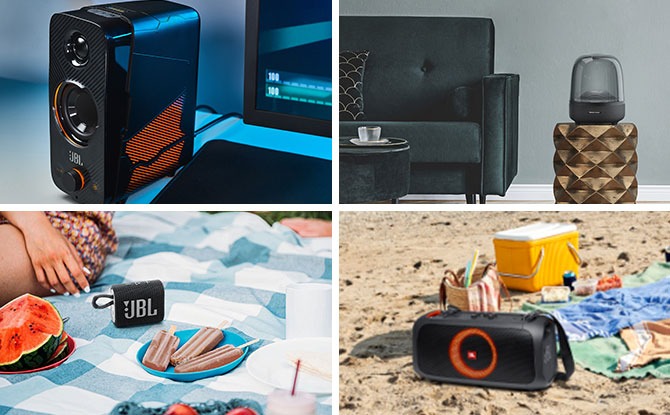 What is life without a good soundtrack, or good sound in general? This year, for Christmas, if you are looking for something to get for the music lover in your life, the WFH professional who is constantly on calls, or the even the gamer who can't do without a thumping audio track, we have some great gift ideas for you.
From fashionable music accessories to epic-sounding speakers, you can pick up a music gift that the recipient is sure to love. Check out these awesome music gifts that are available this Christmas.
---
Christmas Gifts for Music Lovers
1. JBL GO 3 – For the Fashionista
Getting points for all round style, the JBL GO 3 ($79) is a trendy-looking Bluetooth speaker. It comes in variety of fashionable colours with a fabric covering. Not just pleasing to the eye, the portable speaker also boasts JBL Pro Sound with a punchy bass despite its compact size. Stream music to the JBL GO 3 wirelessly over Bluetooth and share the music wherever you go.
---
-- Story continues below --
Check it out here.
---
2. JBL Quantum DUO – For the Gamer
Players will never miss the sound of an approaching enemy anymore with the JBL Quantum DUO ($269). Designed for avid gamers, the pair of speakers combine JBL's renown sound expertise with Dolby Digital to provide an immersive audio experience. To further "up" the cool factor, it lights up in unique colours and patterns to deliver pulsating visual effects.
Get more details on the JBL Quantum DUO.
---
3. Harmon Kardon FLY TWS – For the Business Executive
The Harmon Kardon FLY TWS earbuds ($299) fit perfectly into the busy lifestyle of the modern professional. With a stylish design and high-quality sound, the earbuds can last for up to 20 hours. It is water resistant and has full-function touch control including TalkThru technology to make it easy to have a conversation with the press of a button. The Harmon Kardon FLY TWS are a set of earbuds that a discerning business executive will appreciate.
Get more details here.
---
4. Harmon Kardon FLY ANC – For the WFH Professional
Anyone who is working from home will appreciate the Harmon Kardon FLY ANC ($349) headphones. It delivers comfort and sparkling sound and comes with active noise cancelling to block out extraneous sound. The headphones have a long-lasting battery life of 20 hours and all controls are conveniently located on the ear cup. It even has multi-point connectivity to allow you to switch between multiple devices if needed.
Find out more about the Harmon Kardon FLY ANC.
---
5. Harmon Kardon Aura Studio 3 – For Stylish Music Lovers
If you are looking for a gift for a sophisticated music lover, the aesthetically-pleasing Harmon Kardon Aura Studio 3 ($399) is sure to be a winner. It has an elegant, sculpture-like design with calming ripple-wave lighting effects. The Harmon Kardon Aura Studio 3 has been engineered to be proudly displayed in the middle of a room and still play the music in all directions.
Find out more about the stylish Harmon Kardon Aura Studio 3 here.
---
6. JBL PartyBox On-The-Go – For the Up-and-Coming Pop Star
Turn any party into a karaoke party with the JBL PartyBox On-The-Go ($599). This impressive portable speaker has 100 watts of power. It comes with a two wireless JBL microphones so that you can belt out your favourite tunes on your own, or duet with a friend or family member. The speaker has a dynamic light display to go with the music, and, being splash-proof, it can even be brought poolside. Two JBL PartyBox On-The-Gos can even be linked together wirelessly to stage your own mobile disco party!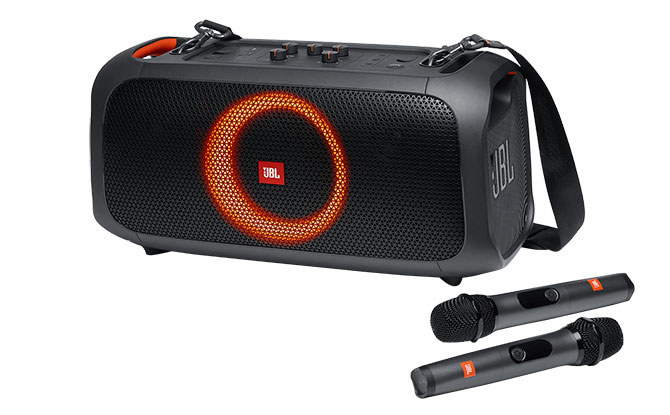 Get more details here.
---
7. JBL Bar 9.1 – For the Avid Movie Buff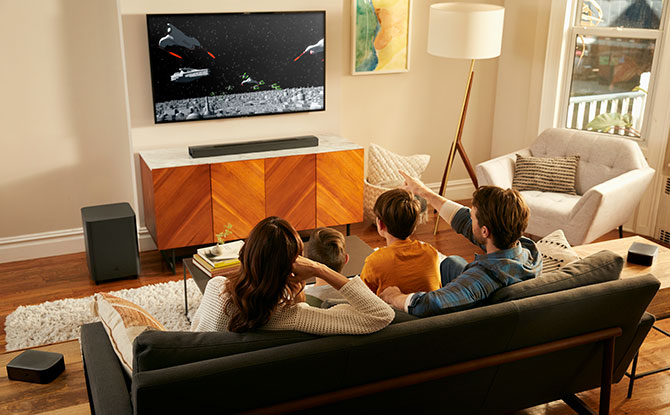 Get completely immersed into a movie with the JBL Bar 9.1 ($1,799). This sound bar delivers JBL Origial Pro Sound and a cinematic experience with Dolby Atmos and Dolby Vision support. It has four up-firing speakers which bounce sound up to the ceiling for a 3D sound experience. Two detachable wireless surround speakers can be conveniently positioned for all round sound while a 10" subwoofer delivers heart-pounding bass.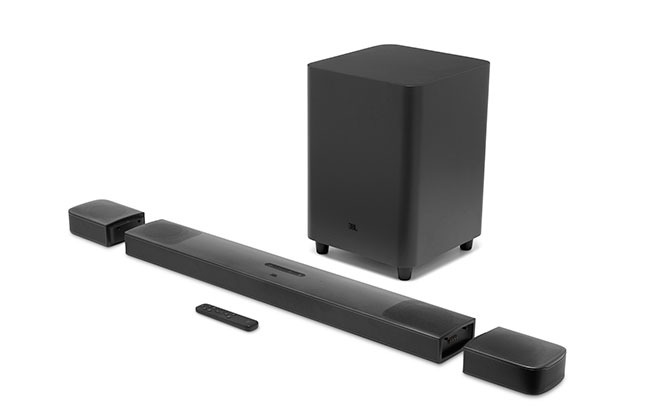 Find out more about the JBL Bar 9.1.
All these gifts for the music lover in your life are available for purchase at the JBL official store on Lazada, Shopee and all JBL authorised leading retailers.