Ignite the kampung spirit at the Hari Raya Light Up 2017. This year, the festive light up at Geylang Serai will last for seven weeks from 20 May to 7 July 2017.
"Every Hari Raya Puasa, Geylang Serai is illuminated with bright lights. While being a platform for commemorating Ramadan, the annual Hari Raya Light Up also provides an opportunity for local and international visitors alike to explore the precinct and understand more about the Malay culture in Singapore," said Dr Teo Cheng Swee, Chairman of Hari Raya Light Up 2017 Organising Committee.
Fostering greater understanding across communities is one of the key aims of the Hari Raya Light Up. This is underscored by the various events and activities being organised from 20 May onwards when the Hari Raya Light Up 2017 will be officially launched.
Here are 6 things you can look forward to at the Hari Raya Light Up 2017.
1. Two Kilometres Worth of Lights
Stretching out for 2.25 km along Sims Avenue and Changi Road, this year's light up features two 13-metre high main arches and 55 sub-arches. More than 900,000 LED bulbs are used in the light display, which took four months to design and produce. A leaf motif, like that found on a songket or traditional Malay fabric, is prominent part of this year's design.
2. Huge Displays
A key light installation at Hari Raya Light Up 2017 is a 4.4 metre tall wau or Kelantanese kite that visitors can take pictures with. This represents the richness and diversity of Malay arts and craft. The main stage where performances will be held is designed as a kelong and sampan.
3. Mega-Sized Geylang Serai Bazaar
The hugely popular Geylang Serai Bazaar returns from 25 May to 24 June. This year, expect more than 1,000 stalls at the pasar malam. The bazaar will be spread out in front of Geylang Serai market, Joo Chiat Complex and along Haig Road.
The hottest bites last year were rainbow bagels and watermelon volcanoes. This year you can look forward to candyfloss burritos, poke bowls and rainbow planet ice-cream buns. Of course, there will also be decorative items and traditional Hari Raya goodies like kuih tart and kuih bangkit for sale too.
4. Stage Performances
Cultural performances such as kompang (traditional drum) playing and Malay dance will be held every Friday, Saturday and Sunday at the Kembangan-Chai Chee Community Hub / open space adjacent to Engku Aman and Sims Avenue from 20 May to 7 July, with the exception of 26 May and 24 June. These performances will not only entertain the audience but allow those who are curious about Malay culture to find out more.
5. Malay Museum at Kampong Ubi Community Centre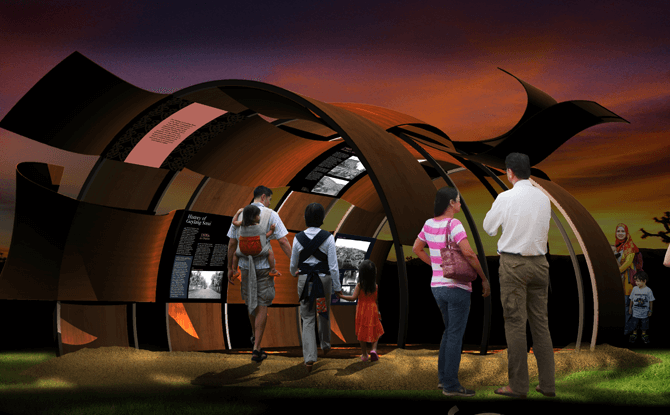 A special museum at the Kampong Ubi Community Centre will acquaint visitors to Malay traditions during Ramadan, the history of the Hari Raya Bazaars and the Malay community's spirit of cooperation or gotong royong. Also get to see gongs, weaponry and traditional Malay games. Designed in the shape of a ketupat or rice dumpling, pop-up museum's interwoven "leaves" remind us how different communities are interwoven.
6. Cultural Heritage Race 2017
Taking place on 3 June, teams of three will compete around Geylang Serai for prizes that include $2000 cash for first place. Teams will need to include at least one new Singapore Citizen or Permanent Resident, and one locally-born Singaporean. Call the Geylang Serai Community Club at 67472919 to register.
Hari Raya Light Up 2017
Hari Raya Light Up 2017 takes place from 20 May to 7 July, Sundays to Thursdays from 7 pm to 12 am, Fridays and Saturdays from 7 pm to 2 am and overnight to 6 am on 24 June, the eve of Hari Raya Puasa.
To get the latest on Hari Raya Light Up 2017, follow its Facebook page at www.facebook.com/HariRayaLightUpSingapore2017/