Are the June holidays sounding like this?
"I'm bored!"
"There's nothing to do!"
"Can I play brawl stars/<insert name of console game> now?"
*sound of fridge opening and closing for the hundredth time*
How about making an activity board for the "bored" children at home? It will just take a maximum of five minutes of your time. This parenting hack has also saved me from getting interrupted umpteenth times, especially in the midst of a work call or a project.
---
Making an "I'm Bored" Activity Board
Step 1: Get a piece of paper and draw a grid consisting of at least 16 squares.
Step 2: Write down a list of activities corresponding with the number of squares. Children can pitch in and list their activity of choice as well.
Our list included plenty of screen-free options so the children wouldn't always be entertained by a screen. It also ensured some outdoor time – whether it is to catch bugs, kick a ball or scoot around the estate.
Step 3: Hang it up and paste it on a surface where everyone can access it.
Step 4: Get your bored child to roll a dice, toss a coin or use their Nerf gun blaster to aim at one of the activities. And that gives the child something to do whenever he or she is bored.
---
Blast the Boredom Away with Activity Suggestions or Even a Chore Jar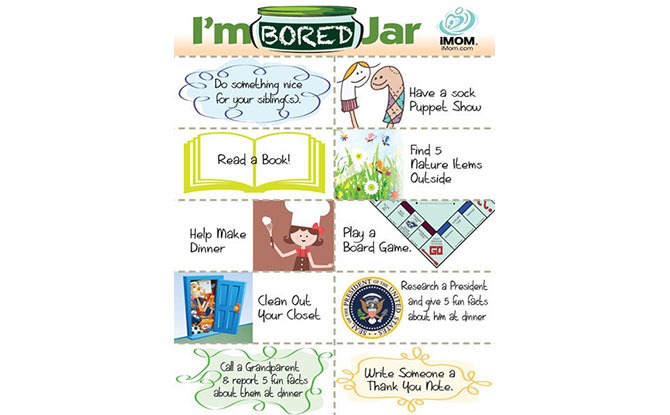 Some parents may even ingeniously suggest a chore jar for bored children so they won't ever complain of being bored again.  We all want our kids to enjoy themselves while being safe at home, so why not make a bored board consisting of fun activities.
Once the children gravitate towards the board and complete the activities, you know you have succeeded in getting them to complete a meaningful activity.