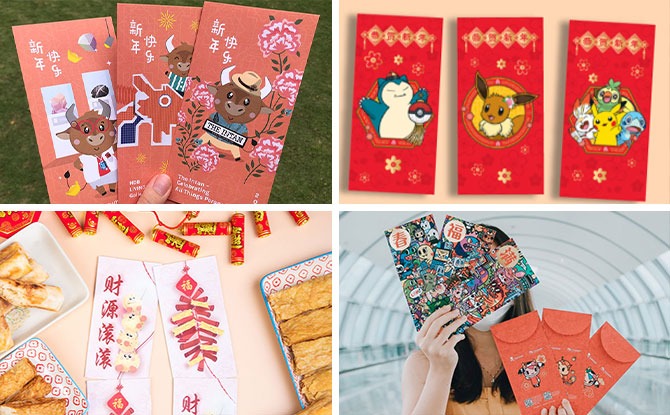 Looking for some cute ang bao packet designs to give your family and friends this Chinese New Year? There are many cute designs that are up for collection at various locations around Singapore. Here are give cute and unique ang baos you can collect for Chinese New Year 2021
---
Chinese New Year 2021 Ang Baos
Tokidoki
The cute and colourful Tokki +Doki and friends are here to wish one and all a prosperous, harmonious and Happy New Year! Spend a minimum of S$60* (S$90 for supermarkets)* in a single same-day receipt, at participating outlets in the public areas of Terminal 1 and 3. Then, head over to the redemption counter to redeem your exclusive tokidoki premiums! Purchase a 2-sided tokidoki drawstring bag at only S$8.80! You can find more information here. The same premiums are up for grabs too for Changi Eats orders of $50.
---
Pokemon
Collect all the different Pokemon designs in this year's exclusive Pokemon designed ang baos by Changi Airport. Over at Jewel, redeem an exclusive set of Pokémon red packets with $80 spent (in a single receipt). Receive an additional $10 Jewel voucher if you charge this to your Citibank credit card with a maximum two same-day receipts.
More information can be found on this website
---
Ham Chim Peng and You Tiao from You Tiao Man
In celebration of Singapore's hawker culture listed successfully on UNESCO, local company You Tiao Man has launched a commemorative ang bao design featuring two of Singapore's favourite breakfast foods, Ham Chim Peng and You Tiao, The popular dough fritter and fried doughnuts are in a unique design where you can stack them on top of one another to create a continuous design. These limited-edition ang baos will be given away with purchases above $40 on the You Tiao Man's e-store. Read more here. 
---
Museum Roundtable
From 22 January to 19 February 2021, pay a visit to 32 participating museums, heritage institutions and galleries around Singapore to collect a set of unique and cute Year Of The Ox red packets! Specially designed by The Museum Roundtable and team along with their various partners, each museum, heritage institution and gallery will be giving away specially designed hongbao which have been themed to their institution. Find out more about these cute ang baos here.
---
Talking Ang Bao by Singapore Chinese Cultural Centre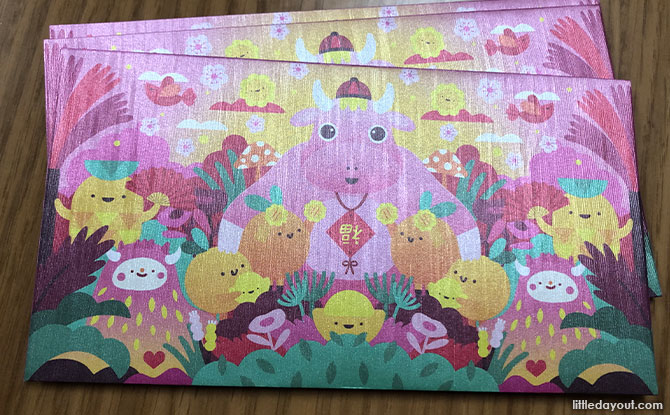 Ever had an ang bao that talks? Using the current technology that is available to us along with some creativity, these talking ang baos design by local artist PuffingMuffin in their collaboration with the Singapore Chinese Cultural Centre is now available for you to collect. All visitors of Moo Moo PARK will receive, courtesy of Singapore Chinese Cultural Centre. When the QR code on the red packet is scanned, the red packet will start to speak. The festive Chinese New Year greeting is spoken in Mandarin and the five major dialects of Singapore (Hokkien, Teochew, Cantonese, Hakka, and Hainanese), all of which are voiced by young Singaporean children. Read more about the talking ang bao as well as Singapore's first drive-through art exhibit here.