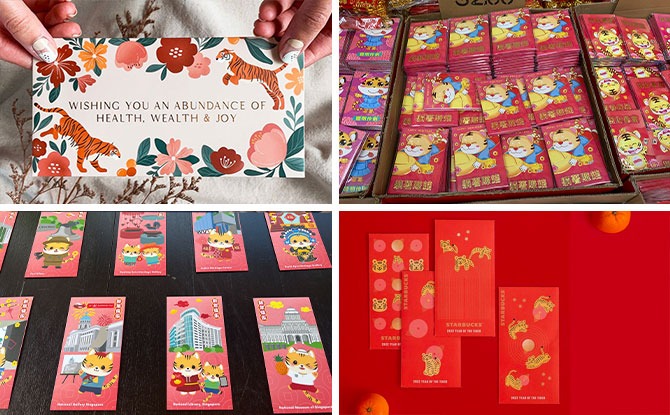 Looking for some cute ang bao packet designs to give your family and friends this Chinese New Year? There are many cute designs that are up for collection at various locations around Singapore. Here are give cute and unique ang baos you can collect for Chinese New Year 2022.
---
Chinese New Year 2022 Ang Baos
Chinatown Markets
One of the hotspots of every Chinese New Year celebration, Chinatown is usually bustling with stores and pop-ups selling a variety of red packet designs, many of which are themed to match the zodiac year.
Read more about the festivities at Chinatown here.
Papercranes Design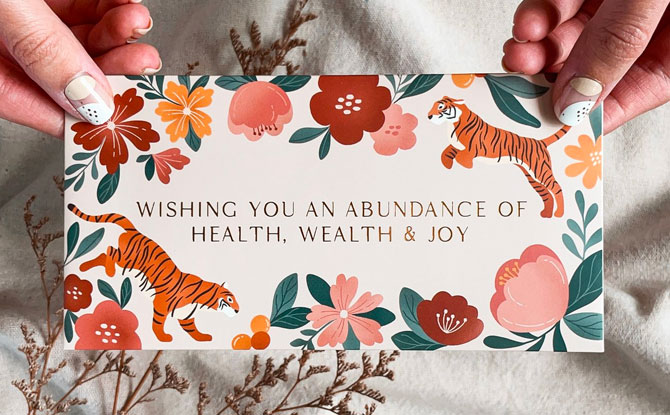 Usher in the lunar new year with this modern take on traditional red packets. These money packets are adorned with lively tigers prancing amongst lush florals, and is made with 160gsm matte paper with light gold hot stamping. It's a beautiful piece that receivers are sure to want to keep beyond the festivities. See more here.
---
Museum Roundtable
It's the Year of the Tiger and red packet collectors will be happy to know that the Museum Roundtable Lunar New Year Hongbao Collection is back with plenty of cute themed hongbaos. These museum hongbaos can be collected from the various museums and galleries from now to 4 February 2022. There are a total of 35 unique hongbao or red packet designs to be collected from participating museums and galleries. There will also be a limited edition collector's album available for sale for the first time. Read more here.
---
Changi Airport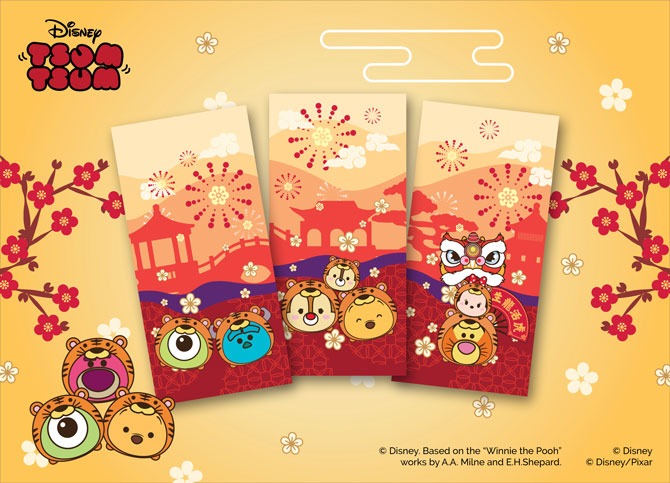 For every $60 spent in a single same-day receipt ($80 for Supermarket), shoppers can redeem a few exclusive Disney themed merchandise such as a set of Tsum Tsum Red Packets with 6 different designs. Read more here.
---
Starbucks
This Lunar New Year, celebrate and welcome the Year of the Tiger with Starbucks themed treats and merchandise. Starbucks will be bringing a cute reiteration of the third zodiac animal for fans to collect and enjoy. Gold members get to redeem a free pack of eight exclusive Starbucks 2022 Year of the Tiger red packets with every $28 spent in stores. There are four designs in each pack. Read more here.
---
Creativeans
Drawing inspiration from the Chinese idiom, "雨过天晴", which means new hopes after a disastrous period these specially designed red packets feature a family of 5 otters coming out to play after a heavy storm. The family of 5 otters shown in the design symbolises "五福临门" which expresses the endless fortune streaming into homes and businesses.
These red packets are a part of Creativeans latest campaign, "Care For Each Otter: Buy An Angbao And Support The Needy". All proceeds from your red packet purchase will go towards Filos and their beneficiaries. These red packets are also printed on antimicrobial-varnished paper that was harvested in a socially and environmentally responsible manner. Read more here.