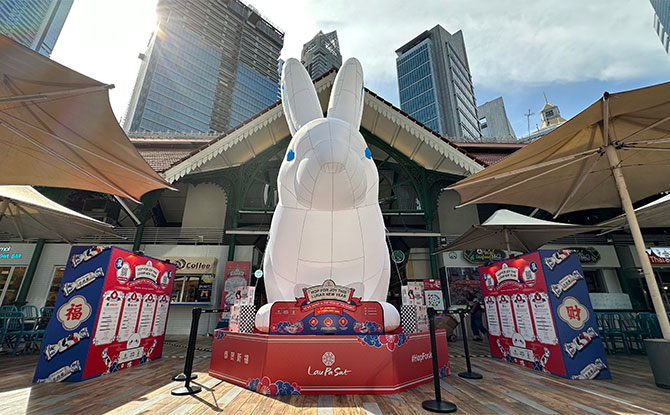 Lau Pa Sat is partnering with Hao Food Sg to bring the iconic White Rabbit of the candy to life for a food hall experience steeped in nostalgia from 5 January to 5 February 2023.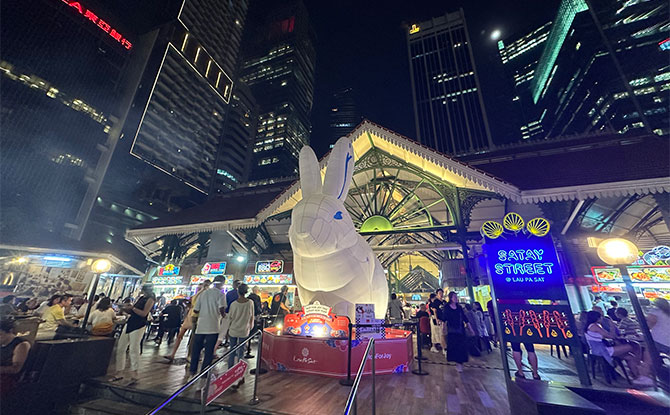 Greeting visitors at the food market is a 5.5-metre tall inflatable White Rabbit, all lit up in the evening for the best photographic opportunity. The White Rabbit Chinese candy has a special place in many people's memories and hearts with its nostalgic white, blue and red packaging, lined with an edible rice paper, and creamy consistency. In fact, it would be commonly found (and popular with kids) on a tray of Chinese New Year goodies.
From 5 January to 5 February 2023, there will be a series of promotions centred around the White Rabbit at Lau Pa Sat.
White Rabbit-inspired Products
You can taste it as a White Rabbit Peanut Nougat Ice Cream from a sure-win claw machine.
There are also White Rabbit-inspired products around Lau Pa Sat. These include:
White Rabbit Milk Muffin ($2.80) and White Rabbit Milk Doffin ($2.90) by Butter & Cream
Tangy Orange Rabbit Mocha ($7.00), Coconut Popsigato ($6.50), and White Rabbit Popsigato ($5.50 per cup) by Hook Coffee
---
White Rabbit Merchandise
Redeem exclusive White Rabbit merchandise (worth up to $18) with minimum $10 spent at Lau Pa Sat or Food Folks. A different merchandise will be featured each week. These include a White Rabbit Enamelled Cup, White Rabbit Fridge Magnet, White Rabbit Canvas Bag and White Rabbit Brooch.
Or, you can read your fortunes for the year ahead on the Zodiac Reading Board to prepare for the new year.
Visit https://laupasat.sg/hopforjoy/ for more info.