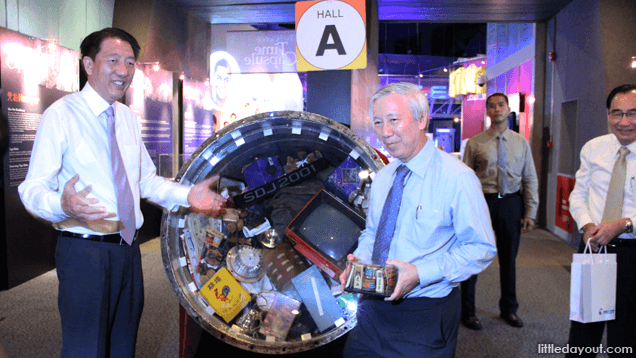 What was life like some 40 years ago? How far have we progressed since then? To help our kids fully appreciate the present and look into the future, we have to help them grasp the past and understand where we came from.
And now, with the re-opening of vacuum-sealed solid steel cylinder known as the Science Time Capsule, we can help them gain an insight into the evolution of Singapore over the last 40 years.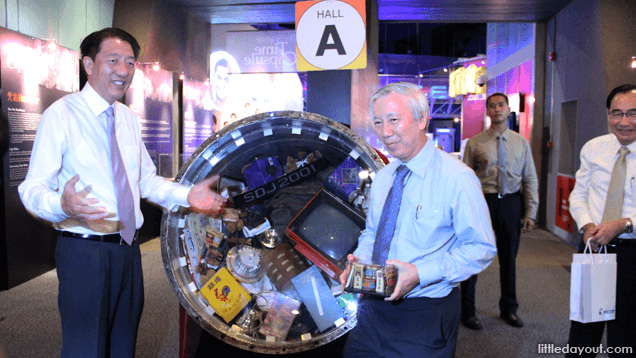 The Science Time Capsule unveiled by Deputy Prime Minister, Coordinating Minister for Home Affairs, Mr Teo Chee Hean on 27 November 2012. The item that he picked out and handed over to Mr Han Ah Kuan, Executive Director of Haw Par was Tiger Oil.
The Science Time Capsule is on display at the Science Time Capsule exhibition from now till 31 January 2013 at Science Centre Singapore and more than 100 household items contributed by over 150 companies dating back to the 1970s can be seen.
Exhibits include earlier forms of Tiger Balm (which Associate Professor Lim Tit Meng, Chief Executive of Science Centre Singapore quipped that every mother used to insist that their school-going children carry a coin-sized sachet in their pocket), a cassette tape recorder, a knob-turning TV set with antenna, a 1973 Rollei camera and a HP-35 calculator (which used to be sold for US$395 at that time).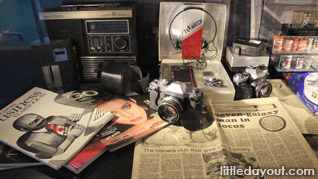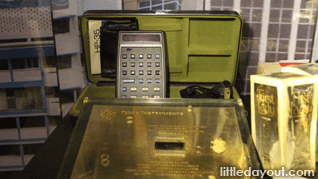 The Science Time Capsule was first buried in 1973 at the laying of the Foundation Stone of the Science Centre building. Then-Deputy Prime Minister, Dr Toh Chin Chye, had mooted the idea of a time capsule to record Singapore's scientific progress and technological achievements.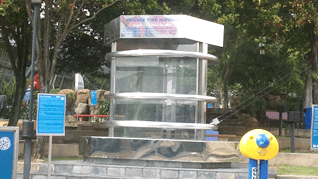 After the first two re-openings in 1983 and 2001, the capsule has been sitting quietly next to the open-air auditorium at the Kinetic Garden, where it will eventually return at the close of the exhibition. 70 new items will be added and a total of 700 artefacts will be re-sealed in February 2013.
Don't miss this exhibition because you can get a chance to see these artefacts only when the Science Time Capsule is uncovered in 2028, another 15 years' time, at Science Centre Singapore's 50th anniversary.
35th Anniversary Celebrations – "Celebrating the Past, Shaping the Future"
Science Centre Singapore kick-started its 35th Anniversary Celebrations in conjunction with the unveiling of the Science Time Capsule and highlights* include: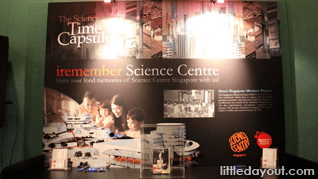 The Science Time Capsule Exhibition from 27 November 2012 – 31 January 2013
Singapore Science Festival 2013 in July 2013
"Honey I Shrunk the Kids" in April 2013
Wallace Exhibition in November 2013
Science is Everywhere online competition to capture scientific phenomena in Singapore from December 2012 – July 2013
Singapore Memory Project's irememberScienceCentre initiative to capture Singaporean's memories of Science Centre from December 2012 – December 2013.
 *Highlights are subjected to changes and event details will be confirmed closer to dates.
Children Science Centre to Open in Early 2014
A new interactive play area is in the works for families and children aged as young as 1.5 to 8 years old. By the first quarter of 2014, the Children Science Centre will open its doors at the Omni-Theatre.
It will provide a safe and exciting environment with opportunities for parents to explain the world of science to their children and bond with them by exploring the wonders of the world together. The 1,500 square metres Children Science Centre is designed to help our gadget-led generation rekindle the spirit of exploration and discovery.
Other upcoming new initiatives by Science Centre Singapore include the development of a Digital Planetarium and Virtual Interactive Aquarium.