Clarence, his wife and 3 kids were at the Night Festival on Saturday with 2 other families. Little Day Out caught up with them to find out what they thought of the Night Festival 2012…
Little Day Out: What did your kids enjoy most about the Night Festival?
Clarence: There were plenty of activities for kids. They especially enjoyed the mask-making activities and the "ping-pong round" at 8Q.
Little Day Out: Would you recommend other parents also bring their kids to the Night Festival?
Clarence: Yes, it was a nice way to spend the evening together as a family. We particularly enjoyed walking around the Heritage District and seeing the different sights. We only had time to view the exhibits around the Singapore Art Museum and 8Q. There was so much more to see that we will be coming back again next Saturday.
Little Day Out: Are there any tips you'd have for other parents also thinking of bringing the kids to the Night Festival?
Clarence: Make sure you bring along plenty of cool water. Electric fans also come in handy. We also brought along light sticks for the kids which they had a blast waving around.
If you missed out on the Night Festival 2012 last weekend, make your way down this upcoming weekend on 31 August and 1 September 2012. For more details, click here.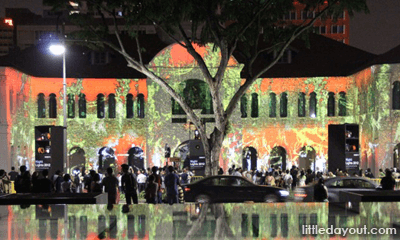 The Singapore Art Museum transformed by the spectacular evolving Night Lights.
Kids getting free balloon sculptures from makeshift stalls along the Singapore Management University pavement (near Kopitiam).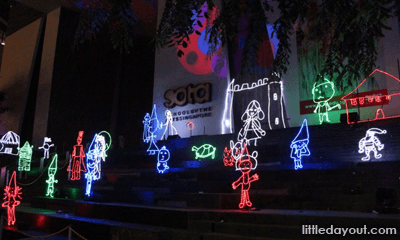 Children's drawings of familiar fairytales' characters are brought to life in the 'Children's Dreams' light installation outside the School of the Arts.