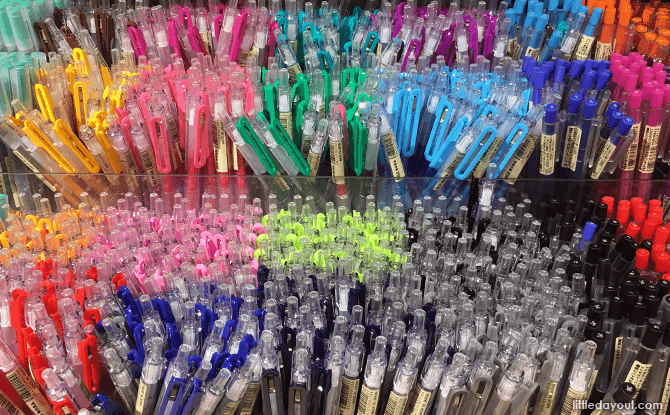 Strange as it may sound, we know some folks who find shopping for stationery therapeutic, and dare we say, fun. Maybe it is the cute pen designs or the satisfaction of coming across the perfect notepad. Whatever the (pencil) case may be, there are some stationery shops in Singapore that every lover of tabletop supplies is sure to derive pleasure shopping at.
---
Stationery Shops in Singapore
For the times when a regular ballpoint from the neighbourhood convenience store won't do, here are 15 stationery shops in Singapore where you can find everything you need to fill up your desktop or pencil case.
---
1. NBC Stationery & Gifts
If you are looking for cute stationery items like pens, pencils and notebooks, many of which are imported from Japan, pay a visit to NBC Stationery & Gifts. NBC Stationery & Gifts started off in Singapore in 1983 as the stationery corner in Kinokuniya. It now has multiple outlets around Singapore. Just be warned that you may be distracted by all the other cute items around the shop.
---
-- Story continues below --
---
2. Popular Bookstore
The go-to store for many Singaporeans looking for stationery items is Popular Bookstore. It is hard to imagine that this homegrown giant started off distributing Chinese story books and pictures in 1924 as Cheng Hing Company. Today, it is an essential place to shop for assessment books and back-to-school supplies, including stationery.
---
3. PaperMarket
PaperMarket stocks lovingly curated stationery and paper crafting supplies. It is one of the nicest stationery shops in Singapore to browse through because there is something new to uncover. Pay it a visit at Great World shopping mall. Find out more about PaperMarket.
---
4. Evergreen Stationery
Though geared towards the office crowd, you will still be able to find a good variety of stationery items at Evergreen Stationery. Plus, you can pick up binding machines, cheque writers and time recorders there too.
---
5. Smiggle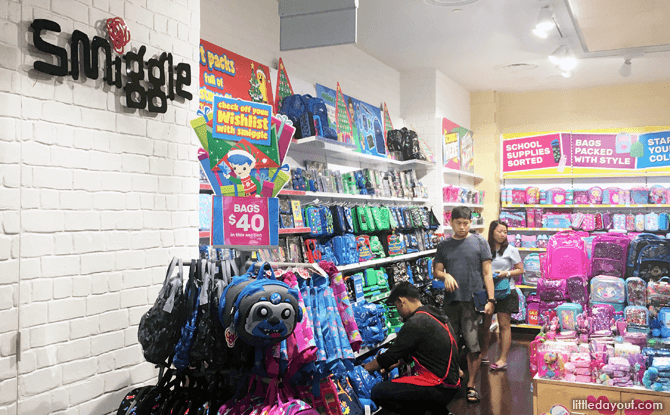 This Australian brand is know for its colourful and quirky stationery items. Pens, highlighters, pencil cases and more come in bright pinks and blues. Fun shapes and designs help make going to school more fun. It is no wonder that Smiggle is such a hit.
---
6. Typo
"Cool" is the word we'd use to describe the items found at Typo. This chain of shops has a constantly changing range of diaries, notebooks, pens and other accessories like pen holders.
---
7. kikki.K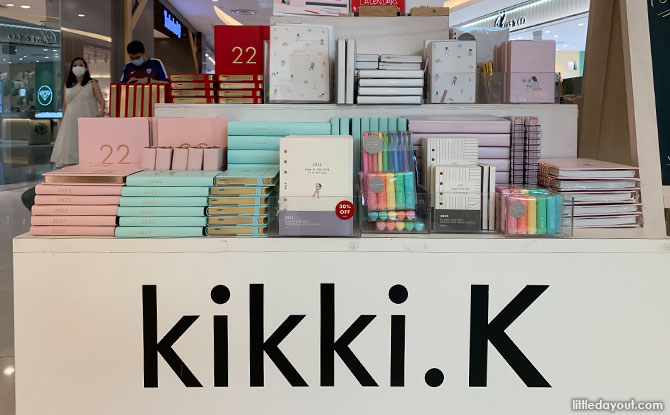 Style and functionality define Swedish design. This holds true at kikki.K, with its little boutique stationery shop at VivoCity, Singapore. In addition to writing instruments, you can also find other items like stylishly designed diaries and notebooks. This kiosk is located close to the VivoCity information counter on Level 1. Visit its website here.
---
8. MUJI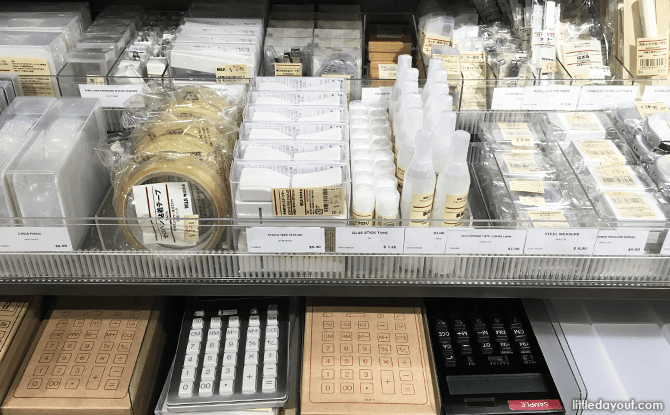 Simplicity and understatement are hallmarks of Japanese design. At MUJI, the Japanese homeware store, these traits are also reflected in the stationery on sale. MUJI has multiple outlets all around Singapore.
---
9. The Paper Stone
You can find colourful and well-designed paper goods, including books and planners, at The Paper Stone online store. Shop online here.
---
10. Art Friend
Paper, pens, paint and plenty more is what you will find at Art Friend. This home-grown store stocks everything that you'd expect to find in a stationery shop and then some.
---
12. Overjoyed
Overjoyed at The Cathay is well stocked with craft supplies. In addition, it does also sell a range of stationery, including calligraphy pens, gouache and brushes. Overjoyed also has a section devoted to children's craft supplies. Visit its website here.
---
13. Tokyu Hands
Tokyu Hands sells a lot of things, one of which is a range of cute stationery items, including brands such as Uni Style Fit, and more. It is hard not to get carried away browsing around this Japanese retailer.