[Updated to include school terms and holidays published by the Ministry of Education on 17 August 2020.]
So far, 2020 has been a trying year. That's why we are looking forward to the 11 Singapore public holidays 2021 which dates have just been released by the Ministry of Manpower.
The list of 2021 public holidays includes four long weekends and it is possible to "hack" in more lazy long weekends with a little bit of planning.
Public Holidays in Singapore
The 11 gazetted public holidays in Singapore each year are New Year's Day, two days for Chinese New Year, Good Friday, Labour Day, Hari Raya Puasa, Vesak Day, Hari Raya Haji, National Day, Deepavali and Christmas Day.
Singapore Public Holidays 2021 Dates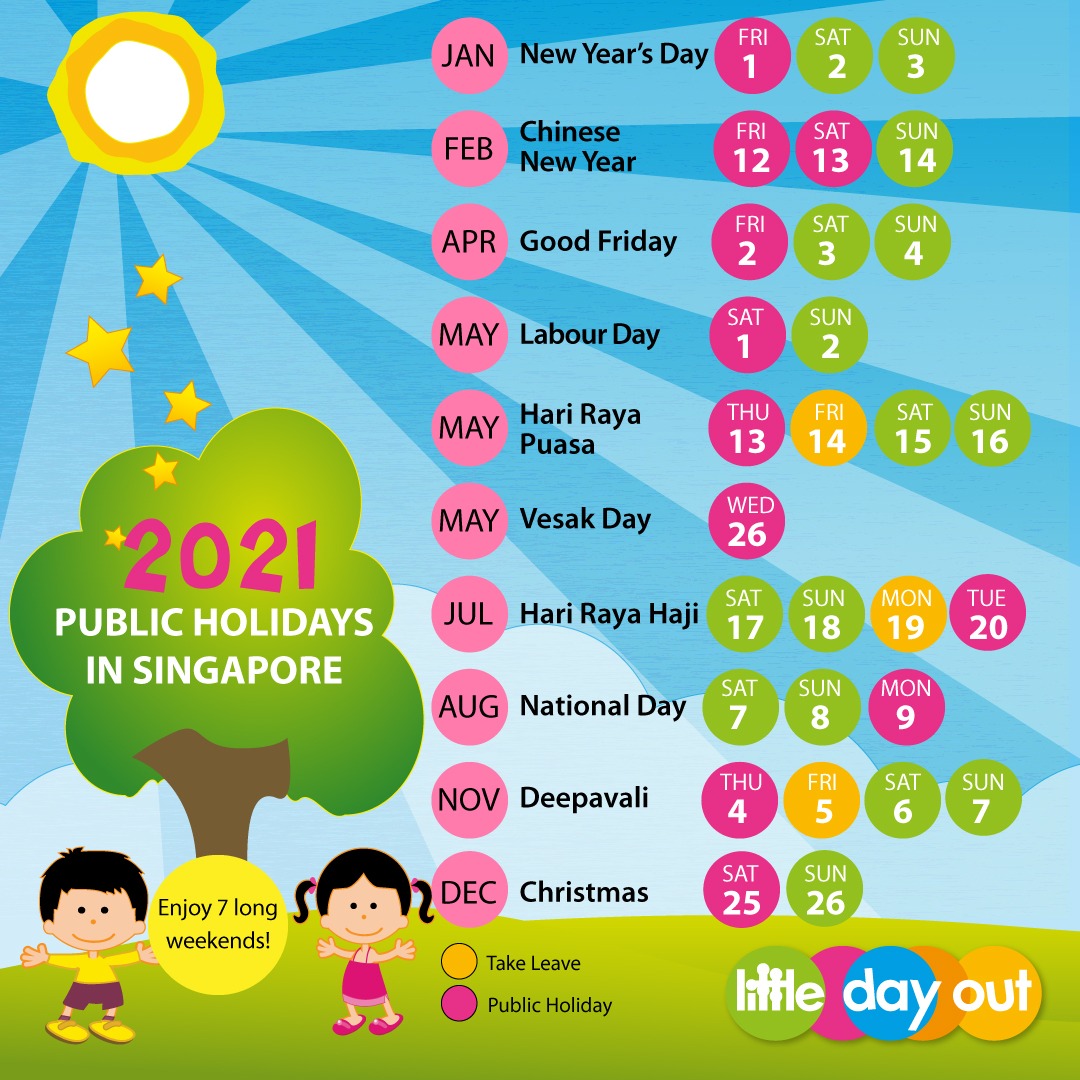 Here are the dates for the public holidays 2021:
New Year's Day – 1 January 2021 (Friday)
Chinese New Year First Day – 12 February 2021 (Friday)
Chinese New Year Second Day – 13 February 2021 (Saturday)
Good Friday – 2 April 2021 (Friday)
Labour Day – 1 May 2021 (Saturday)
Hari Raya Puasa – 13 May 2021 (Thursday)
Vesak Day – 26 May 2021 (Wednesday)
Hari Raya Haji – 20 July 2021 (Tuesday)
National Day – 9 August 2021 (Monday)
Deepavali – 4 November 2021 (Thursday)
Christmas Day – 25 December 2021 (Saturday)
Take note that the dates for Hari Raya Puasa and Hari Raya Haji are subject to change.
Singapore Public & School Holidays Calendar 2021
Download Little Day Out's Free 2021 Yearly e-Calendar (PDF) that marks out the public holidays and long weekends, as well as school holidays for primary and secondary schools in 2021!
Long Weekends in 2021
In 2021, three public holiday dates fall on a Friday. There are New Year's Day, the first day of Chinese New Year and Good Friday.
National Day 2021 falls on a Monday.
This means a total of four "confirmed" long weekends for the year.
It is a little bit of pity that three of the 11 public holidays in 2021 fall on a Saturday.
However, on a positive note, with Hari Raya Puasa falling on a Thursday, it does mean that if you take leave on Friday, 14 May 2021, you will get a four-day weekend.
Similarly, with Hari Puasa Haji for 2021 being on a Tuesday, if you take leave on Monday, 19 July 2021, you will get a another four-day weekend.
Since Deepavali 2021 falls on a Thursday, if you plan ahead now and take leave on 5 November 2021, you will get yet a four-day weekend.
It's never too early to start planning for the future – or in this case, the Singapore public holidays in 2021.
Singapore School Holidays for 2021
The school year for 2021 for all MOE primary and secondary schools will start from Monday, 4 January and end on Friday, 19 November 2021.
The four scheduled school holidays in 2021 are:
Youth Day Sunday*, 4 July 2021
Day After National Day Tuesday, 10 August 2021
Teachers' Day Friday, 3 September 2021
Children's Day Friday**, 8 October 2021
* The following Monday, 5 July 2021, is a scheduled school holiday.
** For primary schools & primary sections of full schools only.
Singapore School Term Holidays 2021
After Term 1 Saturday, 13 March to Sunday, 21 March 2021
After Term 2 Saturday, 29 May to Sunday, 27 June 2021
After Term 3 Saturday, 4 September to Sunday, 12 September 2021
After Term 4 Saturday, 27 November to Thursday, 31 December 2021
Note: International school term holidays may differ. Please check with your child's school.
Download Little Day Out's Free 2021 Yearly e-Calendar (PDF) here. This year's calendar comes with pages for each month so you can have fun planning ahead with your child!