Times have changed and full month parties are getting rarer while 100 day celebrations for babies are all the rage these days. 100 day celebrations and parties typically mark the infant's first 100 days. New mothers would agree that 100 day celebrations are a lot more practical as newly-minted mothers get more rest, recovery and time to plan for a celebration while the immune systems of infants are much stronger after 100 days. Choosing to celebrate the first 100 days gives new parents the opportunity to adapt to the "new world order", sleep patterns and vastly new routines.
Keeping 100 Day Celebrations & Parties Simple & Memorable
There are people who absolutely love party-planning – congratulations, having a child would mean plenty of opportunities to plan MORE parties! I, however, belong to a different group, that does not particularly enjoy parties and definitely not a natural at party-planning even after eight years of parenting. For new parents feeling a little apprehensive, fret not! We have got the tips to keep the parties simple and fuss-free, without spending too much!
Firstly, keep the objectives of the 100 day celebration simple. It is all about celebrating the new addition to the family and an occasion to gather loved ones to give thanks for life and health! There is no need to keep up with the Joneses with elaborate décor and insta-worthy dessert table setups. Your newborn won't be able to appreciate it, but cherish the moments and real memories made at the party.
Secondly, if DIY decor is your game, go for it! There are plenty of downloadable templates for décor online as well as Pinterest for ideas. For a more environmentally-conscious option, try requesting for used décor online such as "Parties Decor & Costumes (Don't Throw) Recycle for Sustainable Celebrations" or Olio app. One of my favourite sites for party décor is the ohjoy blog for instructions on making simple and aesthetically pleasing decorations that don't break the bank.
In addition, a small scale celebration is always easier and saner to plan and manage. Inviting just family and close friends or colleagues would keep the party more intimate. It could even be in the form of a potluck, mini buffet and favourite homecooked dishes by grandmothers and aunts. Organising the celebration in a community space, function room would be sufficient and more pocket-friendly.
The 100 day celebration is also a great time to show off those baby pictures (instead of flooding social media feeds). Printing out pictures or using digital photoframes with the photos will remind everyone of how significant 100 days can be. The 100 days of growth can also be marked by various milestones like "first smile", "first roll over", "first toy", "first laugh" and so on!
Other Ideas for 100 Day Celebrations
There are other ways of celebrating apart from the conventional luncheon!
Family photoshoot
Now that mothers are feeling more rested, less overwhelmed and experiencing less discomfort post-birth, perhaps a photoshoot would be timely in commemorating 100 days of joyful (mostly) parenthood. After the photoshoot, send the cards with the lovely family photos to loved ones, or even relatives and friends overseas.
Distributing goodies
Cakes and pastries are usually distributed to celebrate a birth. Some parents may love to use their culinary and patisserie skills to spread the joy! For those who can deftly prepare cookies and cakes, how about baking some sweet treats for loved ones? For those who prefer leaving the baking to the professionals, you could easily cater them from bakeries. Don't forget those who have been particularly helpful during your journey as parents – the obstetrician, paediatrician, nurses and confinement nanny.
A Special Family Outing
At 3 months young, babies are able to interact well with their parents and caregivers by laughing and responding. They are also developing upper body strength, able to grab, swipe and play! It is a good time to start bringing them out to baby-friendly spaces such as Artground's multisensory arts play space. It is always good to start the outings early!
Celebrate Your Baby's First 100 days with Joy!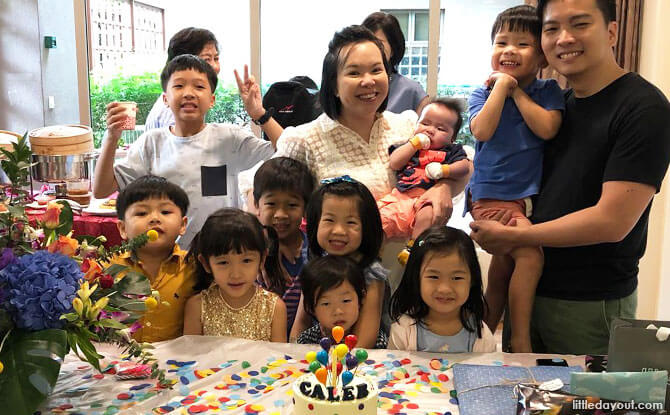 Forget about stressful party-planning for full-month celebrations, the 100 day party idea is a great thought, possibly conceived by anxious parents with a huge sleep debt. Keep the 100 day celebration simple, memorable and pocket-friendly – the same rule goes for other parties that will be planned for the rest of the child's life and you would have plenty of wonderful memories of the family for life.