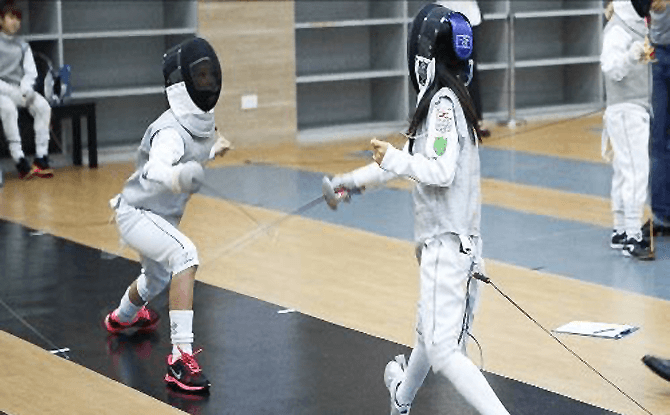 School vacation breaks allow children to take a pause from the busyness of regular school life. It is also the perfect opportunity to expose children to a world beyond books. In this respect, there are many interesting school holiday programmes available in Singapore that provide introduction to new experiences for kids.
Unusual and Interesting School Holiday Programmes in Singapore
Here are 10+ unusual and interesting school holiday programmes in Singapore that you can consider for your kids during vacation time.
Some of these school holiday programmes may not be available during every school holidays. Please check with individual organisers on the next available holiday camp, workshop or programme dates.
Stop Motion Animation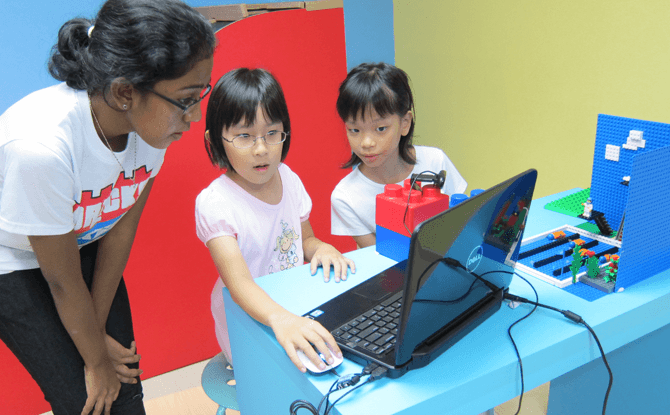 Kids get to create a LEGO movie of their own with stop-motion animation and movie-making technics at a school holiday programme conducted by Bricks4Kids in Singapore. Participants at this school holiday workshop will make use of LEGO components to plan, storyboard, stage and shoot their own LEGO movie using a tablet application. At the end of this interesting school holiday programme, they will get to bring home a digital copy of their work. This programme is suitable for six to 12 year olds.
Get more information about Bricks4Kid's Stop Motion Animation workshop online here.
Young Photographers Camp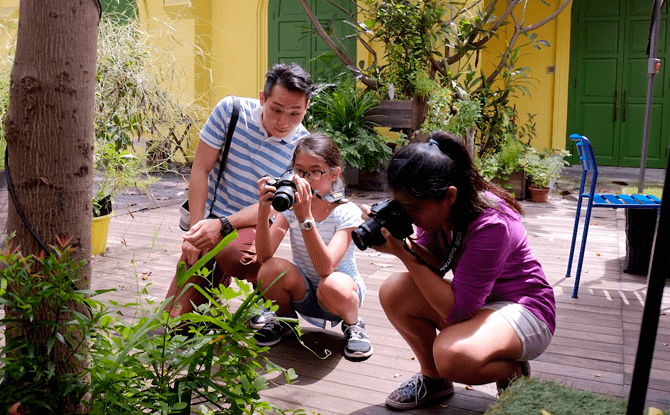 Aspiring photographers can pick up essential camera skills at Objectifs' Young Photographers Camp. This school holiday programme introduces young shutterbugs to basic camera handling as well as visual storytelling through a series of workshops. The Young Photographers Camp is suitable for participants between the ages of eight to 16 years old.
Visit the Objectifs website for more information.
Future of Filmmaking: VR, AR and 360 Film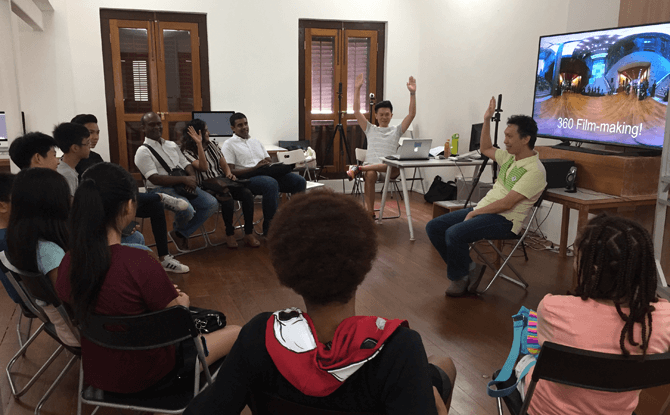 Learn the fundamentals of storytelling and filmmaking at a school holiday programme that covers virtual reality, augmented reality and 360 filmmaking. Conducted by Objectifs, this interesting holiday workshop requires no prior experience and involves participants undertaking projects involving Google Cardboard VR devices and even shooting 360 video with special cameras. Suitable for ages eight to 16.
Visit the Objectifs website for more information.
Wings to Wings Themed Dance Classes
You can always count on Wings to Wings Dance Development Centre to come up with creative and imaginative dance programmes for young children. Themed holiday dance camps have included a popular minion dance workshop, beauty and the beast dance workshops and even parent-child dance workshops. These dance workshops are ideal for children as young as three years old.
Find out more Wings to Wings' school holiday classes here.
Introduction to Fencing
Learn the art of focus and discipline at Z Fencing's introductory workshops to fencing. Suitable for children from six to 13 years old, the workshop teaches the basics of fencing through a series of drills and exercises in defence and attack actions. In addition, they will also learn about the history of fencing. All fencing equipment is provided.
Check the Z Fencing website for available dates and details.
MindChamps Champions Values Workshop
With so much emphasis on academic success in society, it is refreshing to come across a school holiday programme in Singapore that focuses on soft skills such as EQ instead. MindChamps Champions Values Workshop impresses on primary school-going children the importance of values such as confidence, gratefulness, embracing setbacks and compassion. It encourages children to develop into well-rounded, balanced individuals.
Visit the MindChamps website for upcoming dates for the Champions Value Workshop.
Junior and Youth Space Camp
What can be more inspiring than dreaming about flying to space?
At the Singapore Space and Technology Association's Space Academy Singapore, older children and youth can experience space training in Singapore. The Space Academy Singapore's Junior Space Camp and Youth Space Camp are Singapore's premiere space training programmes. The programmes aim to create public awareness of the space industry and promote science and engineering among students.
The Junior Space Camp is suitable for nine to 12 year olds. It is conducted by an industry expert with more than 20 years of experience. Students will be introduced to a wide range of Mathematics, Science and technology concepts. These include Unmanned Systems, Lift in Space, Rocket Science, Satellites and Fundamentals of Flight. The two-day Junior Space Camp is supported by Science Centre Singapore.
The Youth Space Camp is for selected, all-rounded 14 to 21 year olds. It is a rigorous five-day course that follows the coveted astronaut selection programme with an emphasis on long space mission durations. The curriculum for the Youth Space Camp covers astronautics, aerodynamics, biology, rocketry & propulsion, unmanned technology, international public relations and systems engineering. It is supported by DSO National Laboratories and A*STAR.
Visit the Singapore Space and Technology Association website for more information and available camp dates for this interesting school holiday programme.
GO (Weiqi) Holiday Camps
The ancient Chinese game of GO or Weiqi is a strategy-based board game played with black and white pieces. It requires the use of both left and right brain hemispheres and promotes problem-solving abilities. The GO Academy in Singapore runs holiday classes on GO for kids as young as five years old. Visit the GO Academy website for more information.
Flippa Ball
Flippa Ball is a modified form of water polo. It is played in shallow waters, making it suitable even for children who are starting to learn how to swim. ActiveSG offers Flippa Ball introductory programmes and holiday camps at various swimming complexes around Singapore. Visit the ActiveSG website for the latest information.
Archery
Kids get an introduction to the sport of archery through ActiveSG's Archery school holiday programmes. Learn about archery equipment, how to shoot the bow and arrow, and safety procedures. There are different archery camps available including family camps which involve both parent and child. Get more information from ActiveSG.
Experiential Sailing
ActiveSG offers school holiday programmes that allows children as young as seven years old to try out sailing. Some of these are conducted at swimming complexes, making it less intimidating for kids to take to the water. Find out more about this innovative school holiday programme in Singapore from the ActiveSG website.
Electronics with littleBits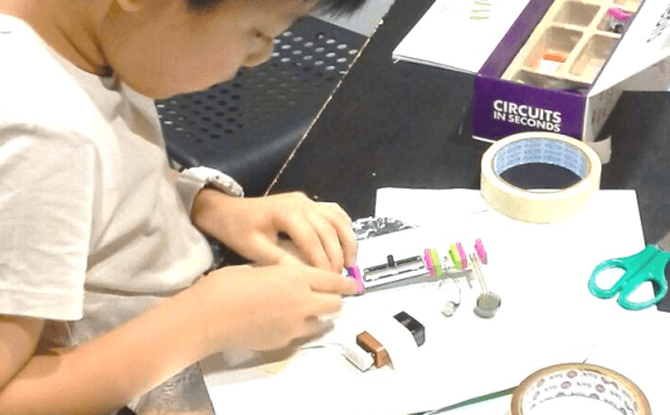 Introduce your kids to design thinking with littleBits and turn them from simply being consumers of technology to creators. Using littleBits kits, they will be challenged to put their inventive skills to the test through hands-on activities at Saturday Kids. Suitable for children aged seven and up. Saturday Kids also has a junior programme for kids between five to six years old. Find out more from the Saturday Kids website.