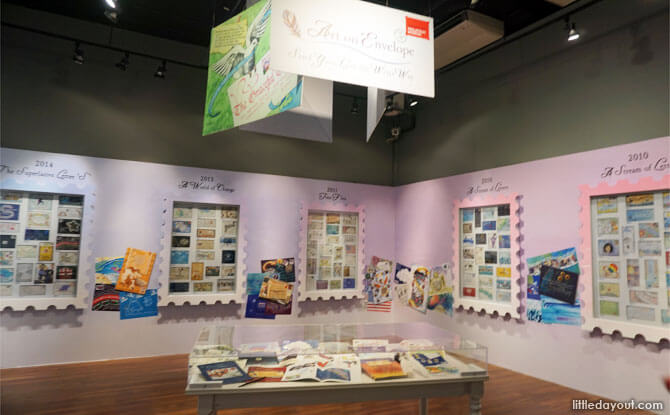 A beaded stamp, chocolate-scented stamp and exquisitely hand-crafted envelopes are some of the items you will get to view at the You've Got Mail exhibition at Singapore Philatelic Museum.
Running from 11 April to 31 December 2018, You've Got Mail is a two-part exhibition that aims to reignite the romance of letter-writing and highlight the beauty and innovativeness that can found on stamps.
Exquisite Envelopes: The Write Way
The first part of You've Got Mail is Art on Envelope: Send Your Love the Write Way. This exhibition showcases 200 decorative, handcraft envelopes from amongst the winners of the Washington Calligraphers Guild's Graceful Envelope Contest.
The Graceful Envelope Contest celebrates the art of calligraphy and promotes the role that physical letters play in connecting people together. Held annually, it attracts calligraphers and artists from around the world who submit their entries for judging.
---
-- Story continues below --
Envelopes are judged based on the interpretation of the theme for the year and quality of the lettering and design. There are different categories by age groups.
This is the first time that this collection of envelopes, drawn from winning entries between the years of 2002 and 2016, is being displayed in Singapore.
Highlights of Art on Envelope: Send Your Love the Write Way exhibition include colourful envelopes based on themes such as The Written World, A Stream of Letters and Time Flies.
Seeing Is Believing! Unusual Stamps from Around the World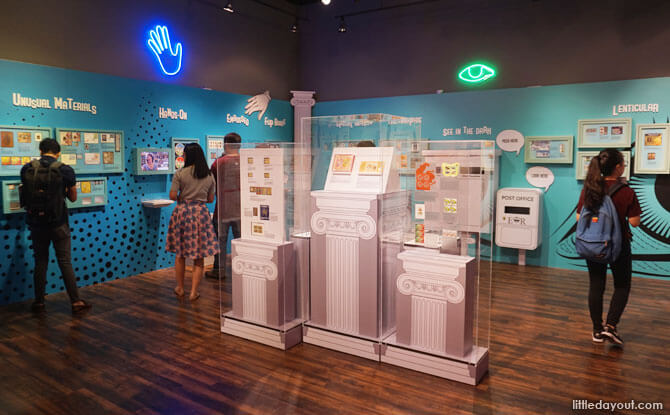 Seeing Is Believing! Unusual Stamps is a second part of You've Got Mail exhibition at Singapore Philatelic Museum.
Since the world's first adhesive stamp, the Penny Black, was issued in Great Britain in 1840, stamps taken on various shapes, designs and sizes. The Seeing Is Believing! Unusual Stamps exhibition highlights various unique stamps which appeal to the senses in order to represent a distinctive trait of their country of origin.
Among the highlights at the exhibition is the World's first beaded stamp which comes from Singapore. Inspired by Peranakan culture, this stamp features caviar glass beads which were painstakingly hand-pasted on to the stamp.
Also on display are intriguing stamps such as a flip-book stamp, leather Lederhosen stamps from Austria and chocolate-scented stamps from Belgium.
Visitors to Seeing Is Believing! Unusual Stamps will have the opportunity to touch, smell and even hear various examples of these unique stamps.
Get Writing
Ms Tresnawati Prihadi, General Manager of Singapore Philatelic Museum, said, "You've Got Mail! hopes to bring the magic of letter-writing and stamp collecting to everyone, and inspire more to send mail the traditional way!"
To help kick start this effort, Singapore Philatelic Museum will be running a You've Got Mail! Postcard Contest from 11 April to 17 June 2018. Those who wish to participate can design their own postcard and mail it in to Singapore Philatelic Museum for a chance to win prizes.
You've Got Mail comprising Art on Envelope: Send Your Love the Write Way and Seeing Is Believing! Unusual Stamps exhibitions
Venue: Singapore Philatelic Museum
Date: 11 April to 31 Dec 2018