On 1 March 2021, Kei-Chan, a 2.6m-tall sculpture by renowned Japanese artist Yayoi Kusama was officially unveiled at the Flower Dome at Gardens by the Bay. The sculpture was donated by art collector Lee Tuan.
---
Art Collector Lee Tuan
Ms Lee Tuan who is 81 has more than 300 items in her collection from her travels around the world. She has also donated about 100 works of art and contemporary jewellery since 2015 to art institutions overseas such as the Museum of Fine Arts in Boston and the Royal Academy of Arts in London.
Along with the Kei-Chan sculpture, which is Ms Lee's first legacy gift in Singapore, she has also pledged $10,000 every year to Gardens by the Bay in her lifetime, beginning in December 2019, and $2 million to be distributed to the Gardens across 20 years.
---
The Kei-Chan Sculpture
The Kei-Chan structure is made of fibreglass refined plastic, metal and urethane paint. It depicts a girl in a polka dot dress with vivid colours. Kei-Chan is described to "transport the viewer to a safe world of innocence and positive thinking" amidst the persistent repetition of polka dots. This sculpture was made in 2011 and demonstrates the creative and original style of Yayoi Kusama.
Gardens by the Bay's senior director of programming and events, Ms Chua Yen Ling, said: "The colourful Kei-Chan sculpture brings cheer to visitors in Flower Dome as well as makes art accessible to one and all, while her continuing contributions to Gardens by the Bay will go a long way to allow people to enjoy the beauty of nature for years to come."
---
Where to see the Kei-Chan sculpture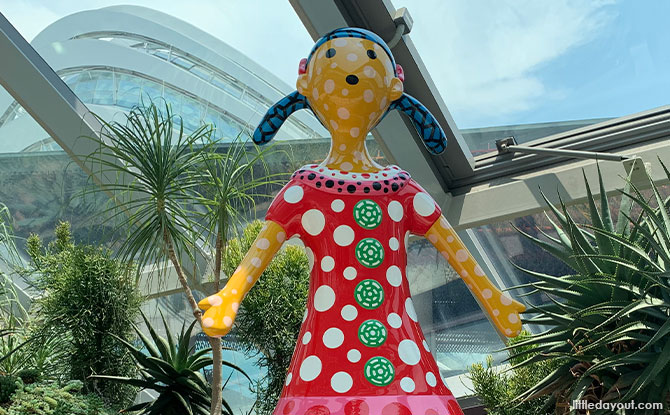 The display was launched by Japan's Ambassador to Singapore Jun Yamazaki and Ambassador-at-Large Professor Tommy Koh, who also attended the unveiling of the Kei-Chan sculpture. Those who wish to view Kei-Chan can view the sculpture at "Aloes in Wonderland" where Gardens by the Bay displays their collection of Alice in Wonderland statues.
For more information, visit the Gardens by the Bay website here.